Userlytics Review 2023 – Everything You Need to Know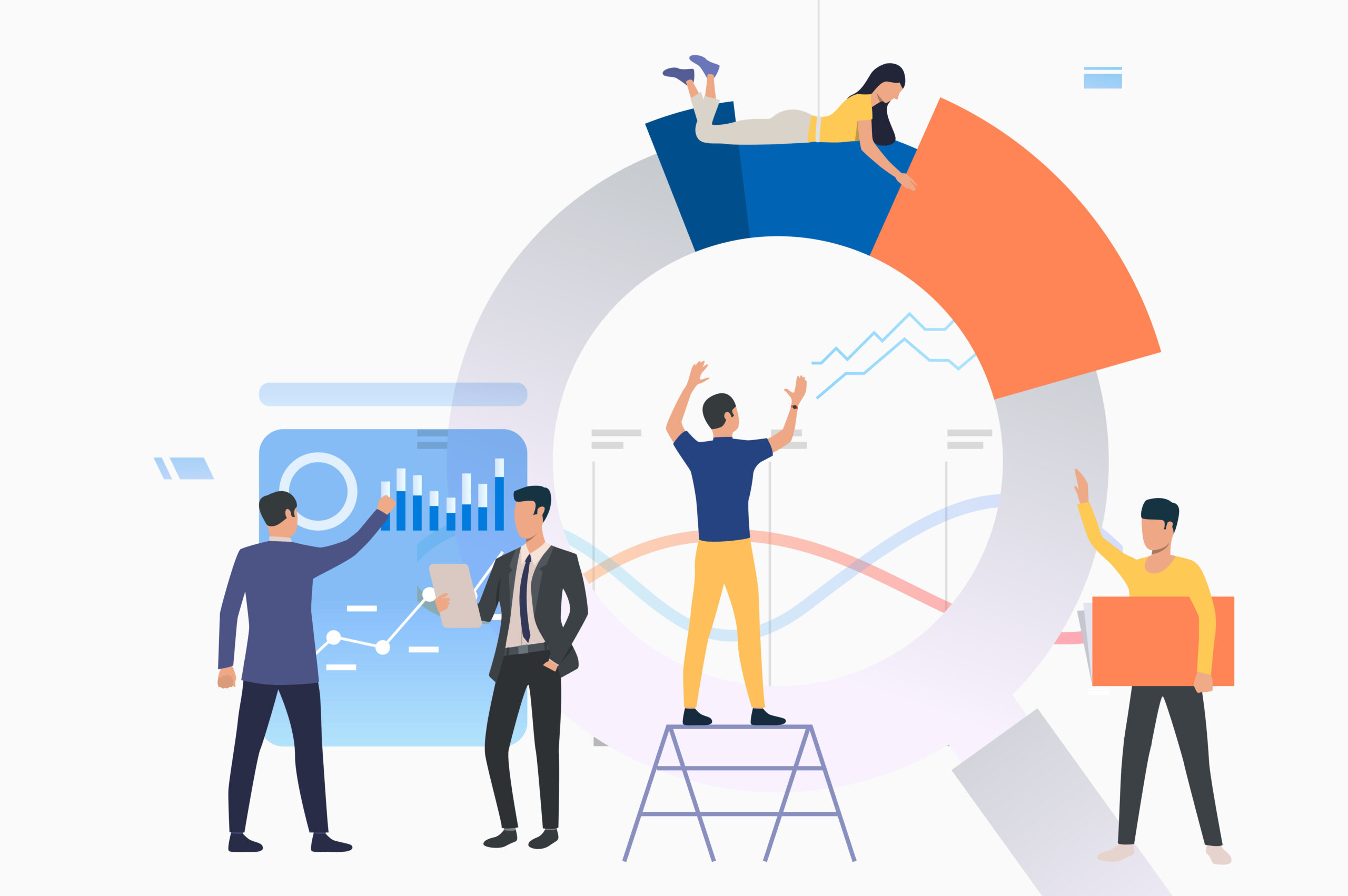 Need to test any of your digital assets such as websites, prototypes, apps or competitor assets? Userlytics can help you test the design and usability of these digital assets on any device. Whether you want to conduct competitor research, create your target persona or create a quick test, Userlytics can help you test the customer experience. It does this by offering businesses access to its worldwide panel of testers who can provide feedback on your digital product. Following this, Userlytics also allows you to analyse these data insights gathered through quantitative and qualitative metrics. 
Audiences usually choose Userlytics as it comes with a wide range of user research tools. But how do you know whether this tool is best for you? What are the alternatives? Please read our review of Userlytics to discover more.  
Userlytics reviews
Is Userlytics legit?
Testers usually ask this question, and the answer is yes. Payment varies depending on the type of test you do. Testers can be paid anything from $5 to $20 per test. Rare tests can even make $90! We also checked its legitimacy as a user research tool. To do this, we looked at review sites like Trust Radius, Capterra and G2 to demonstrate what others thought of it.
PROS 
Allows you to test a range of prototypes through prototyping software: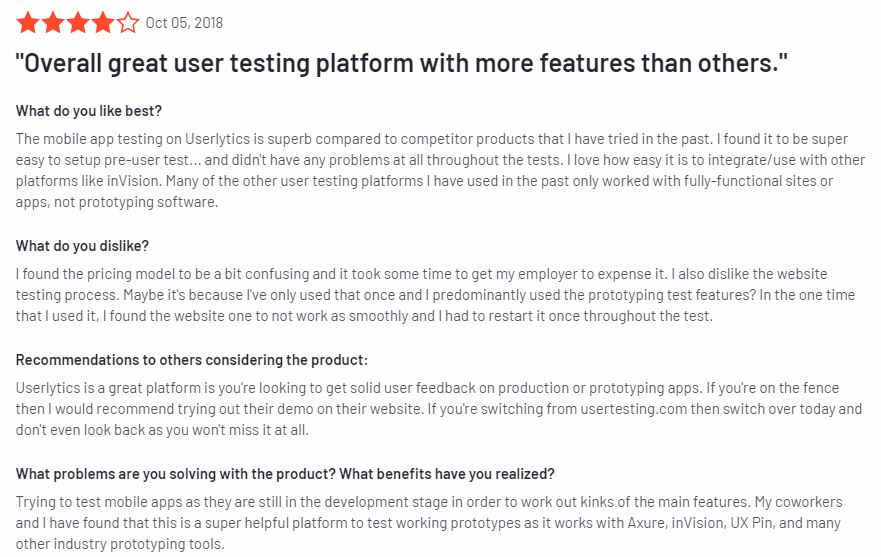 Easy to create your target audience of testers whose expressions you can view through a video recording: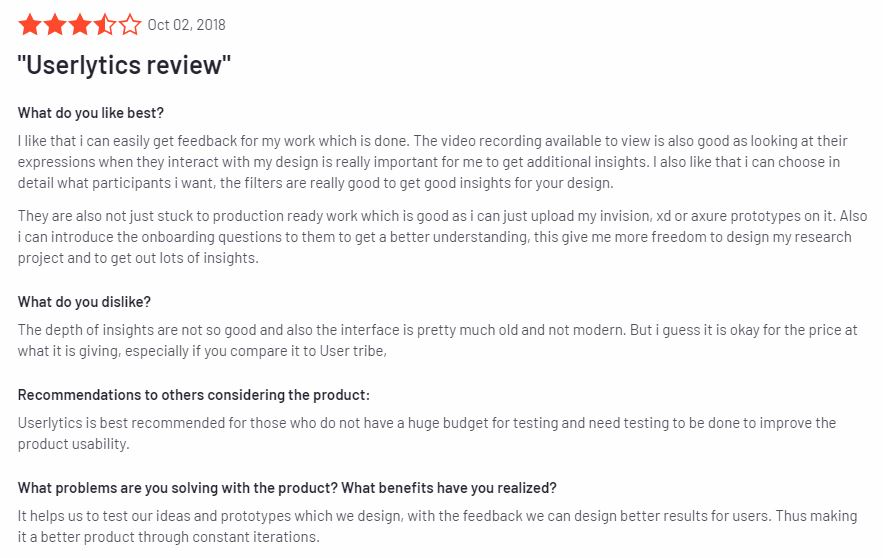 Allows tracking of reactions through analytics: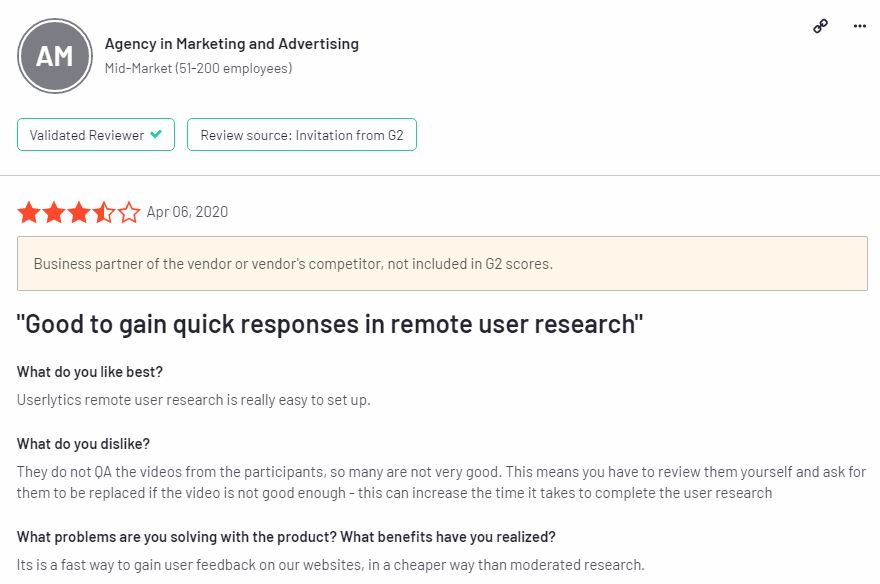 The Userlytics team offers excellent customer support which is very useful if you run into problems during the test:

CONS
Cannot choose both Android and iPhone testers as part of one test: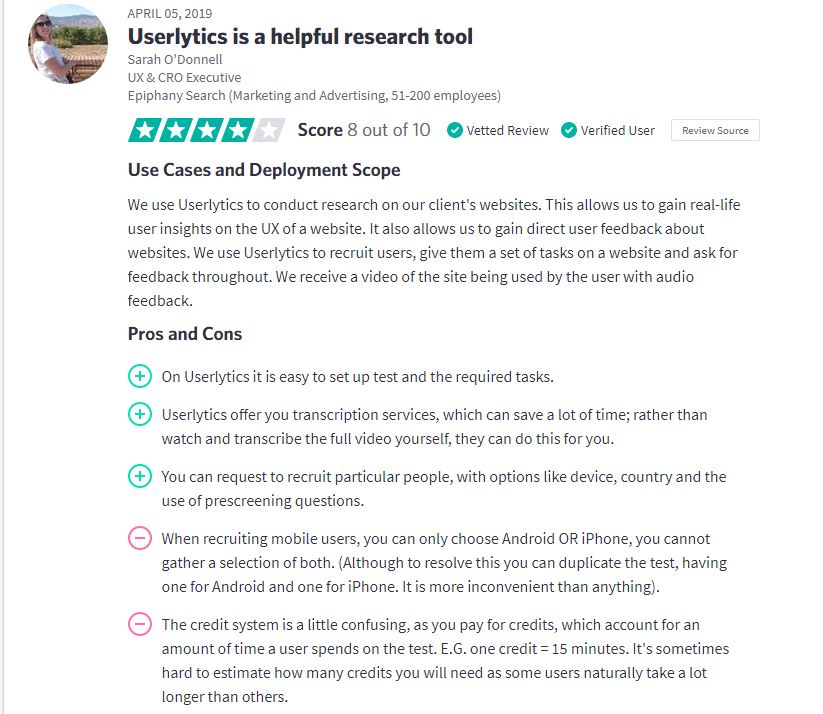 Insights are not as in-depth as you would like: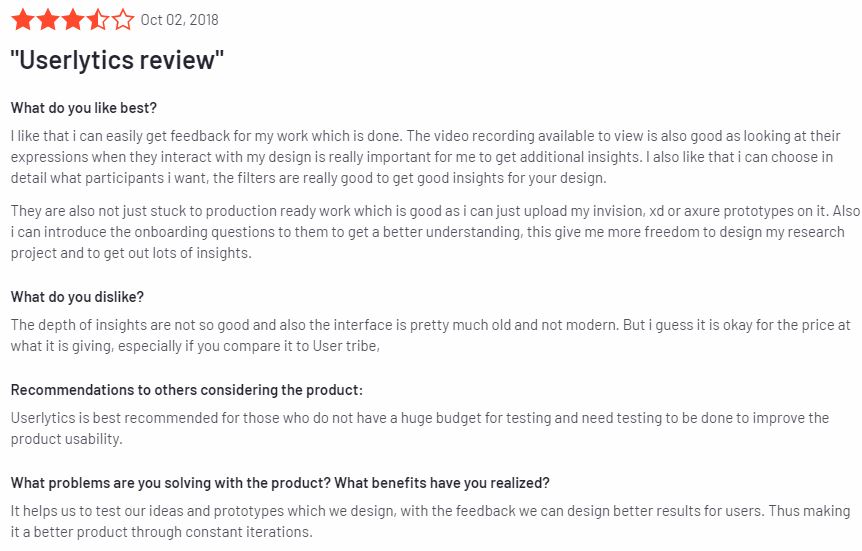 Having looked at the Userlytics reviews, it is clear that many users find their pricing model to be confusing.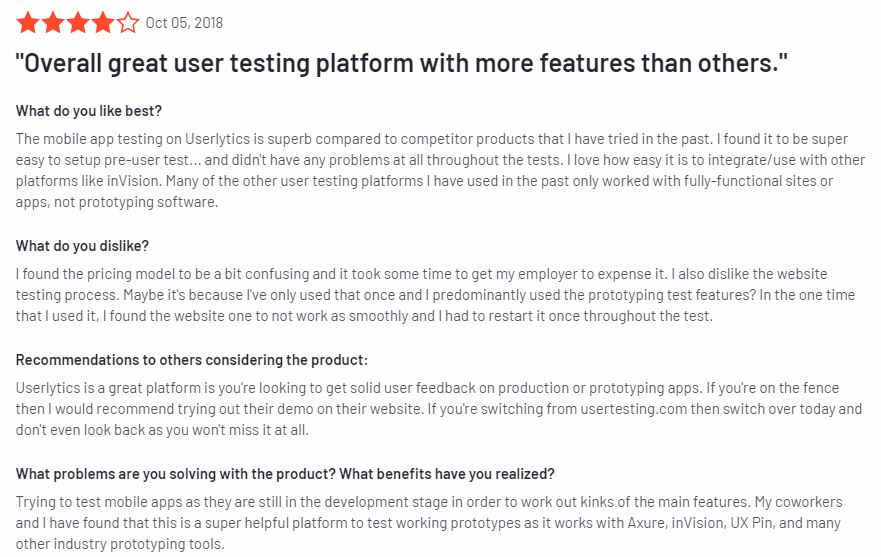 Testers might not submit quality videos, and you need to check this rather than the Userlytics team checking this: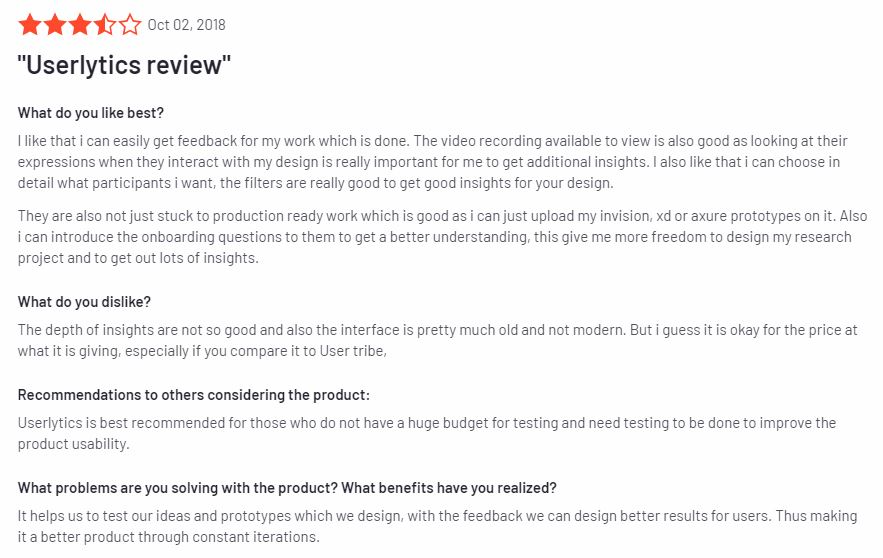 The mobile app is not very user-friendly: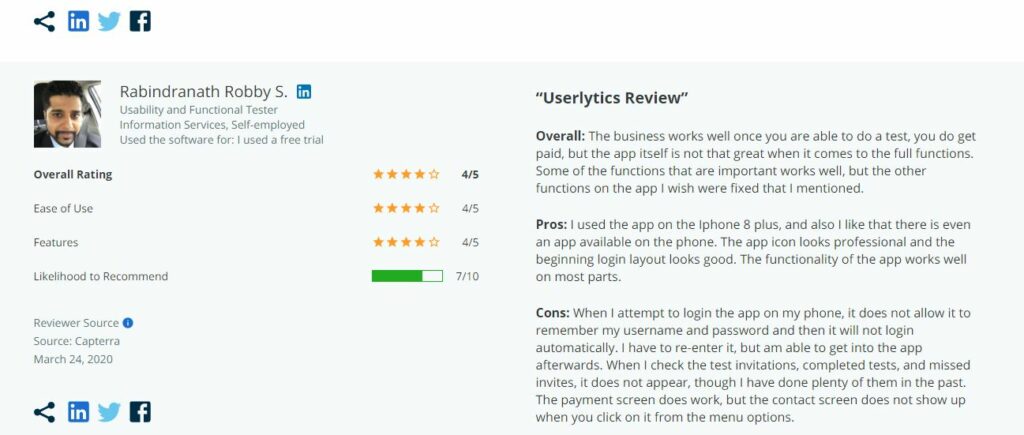 Not useful if you don't know how to write user testing questions and tasks. In other words, Userlytics is not suitable for a user testing beginner:

Userlytics review – our thoughts

Userlytics Features
Can observe a user's customer journey across your website or early wireframes. You can also identify any issues with usability in terms of your design and can compare different versions of designs through A/B Testing.

Create tests for your mobile apps and use prototyping platforms like Proto, Justinmind and InVision to increase retention and decrease churn.

Conduct interactive testing at various stages of your product by using participants from their global user testing platform. When choosing the right participants, you can use demographic filters and behavioural screener questions.

Can test the design and development process as you can test concept sketches prototypes and wireframes through moderated and unmoderated testing.

Understand whether your navigation path and menus are accessible and whether the names and categories of your products match a user's expectations through card sorting and tree testing.

Opt for a 'do it for you' professional service where Userlytics will plan, design and do the test for you.

Advanced reporting capabilities allow you to measure the success rate of users who found the right category for the task, the group that individuals clicked first and the time spent completing the task. Also includes system usability score interpretation.

Use remote video testing with the ability to create highlight reels, annotations, the ability to skim through a video at faster speeds and multilanguage video transcription.

Bring your participants and get other participants from 3rd party panels like Testing Time.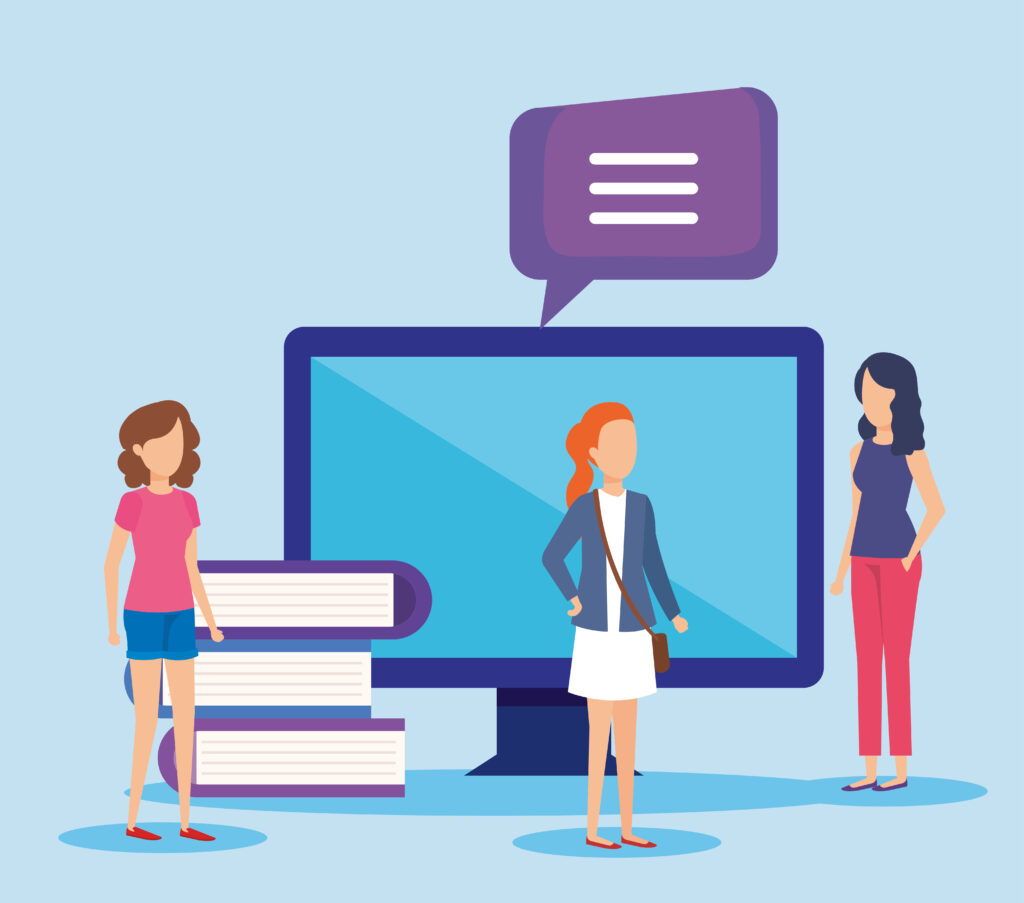 Userlytics Pricing
If you choose participants from Userlytics panel or your sources, you can opt for any of their three pay-as-you-go plans. Their cheapest comes at $49 per participant with a 15-minute session with basic recruitment and advanced features. 
You can also pay $69 per participant with its annual enterprise plan. This plan gives you 30-minute video sessions, 50 minimum participants a year access to a global panel with screener questions. Its features also include highlight reels, AI transcriptions, card sorting and tree testing. 
If you pay $99 per participant, you also get 30-minute video sessions, a minimum of 5 participants. But, you do not get any transcriptions, card sorting or tree testing. All plans come with annotations, picture in picture recording advanced metrics and a branching logic that allows you to personalise test scripts. 
Alternatively, you can also opt for your participants or third party ones without the use of their panel. Their starter kit is $399 per month, their premium monthly plan is $499, and you have to contact them for more information on their custom plan. Our Userlytics review shows that the main differences between these plans are the session duration, the number of seats for team members as well as whether you get transcriptions or an account manager or not.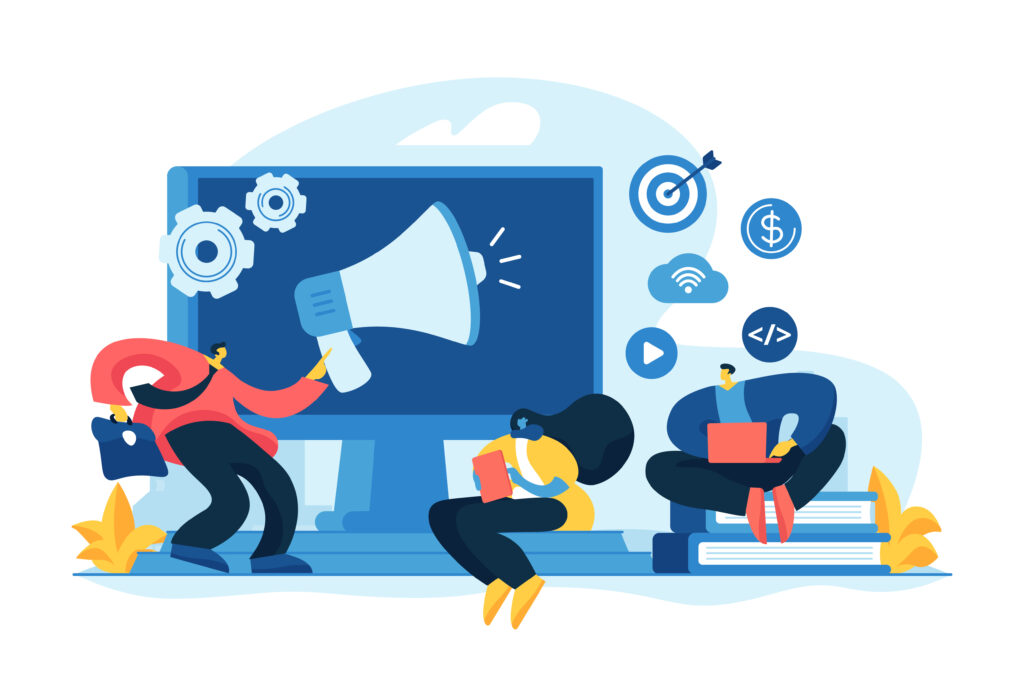 Userlytics Pros & Cons 
PROS
Offers a free trial to get your first participants. 

Makes recruitment of participants simpler by allowing the use of their global panel, your participants or sourcing participants through a third party.

Create a variety of tests in minutes. Use card sorting and tree testing to analyse the navigation of your website or mobile app interface. Use A/B Testing to compare two versions of design as well as advertisements or use a moderated test to define your buyer persona.

Allows video recordings of participants as they interact with your product or service.

Can create a range of multiple-choice, single choice or open-ended questions for participants. You can combine this with quantitative metrics such as Time on Task, Net Promoter Score (NPS) and system usability scale(SUS).
CONS
Although businesses can get an AI automated and multilingual transcription service for their user test, this feature is not available with all of its pay-as-you-go or monthly plans. Highlight reels which can be essential for stakeholder buy-in and also not available with all basic plans.

Our review of Userlytics highlights that while the more expensive pricing plans do allow for the use of their demographic filters, these do not provide detailed demographic information about your participants like income bracket, gender and age. This component means that you will have to get for a more expensive plan with screener questions to reach your target participant.

It is challenging to choose the pricing tier you want. For instance, if you want a one-off 30-minute session, you have to pay $99 per participant, but you don't get to use their transcription service card sorting or tree testing even through their annual pay-as-you-go plan does come with this but works out as a cheaper per participant rate.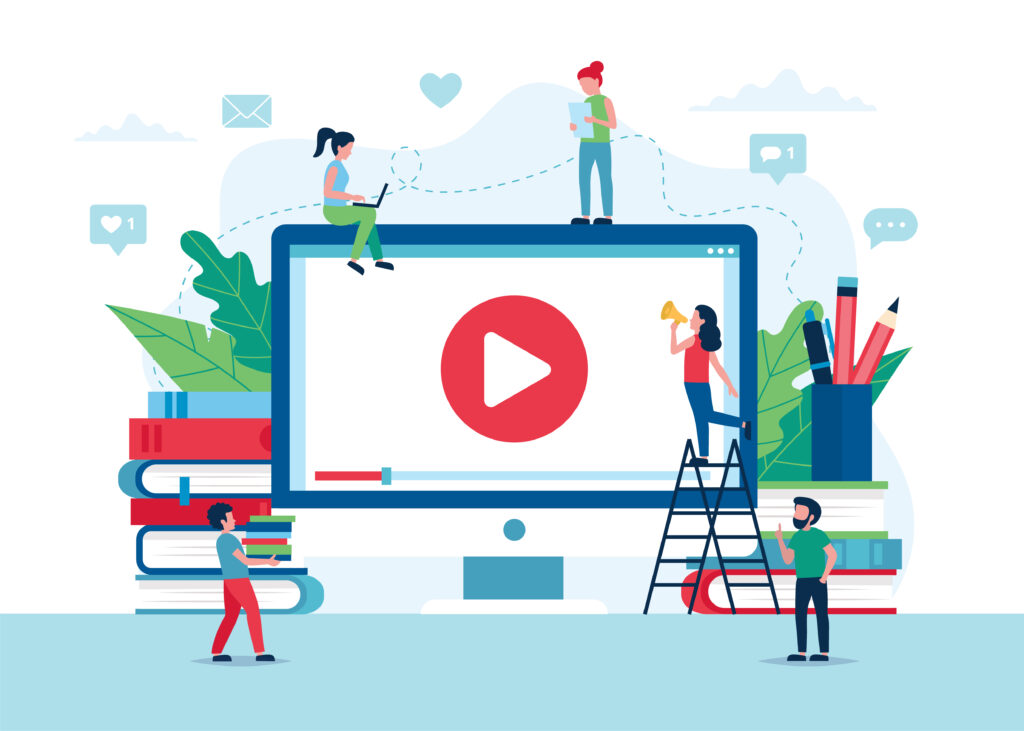 Userlytics alternatives
Conducting a user test for your product or service will help you create a sustainable business. Insights from your test can show you how to retain your existing customers, acquire and convert new prospects as well as personalise the user experience to create a tribe of followers. But is Userlytics the best tool for your needs? 
Want quantitative metrics, multilingual transcriptions and multiple user research tools? If this is the case, Userlytics could be a cost-effective way to scale your business. But if you have your testers, use Validately as a Userlytics alternative, to bring your participants at no extra cost.
Want to produce quicker 5-second or first -click tests with a broader range of qualitative data such as clickstreams and heatmaps? Use Loop11, who also offers cheaper monthly plans. But if you are looking for a user testing solution that comes with guaranteed customer support no matter your issue, testing templates for the user testing newbie and advanced demographic filters at an affordable price, choose PlaybookUX.
Resources
User Testing Templates
Speak to high quality people