Growth Hacking + UX Testing: A Dynamic Duo in 2022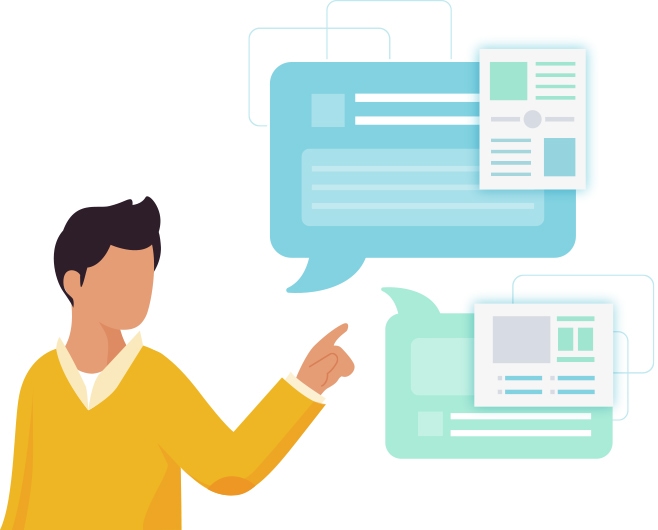 Growth hacking is popular for a reason. It has enabled startups to scale and grow their products. There are endless tactics you can try to grow your startup. As a beginner, it can be overwhelming. In this article, explore the main growth hacking UX tactics and see how it can accelerate your business.
There are three main growth hacking tactics 
Content marketing 

Product Marketing 

Paid Advertising 
Generally, marketing is a trial and error approach.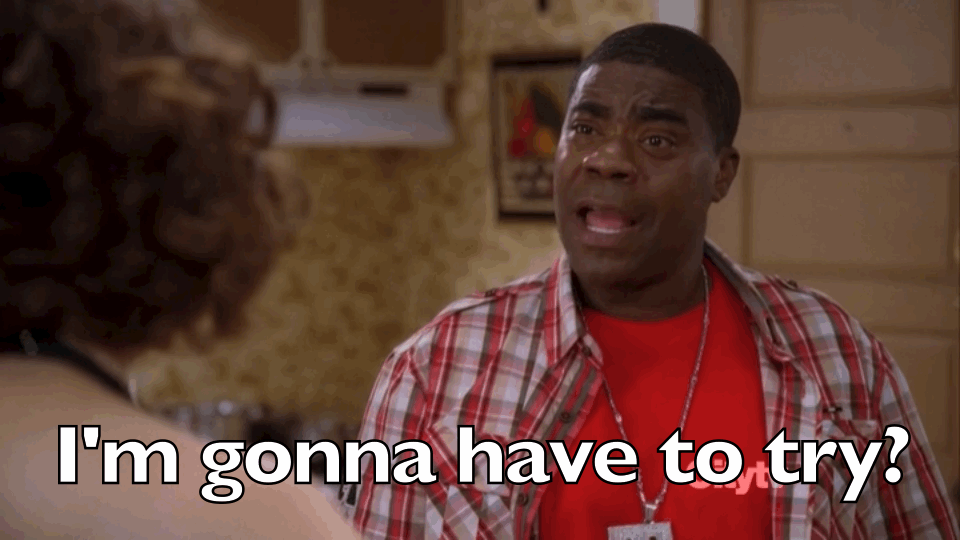 You try something, see if it works and then make changes or move on to something else. It fits right into the agile, iterative framework. However, this approach is really time consuming and expensive. 
We suggest pairing growth hacking with user experience testing (also known as UX research and user research). It's a qualitative tool where you speak with your target demographic through one-on-one conversations or setting tasks for testers, called unmoderated research. The latter is great for busy founders who don't have hours to allot to conducting UX research sessions. It involves creating questions that participants will verbally respond to while recording their screen and interacting with your landing page, product, ad creative or email copy.
Content marketing
Blog / eBooks – It's a tale as old as time, you put all this effort into setting up a blog strategy, creating the blog and promoting it. There are many articles & YouTube channels that claim you can get started with a blog in minutes. Maybe if you have a lot of experience, then yes it's easy. Realistically, this takes a lot of time. Especially, if you're an early stage startup, you have to perform diligent keyword analysis.
I'm the founder of a user experience software, PlaybookUX, and I made this mistake. When we started our blog & YouTube channel, we focused 100% on educational content. While we were getting high views and engagements, this really wasn't our target demographic. We were unintentionally gearing our content towards students and people looking to learn about the user experience industry.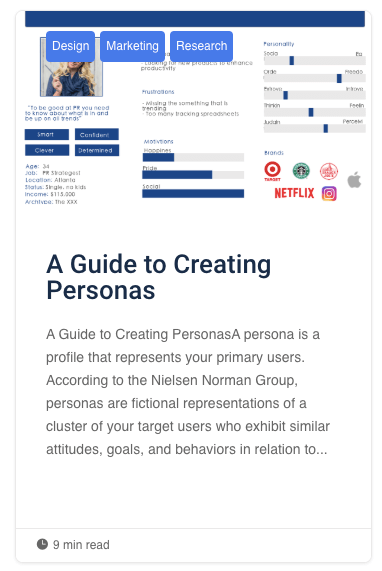 This post had a lot of traffic but it wasn't our target demographic
Instead, we should have been focusing on captivating decision makers who have the exact pain points our software solves.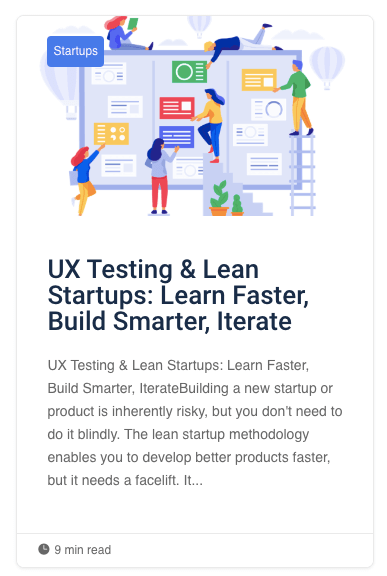 This post had less traffic but actually resonated with our target demographic 
We spent months writing and optimizing content for the wrong target demographic.
When we spoke to our customers, we realized that we should start gearing our content towards the benefits of UX, rather than informational "what is" and "how to" content.
From this, we started to attract our target demographic. These were people who were exploring user testing as a means to achieve a goal (increase conversions, decrease bounce rates etc) or wanted to convince stakeholders of the benefits of user testing. 
Email Marketing
Email open rates are typically 20-40%. The factors that determine open rates are: the relevance of the email, the catchy-ness of the subject line, brand perception, time of day and day of week sent. Increased open rates lead to more conversations and paying customers. If you want to increase open rates you can run a user experience study with your target demographic to ensure it's engaging.
Product Marketing
Referral program. This is important to get right. Identify the incentive, or what the person who is referring receives in return for promoting your service.
It's important to make sure it's enticing with your target demographic. There are two options
1. Give the person money directly.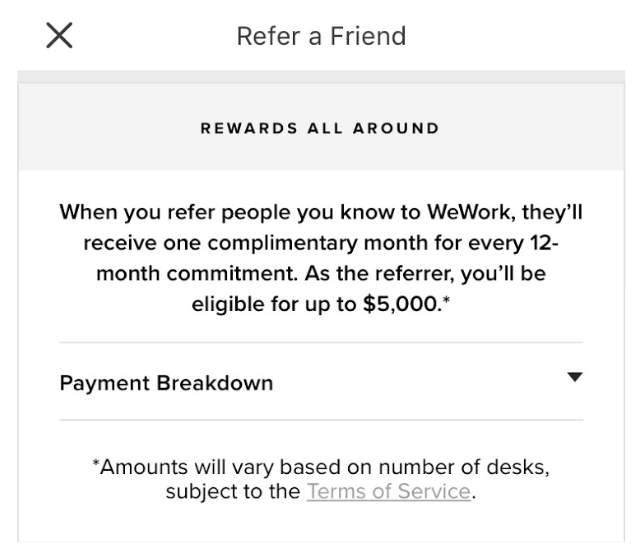 WeWork send a check to anyone who refers a company to their workspace.
2. Give credits to your software or service.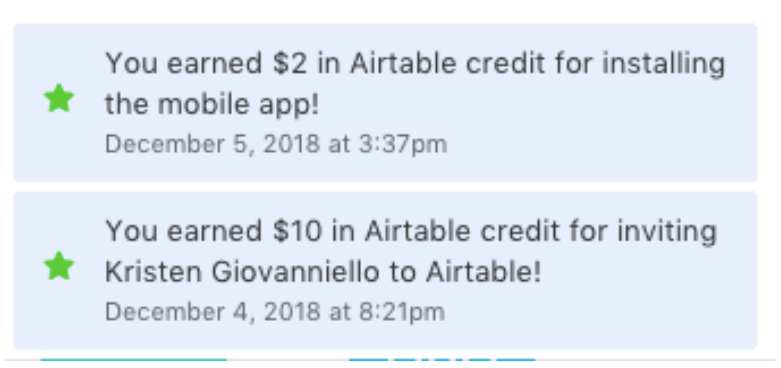 When I was a full time employee at a tech startup, a Airtable gave me "free credits" to their software. It really didn't matter to me because my company was paying for the software anyway. In my mind, it made little difference if we received $10 to Airtable. 
While that incentive didn't motivate me at all to refer any friends, I was slightly motivated by how great the software is, so I referred a few friends. I didn't go out of my way to do so but I felt Airtable would alleviate a lot of the pain points they had with Excel. 
WeWork, a co-working space, offers up to $5,000 to whoever refers someone to purchase an office. This incentive motivated me to refer WeWork, since I would personally receive the money.
Harvard psychologist David McClelland states that there are 3 basic human motivations.
Achievement

: The need for self improvement and improving measurable goals

Affiliation

. The desire to focus on interpersonal relations 

Power

. The need to control resources & others
A referral program should identify which of those motivates your target demographic and tap into a referral program that is in line.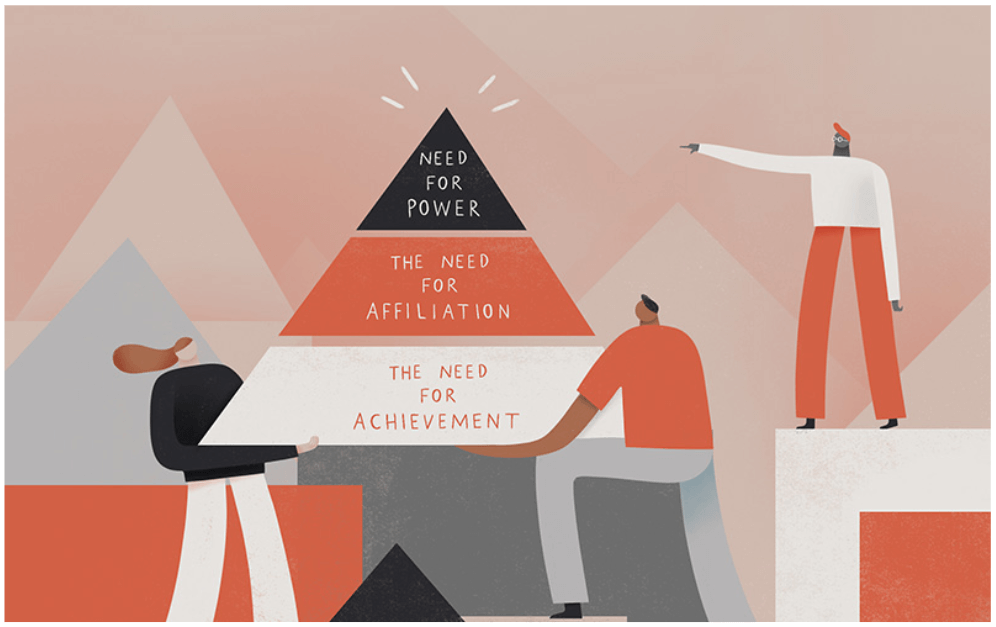 Here are some suggestions for each motivation.
Achievement.

People who are motivated by things like increased access to content that enables them to learn or improve. 
Affiliation.

Those with this motivation will be motivated by things that benefit the people they are referring. For example, when you refer a friend to Seamless, both sides get a discount.
Power.

People with this motivation will enjoy referral programs that pay direct cash.
Lastly, it's important to take cultural differences into account. In some cultures, paying people for a referral is considered taboo. 
Why run a study with your target demographic about your referral program? 
Once you launch a referral program, users will be confused if you change it. 

You may be spending more money than you need to. Referral programs are great. They can account for massive organic growth. However, you may be underspending or overspending. Talking to users prior to setting a referral program live will help you understand what resonates with them. 
Landing pages 
Does your target demographic understand what your company does when they land on your homepage? 
After driving people to your website, you want to make sure you're converting. If people don't understand what you're offering, they'll drop off quickly. You will have a high bounce rate and low conversion rate. 
Leveraging Google Analytics is helpful, but you still won't know what your visitors are thinking. Analytics tells you the 'what', UX research tells you the 'why'. When you speak to your target demographic during UX research, they will summarize what they think your website does. This is called a First Impressions study.
Here are some questions to guide your conversation
At first glance, what is the purpose of this site? Take your best guess as to what you think it is.

What do you think you can do on this website?

Is there enough information on this page to understand what this website is for? If not, what should be included to make it clear? Be specific.

Take some time to scroll up and down the page but don't click off of this page. What are your thoughts on the design (images, colors, styling) and layout of this page?

Is there anything in particular that you like about the website?

Is there anything in particular that you dislike about the website?

Is there anything you would improve about this website?
Product demo video
Similar to the landing page, your demo video is one of your main marketing mechanisms. If it's too high level, your target demographic won't understand what your company does. If it's in the weeds, it may be boring.
Depending on your target demographic, you may want to tailor the video in a certain way. Personally, as a product person, I want to see the software features and less high level overview. Others may feel differently than I do, which is why user testing is so important.
Paid Advertising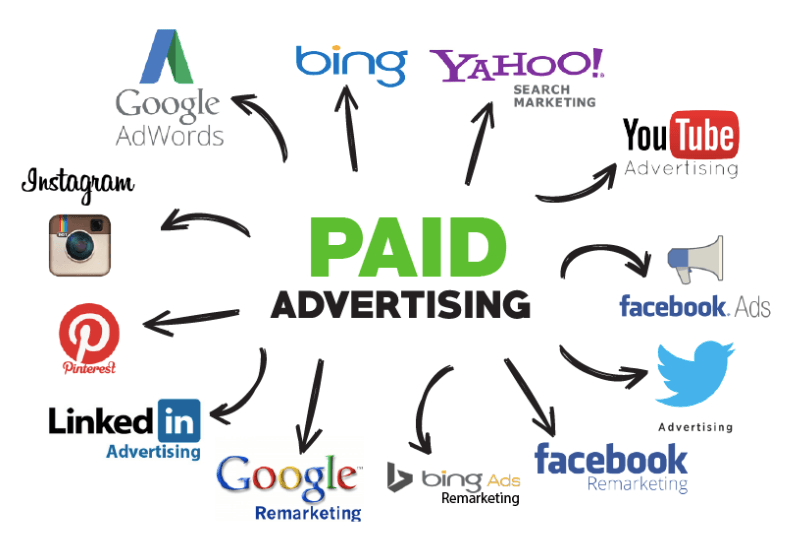 Top paid advertising options are:
Pay-Per-Click (PPC)

Social Media Ads

Influencer Marketing 

Banner Ads

Ad Retargeting 
Within those 5 categories, there are many different options. Should you sponsor a podcast, run Facebook, Instagram, Linkedin or Google Ads? The options for advertising platforms are endless.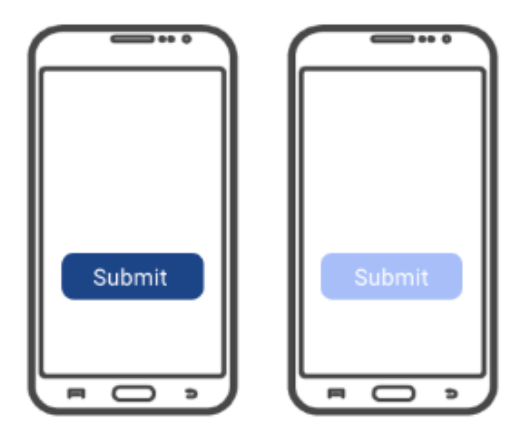 A/B testing advertisements are recommended. You can learn which version performs better from a quantitative perspective. You'll spend a lot of time testing different copy, images, landing page variations. Before getting stuck in the A/B testing madness cycle, it's important to run a qualitative UX research study to determine what sources your customers trust. This will allow you to understand why people trust advertisements coming from certain sources.
You should personalize these questions to achieve your goal, but here are some standard growth hacking ux questions to get you started.
B2B companies
Where do you go to learn and improve your job skills?

What are your favorite industry sources for connecting with other people?

Where do you learn about new software tools? 

What do you think about brands that advertise on <insert site>?

Do you trust <insert site>? Why or why not?

What are some of your biggest frustrations with brands when they promote their company?
In this ad, Slack perfectly describes the pain potential slack users face. They are disorganized and they don't feel productive. They need a software to help them achieve the feeling of accomplishment. 
The ads don't talk about the many features of Slack, instead they point out how users feel when using Slack: productive.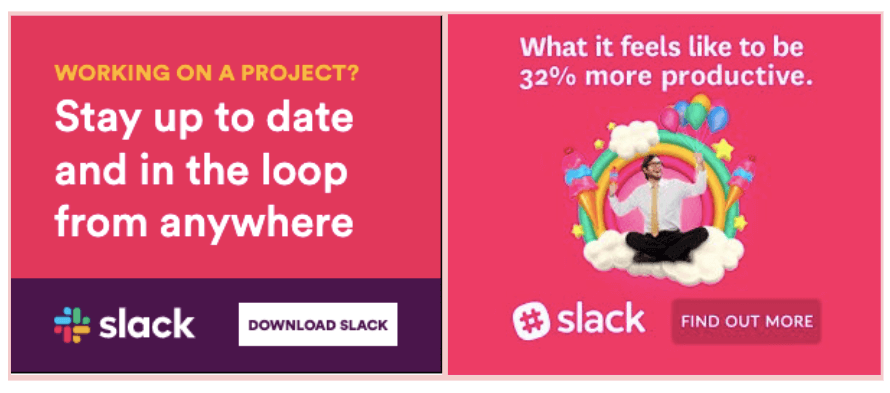 B2C companies
Who do you look to as an "influencer". Why? 

What daily frustrations do you face? How do you currently overcome them?

What motivates you?
In this advertisement, you'll see how Uber Eats hits on customers pain points. They crave good food but don't want to stop what they are doing just to buy food. Uber Eats focuses on the convenience factor of their target demographic.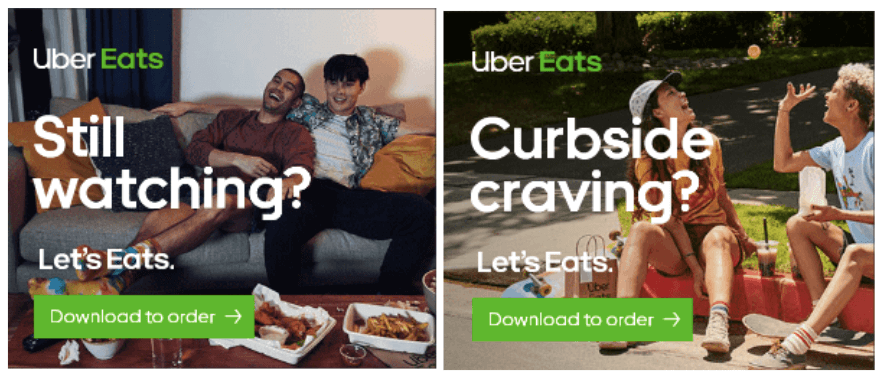 Start implementing these tactics to take a structured approach to your growth hacking ux strategy. 
Resources
User Testing Templates
Speak to high quality people