PlaybookUX User Experience Testing Software Features
Our UX features will help you get the most from your research sessions.

Website, Prototype & Mobile User Experience Testing
Conduct a study on your website or prototype to improve product usability and functionality. Gathering user feedback will improve user experience and increase customer satisfaction. All testers are vetted, with B2B testers being vetted through Linkedin, so you know exactly who you're speaking with.

Moderated Interviews & Unmoderated User Experience Testing
Conduct one-on-one interviews, as well as setting tasks directly for testers, where the participant records their screen and audio while completing tasks. This is a key UX feature that captures the full research lifecycle. Receive direct user feedback without the hassle of recruiting, scheduling, incentivizing participants, note-taking and extracting meaningful insights. 


Invite your team
We don't limit the number of admin seats on our platform. User experience testing is a team effort, and we want to get everyone involved early and often. Invite your team so everyone is in the loop. Also, invite your stakeholders to drive research buy-in.
Bring your own participants
If you'd like to forgo our verified user experience testing panel, you can bring your own participants. This is great for businesses who want to survey current customers and have niche demographics at their fingertips.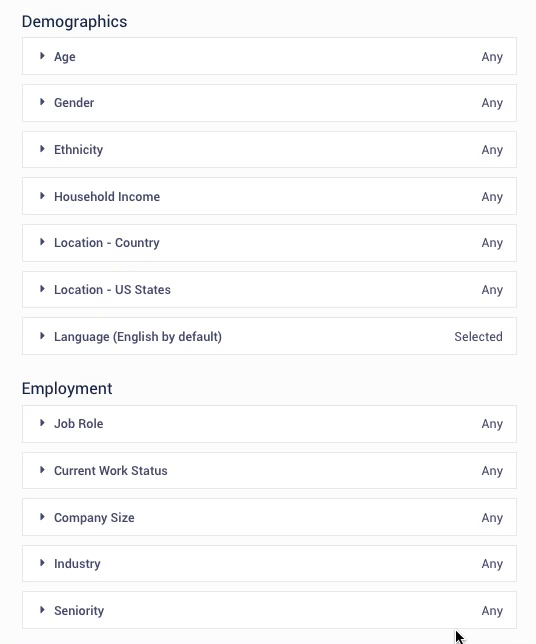 Access hard to reach demographics
We make it easy to recruit your target demographic, with 10 different demographic & employment filters. With our granular user experience testing filters, any B2B or B2C company can receive user feedback from their specific customer base.
If you're a B2B company, we provide access to people with a specific job title, industry, seniority, and company size. We have a two-step verification process. First, we verify most testers through Linkedin, then double-check it by hand so you're getting high-quality participants.
International Recruiting & Localization
We don't just stop at the U.S., U.K. and Canada. We let you recruit internationally. Get granular on the exact region you'd like to target. Speak to those participants one-on-one or run a user test.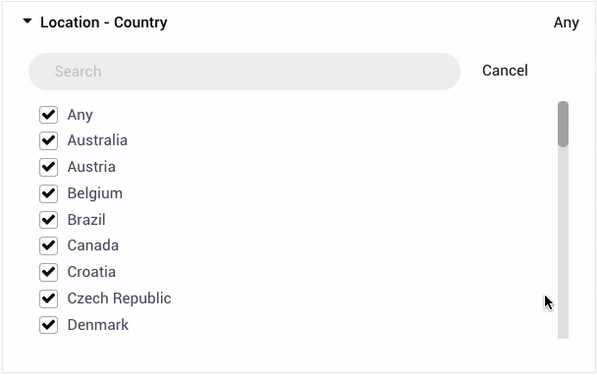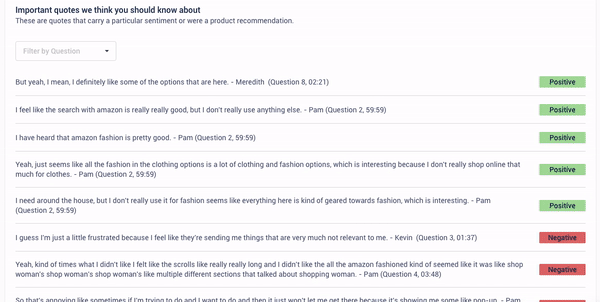 Comprehensive User Testing Analytics
Our goal is to simplify the user testing synthesis process. We understand you have a lot going on, so we want to make it easy to gain valuable user insights. You'll be able to view videos, key quotes and other insights with our advanced analytics.
A.I. Sentiment Analysis

Time on question chart

Rating Scale / Written Response charts

Participant demographic graphs
Qualifying Questions
If you need to know more about the participant, you can ask them qualifying questions (screener questions) to ensure they're an exact fit. This is an important UX feature that let's you dig deeper into our tester pool. Once you've submitted qualifying questions, we match you with participants who fit that criteria.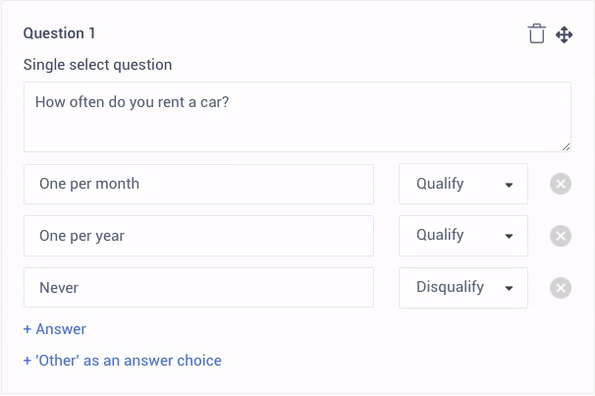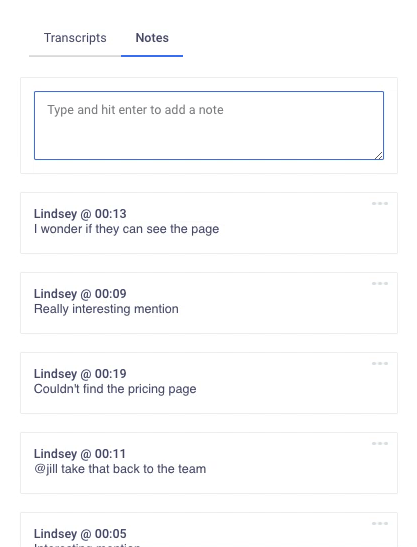 Take Notes While Watching User Testing and Interview Sessions
With our auto time stamped notes, you'll be able to synthesize the sessions easily. Team members will be able to view notes and collaborate.
Video Sessions
See what your users have to say first-hand with our video player. Identify points of excitement, confusion and frustration, which will help you build better products for your customers in the future. 
Shortcuts to rewind, fast forward

Speed up and slow down the video player

Click on the transcript or notes to jump to that portion of the video

Download the user testing session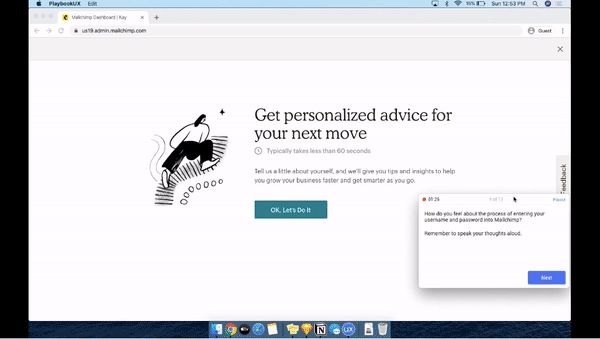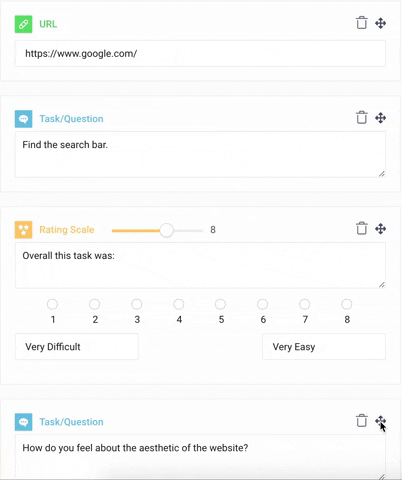 User Experience Testing Tasks & Questions
Get all of your questions out in one study. We know how valuable user experience testing is, which is why we want you to extract the maximum value from every session.
Links to websites, products, apps and images

Verbal Response

Task / Question

Rating Scale (5 – 11 point)

Written Response
Transcription
Our automated transcription allows you to view the transcript side-by-side with the video session. Click on a specific task to navigate to that spot in the video. We make session replay simple and easy. If the transcription missed anything, easily edit it to your liking!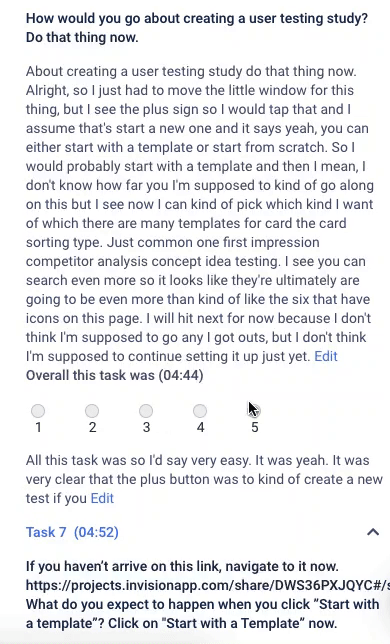 Role Based Access
Set Admin & User roles within PlaybookUX. Admins can remove people from the account and limit access to functionality. 
Share and export projects
Share clips with a password protected link, as well as export full studies to Excel. Exports include notes, transcripts, participant details and a direct link to the videos.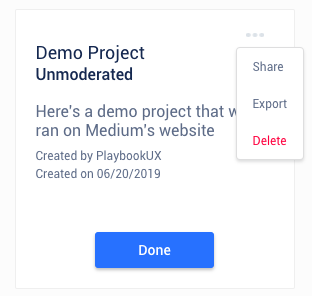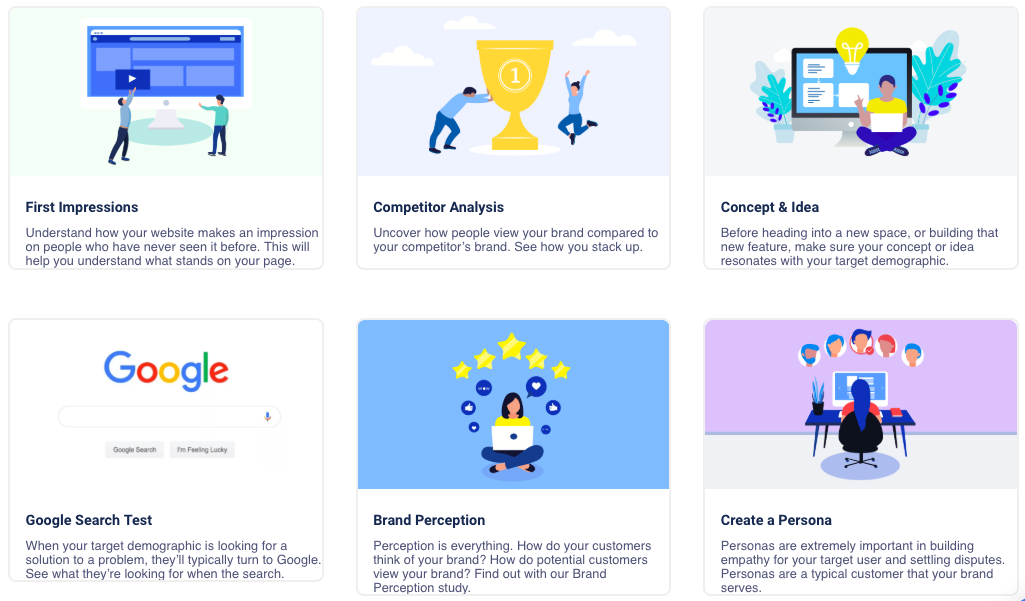 User Experience Testing Templates
With our self-test (unmoderated) study, you can select templates to understand how your concepts, prototypes, live websites resonate with your users. You can choose from a variety of user testing templates that allow you to better understand who your users are, what motivates them and frustrates them. However, if you need a more customized study plan, you can create your own tasks.
Cross Browser Testing
With PlaybookUX, you're NOT limited to Chrome. Run user testing and interviews on all browsers. This is beneficial for two reasons – you'll be able to see how participants interact with your product, website or prototype across browsers and it will expand the pool of participants you can access with our software.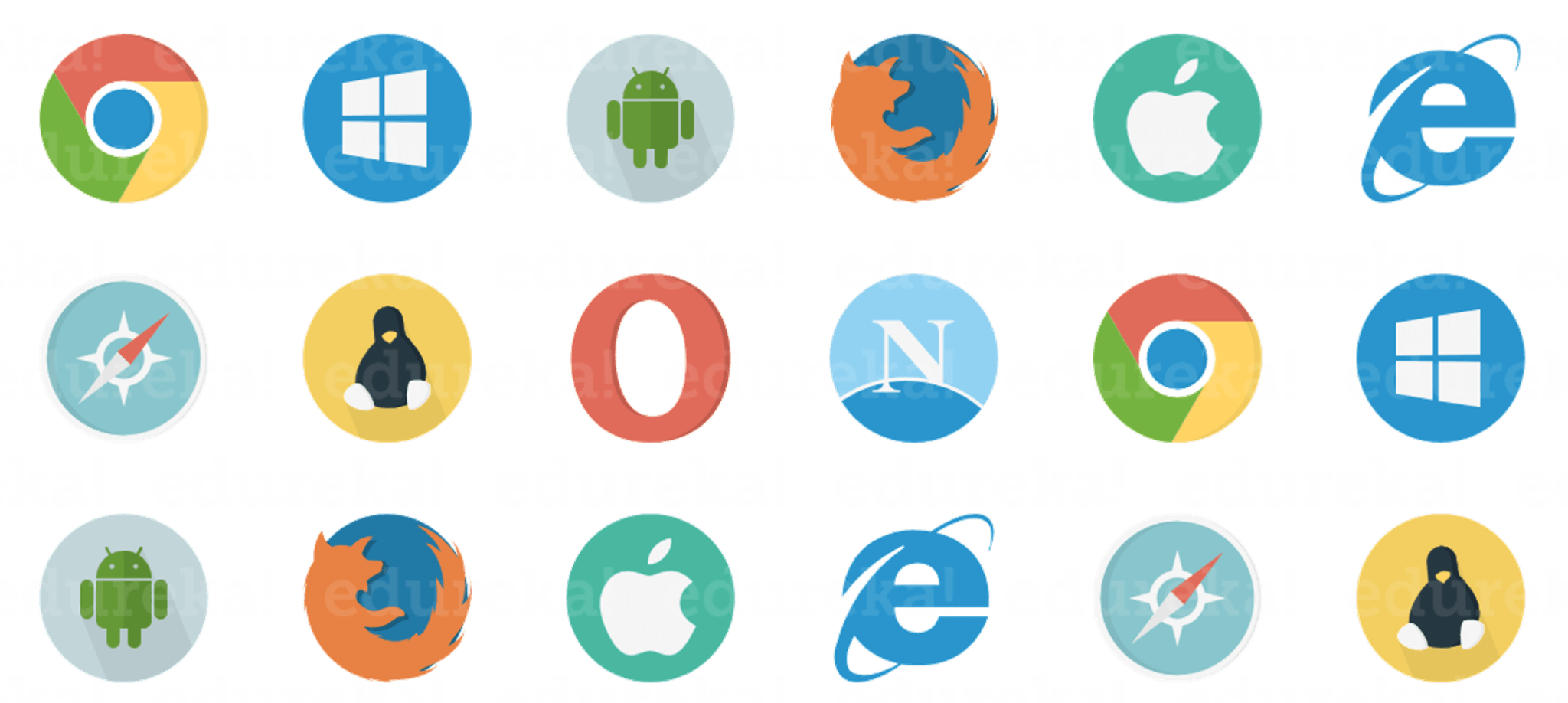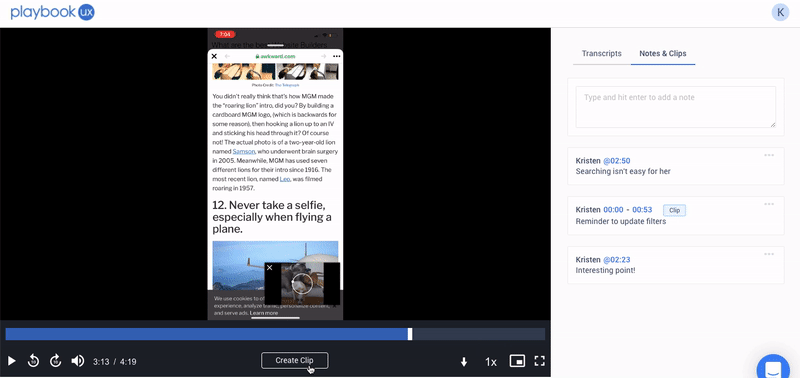 Clips
Create clips to share important moments from the sessions with your team.
What is user experience testing?
User experience testing is the process of getting a product, prototype, concept or website in front of real people. Those people will provide invaluable feedback. Overall, it will make your website, product or prototype more delightful and intuitive.
Why does user experience testing matter?
Customer expectations are rising, and with that standards for what makes a usable product are higher. UX testing leads to higher customer satisfaction, increased conversion and decreased bounce rates.
What is the future of user experience testing?
The UX testing process will become even more automated. Companies won't have to manage the end-to-end process of recruiting, conducting, transcribing and analyzing the sessions. At PlaybookUX, we're using artificial intelligence to bring on a new wave of user testing.
Start getting user feedback today