Unmoderated mobile / tablet testing (Websites, Prototype, Android App)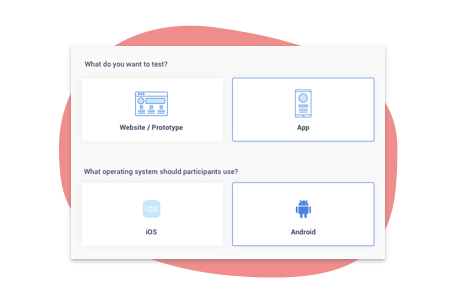 We are excited to introduce our new mobile and tablet testing features. According to a study run by Preficient Digital, 58% of websites were accessed through mobile devices – and this number is expected to rise. Furthermore, approximately 81% of people in the United States have a personal smartphone with an estimated 1,500 apps downloaded every day through Apple alone. Needless to say, there is a vast and growing population of users who are active on their mobile devices. This demographic should not be ignored when you are looking to test your products, and we want to help you keep up with the fast-paced world of website/app development by making mobile and tablet testing convenient and easy. 
Mobile and tablet testing will help you reach out to your users on their preferred devices. Testing the usability of your product on a mobile device and tablet will be a key part of reaching this demographic. Website interfaces on mobile devices and tablets are often very different from a desktop interface. So, testing your mobile product usability and fine-tuning your mobile interface will help your product design keep up with competitors.
This feature also lets you test apps. Whether you are looking to create a new app or revamp the app you already have, feedback on the usability and interface of your app is an important part of the app development process. The PlaybookUX mobile and tablet testing feature make this user research process easy and convenient. 
If you are familiar with our product, you will find that mobile and tablet testing works very similarly to Laptop/Desktop testing. Your participant's screen and voice will be recorded throughout the session. Then, these user testing sessions are analyzed in the same way that a Desktop user session is analyzed with transcriptions, graphics, overviews etc.
To use our mobile and tablet testing feature select the smartphone or tablet option when you create a new project. Then, you will create a project the tasks and questions you want your participant to complete – just as you would for a Laptop/Desktop study.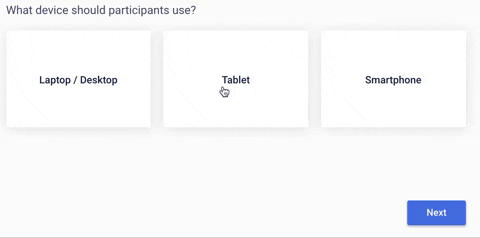 When your participants first start your study, they will first download an app.  Then, they will copy the study's link, which will direct them to their tasks. Then the PlaybookUX software will screen record them performing tasks and answering questions for your website. 
First, they will receive a set of instructions.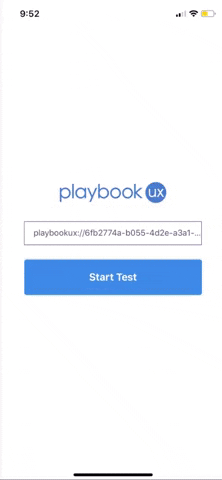 Then, the participant's screen will start recording when they are directed to your website. They will start answering questions and complete tasks.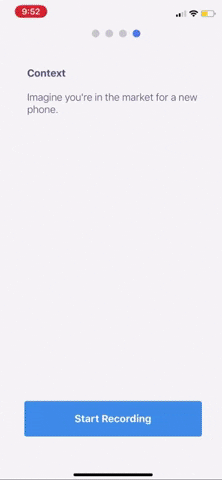 Finally, after completing all of the tasks, the recording ends and the user testing session will be uploaded to your project.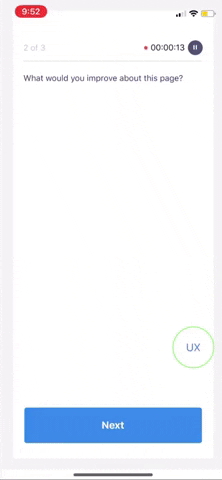 To get a full overview on how it works from the participant perspective, watch our youtube video (link)
https://www.youtube.com/watch?v=PtIZlp-QFT0&feature=youtu.be
Resources
User Testing Templates
Speak to high quality people