Top 5 Usability Testing Tools [2023 Comparison]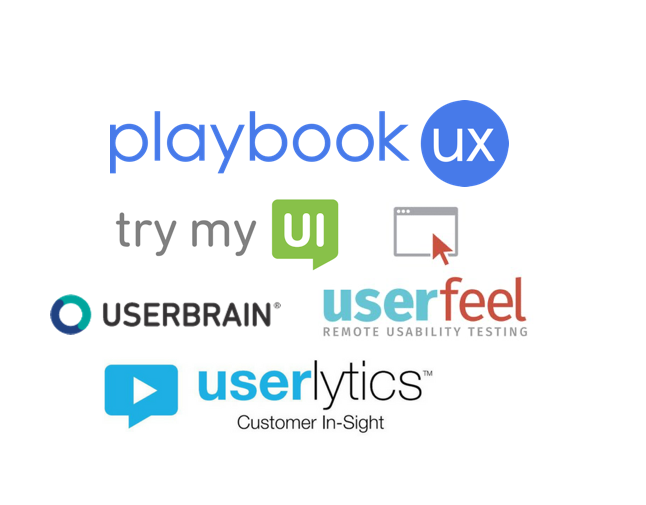 sUsability testing can help you discover how easy it is for your target audience to use a business's new design for a product or service. This process revolves around observing users as they complete tasks that have been assigned to them by you, as the business. You can test various types of designs, whether it is a user interface or a physical product. You should start testing your design early and should continue testing until a product's launch. The purpose of user testing is to prevent any usability problems before the implementation or mass production of a design. Usually, usability testing is conducted on prototypes starting with low-fidelity designs (i.e. paper sketches) and then moves onto high-fidelity designs (interactive digital mock-ups) closer to launch.
But with a myriad of usability testing tools and platforms out there, which one should you choose? PlaybookUX is here to make that decision more straightforward and quicker by comparing our top 5 best moderated and unmoderated usability testing tools of 2020. And of course, we had to throw our tool into the mix. Want to find out why? Continue scrolling down. 
Best remote usability testing tools
1. PlaybookUX


PlaybookUX is an all-in-one UX testing solution which can help any business, regardless of their size, to get and examine customer interactions with a variety of prototypes, websites or products. It does this through AI-software that can pick participants who are within your target audience, provides you with a range of qualitative and quantitative data, automatically generates transcripts and annotations for you and generally thrives on making your life easier. At least in terms of UX testing, that is. But why should you go for this option instead of opting for any of other UX testing solutions?
Why it's #1 and better than the rest 
International testing possible with verified B2B and B2C testers from over 50 countries
Whether you sign up to a single test or one of our packages, you will always have access to more than 50 countries for international user testing. Our services are affordable, so we don't want you to have to sign up to our more expensive packages if your budget says no. To go with an international usability test, PlaybookUX also offers translation services for the test script in addition to transcription services between different languages. Want to recruit testers in Hungary or Serbia? Choose us for your worldwide testing needs.
You can easily choose testers that meet your target audience as our AI-focused software is comprised of ten demographic and employment filters. B2B businesses can also choose an individual depending on their industry, job title, seniority or company size. PlaybookUX has a 2-step verification process to vet testers. This process includes verifying testers through LinkedIn and then double-checking their details meticulously by hand to make sure that you are getting the best participants for your study.   
Tests can be conducted across any browser, desktop, tablet and mobile testing

 Any unmoderated or moderated usability study can be on your desktop, tablet or mobile. Our user testing software also works on all browsers, not just Chrome.

Screener questions make sure you only test your target audience

 There are often professional testers who simply want to get paid for user testing and might have no real interest in your product. So how can you avoid that? Choose PlaybookUX's usability testing tool as it allows a business to qualifying questions to any user so that if they don't meet all your criteria, they don't get selected for your study.
Create highlight reels, clips, tags and notes on your insights

Beginner level customer support with an all-inclusive UX usability testing online tool

Don't want to worry about taking notes during a study, paying participants, scheduling, recruiting, paying participants or sourcing relevant insights from the data? Our software walks you through the process of setting up a study, recruiting, scheduling and paying participants with ease. And then it automatically generates auto-stamped notes for each user who is part of your research and analyses the data received. If you want to add more annotations to a test, you can. But usually, as our insights are so extensive, you might not need to!

 Struggling with the questions you need to ask for a test? PlaybookUX wants to get rid of this burden for you by offering user testing templates for different types of user testing studies you can conduct, depending on what you want to test. You can easily import each template with a single click. For instance, an individual who works in marketing might want to use our software to test components of their email newsletters such as the body text, headlines, call to actions and images before they start a campaign. Alternatively, your design team might want to test an initial concept with a first impressions test or two versions of the same design with our A/B test. PlaybookUX also offer guides to draft your user persona, empathy maps, and customer journey maps if you need even more assistance in understanding your customer and their pain points.
 What if you are a complete beginner and don't have time to read these guides or templates? The solution exists in the form of PlaybookUX's do-it-all-for-you package that conducts tests for you and comes with even more detailed analytical data.
 If you have any burning questions and still want to go for the cheaper DIY option, then just ask our chatbot. It's faster than sending us an email. 
Affordable for all types of businesses, especially start-ups
 We love the team effort that goes into building a new product or service. And so for this reason, we cannot be selfish with our pricing. So, PlaybookUX allows you to invite your team and your stakeholders to watch and comment on the test. We pride ourselves on being transparent with our pricing, and so there will never be any hidden costs. 
Instant access to Qualitative and Quantitative data after the test
 With every test you buy, you get quantitative metrics such as the SUS and time-on-task. Qualitative analysis is also provided in the form of a participant's general sentiment of a product. This process involves creating and highlighting quotes from participants of a particular sentiment that is most relevant to your test. Lastly, PlaybookUX takes qualitative data further by taking the most common phrases from participants and organising it into a bar chart so that you can visualise where and when this quote was said. Told you that you might not need any further annotations! 
Can change a study even after launch
 It's never a case of user testing software says no even once you have launched a study. We realise that human beings are not perfect and do make mistakes. We also understand that teams are fickle entities, and testing needs might change from one day to the next. So, wouldn't you like the ability to make changes to your study even if it is live? Say yes with PlaybookUX.   
Feature

Yes or No

Website usability testing tool

Yes

Mobile app usability testing tool

Yes

Moderated usability testing tool

Yes

Unmoderated usability testing tool

Yes

Free plan

No

Price

PlaybookUX starts with $49 per participant for an unmoderated desktop test. This price includes advanced screening such as screener questions and demographic filters, automated transcripts, unlimited team members, studies you can run at the same time and unlimited video storage.

 
Want to find out more? Schedule a call with us here.

2. Userfeel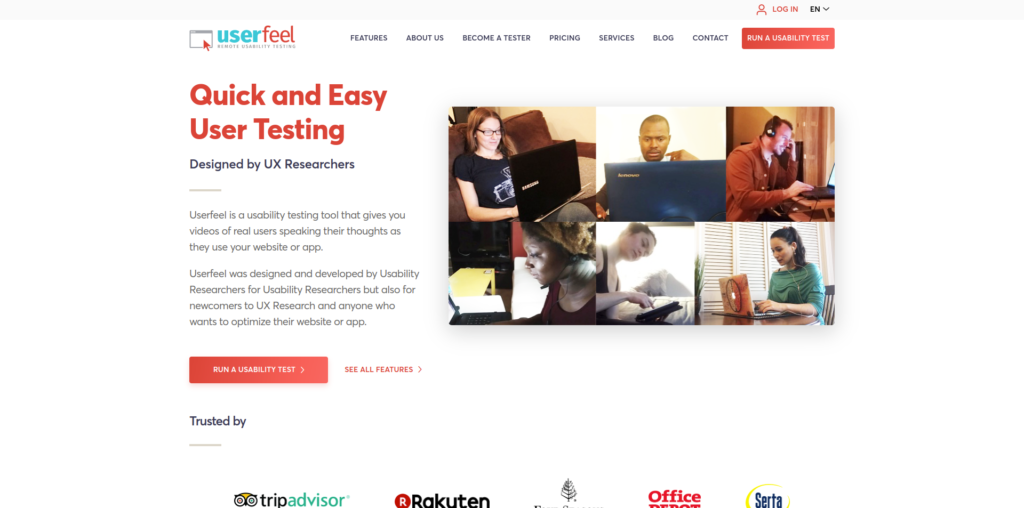 Real users can give a business their opinion on their website or app as they deliver their ideas over video through UX usability testing online tools like Userfeel. With Userfeel, a business can:
Test any website or app through unmoderated or moderated tests with more than 80,000 testers who converse in over 40 languages, regardless of whether it is a desktop, mobile or tablet device

Organise tests by project and has no limit to the number of team members you want to add to a test. Each team member also can annotate videos linked to the reporting system for download and categorise an issue based on type (i.e. comment or a bug of the system

Filter testers by age, gender, country, level of web experience and language. A business can also use its panel of testers without the need to register. Screener questions also ensure that you use testers who have recently bought products from you. You can also see a live estimate of testers available for the type of test you want to conduct.

Use quantitative analytics such as the system usability scale (SUS), time on task, ratings and averages to be generated automatically. You can also click on a transcript sentence to go to a point in the video.

Pause and resume tests for as long as you need. You can also create 1 – minute, 5 – minute, 20 -minute, 40-minute and 60 -minute tests. 
| | |
| --- | --- |
| Feature | Yes or No |
| Website usability testing tool | Yes |
| Mobile app usability testing tool | Yes |
| Moderated usability testing tool | Yes |
| Unmoderated usability testing tool | Yes |
| Free plan | No |
| Price | Starts at $59 per credit. For instance, you will require one credit for one 60-minute unmoderated session with your users, but if you want to use its panel, it will cost you three credits. One 60-minute moderated session can also cost you three credits. |
3. Userlytics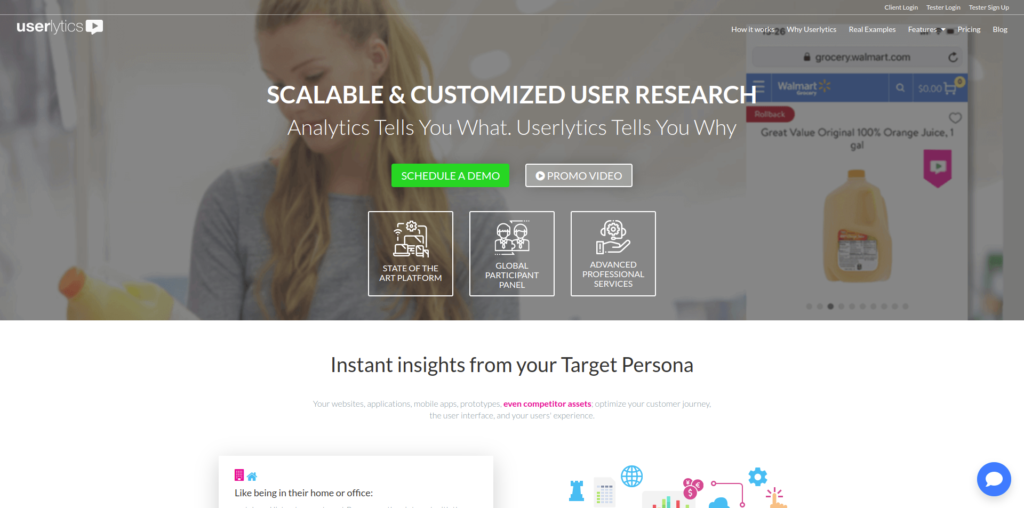 If you are looking for a website and mobile app usability testing tool  that can better the UI and UX of your digital assets, whether it is a website, app or prototype, try Userlytics. It's a UX software solution that allows you to customise tests based on your unique needs with a pool of real people, not professional testers. With Userlytics, a business can:
Run a range of unmoderated and moderated tests with screener questions to define your target persona on any device, irrespective of whether it is a laptop, desktop, mobile or tablet. They also allow tests that can be viewed on an Android or iPhone device.

Use skipping logic function that redirects participants to specific tasks based on their previous answers to questions.

Source quantitative metrics such as SUS, time on task, success/failure (a type of A/B test function) and single ease questions are available for their tests. On the other hand, qualitative data features include time stamps, searchable and hyperlinked transcriptions, annotations that can be shared with other team members, clip and highlight reels as well as different playback speeds. As well as A/B testing, Userlytics also allows card sorting and tree testing tests which could take the form of verbal tasks, multiple-choice or ratings-based questions.

Opt for its professional services package which allows a more in-depth analysis and report with further recommendations.

Filter participants based on age, gender, education, employment, income, technology and profile. Userlytics has a panel of over 300,000 participants.

Get unlimited seats and accounts with multiple permission sets. 
Feature

Yes or No

Website usability testing tool

Yes

Mobile app usability testing tool

Yes

Moderated usability testing tool

Yes

Unmoderated usability testing tool

Yes

Free plan

No

Price

Prices start at $49 per participant for unmoderated and moderated sessions. But this is for a basic package that only includes a participant panel from the UK, US, Canada and Australia, has basic demographic filters, does not have a highlight reel or include audio transcription. A business also cannot bring its testers, cannot use screener questions and can only conduct tests that are 15 minutes long. So if you want more, you have to pay more.

 
 4. TryMyUI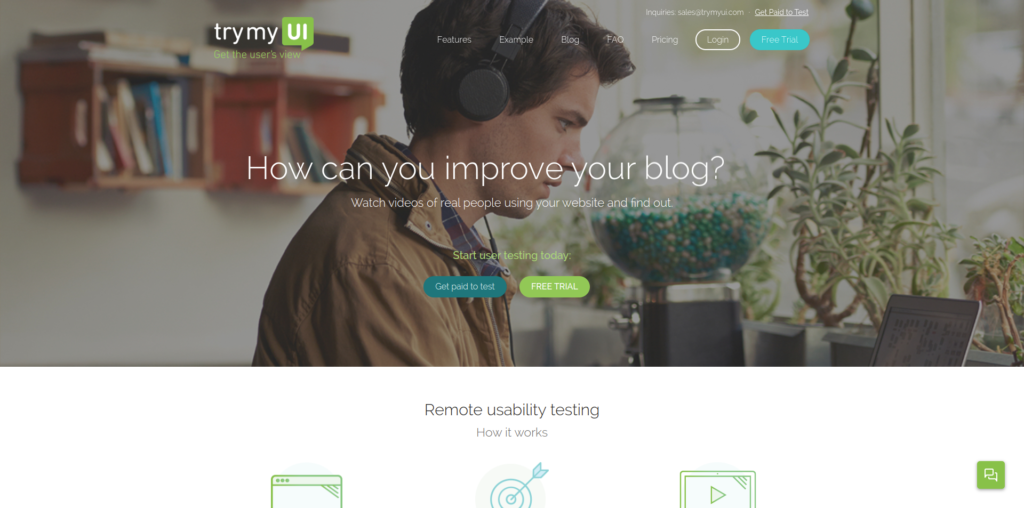 Only need to conduct remote or unmoderated tests? Try TryMyUI.com which is a remote usability testing online tool that allows you to choose individuals based on your target audience. They can then provide spoken video feedback and written responses to surveys on your website or app. With TryMyUI, a business can:
Try it the platform for free to test a mobile device, website, app, prototype or wireframe. You could also do different types of tests, whether you just want to gather feedback on first impressions or conduct a more detailed survey.

Filter users based on age, gender, country of residence, household income, education, employment type, family status and social networks.

Use its screener questions can disqualify participants who do not respond to a question in the way you want.

Choose whether they want to go for their Enterprise or Team package:
       – Only available with the Enterprise package – Testing with own users instead of the TryMyUI user panel. The ability to use UX Crowd, which would allow a business to get better insights from larger tester pools.
      –  Only available with the Enterprise or Team package – Here you have access to testers who sign a non-disclosure agreement. Quantitative data metrics such as SUS, the post-study system usability questionnaire, single ease questionnaire as well as task competition and duration are only available on these plans.
UX sprints are also available here which allows for continuous testing of your design. Either of these plans also includes multi-member logins, the downloading of videos, tagged and timed video annotations as well as highlight reels. These plans also allow the dragging and dropping of annotations in an executive summary builder to customise critical findings. 
| | |
| --- | --- |
| Feature | Yes or No |
| Website usability testing tool | Yes |
| Mobile app usability testing tool | Yes |
| Moderated usability testing tool | No |
| Unmoderated usability testing tool | Yes |
| Free plan | Yes(only allows 1 test) |
| Price | If you pay per result, it is $35 per test credit. One mobile test requires two credits. If you pay per result, you get 20 minutes of audio and video per user and only three timestamped annotations. You cannot get any analytics for your test, such as system usability score (SUS), task usability metrics (SEQ), time on task measurements. You also only get one 5-minute highlight reel and do not have access to their user panel or UX Crowd feature (voting based usability feedback). |
5. Userbrain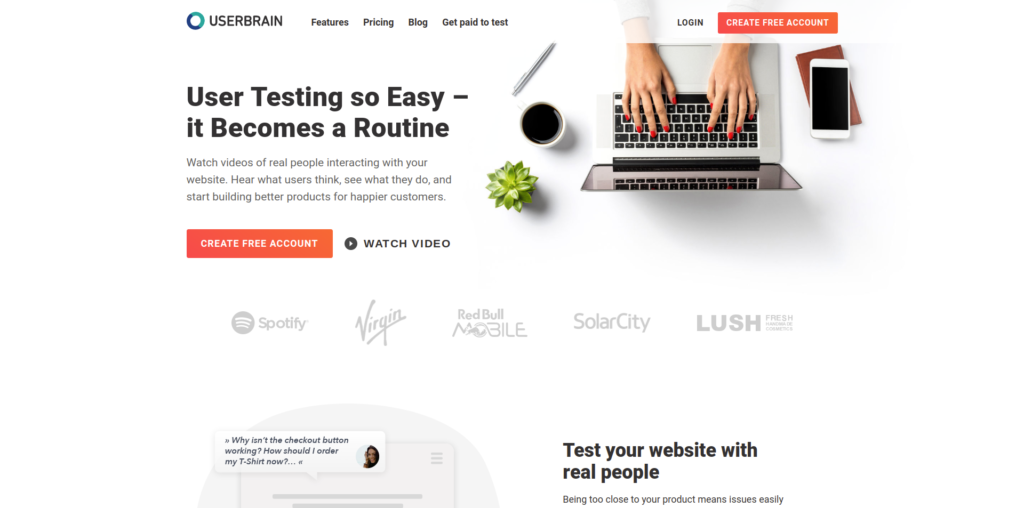 Using real participants from its panel of over 30.000 members, businesses can use Userbrain for unmoderated user tests and get their first results in a matter of hours. It is an affordable usability testing online tool which allows a company to test a prototype build using InVision, Figma, AdobeXD or any public URL. With Userbrain, a business can:
    Opt for different types of remote testing options available for wireframes, live sites, high and low-fidelity prototypes. Businesses can also run A/B tests, competitor analysis studies, Google search tests, sales and marketing emails analysis as well as an icon and imagery tests.

    Add video annotations and tags so that you can find critical insights easily.

    Share insights through a link which includes all annotations at any time in a CSV or XLS format.

    Set recurring unmoderated tests using an automated testing schedule if you have a wide variety of daily or weekly tests to run.

    Produce the first test in 10 minutes where testers can use their smartphones, desktops or tablets to complete tasks.

    Conduct tests where all tasks are limited to 15 minutes, although the number of tasks is not limited.

    Try worldwide testing with a testing panel that can be filtered based on language, religion, gender and age.
| | |
| --- | --- |
| Feature | Yes |
| Website usability testing tool | Yes |
| Mobile app usability testing tool | No |
| Moderated usability testing tool | No |
| Unmoderated usability testing tool | Yes |
| Free plan | Yes (only allows 1 test) |
| Price | If you go for a pay-as-you-go option, it is $29 per test, but if you go for a monthly option, it is $19 per month. You can cancel at any time, and any available tests are rolled over to the next month. You must add annotations and tags if you need them. These are not automatically done for you. |
Choosing a usability testing online tool to conduct tests with real users can be a daunting task, especially if you have no idea where to start. The UX usability testing tool you go for should be one that allows you to do unmoderated and moderated tests, with the most value for your money. This need means that any UX tool should have a strict process for screening and choosing participants who are within your target audience and allow everyone on your team to participate in the study while it happens. Even more, once the study is finished, this tool should also automatically analyse your findings and give you useful qualitative and quantitative without you having to pay more for it. You need a usability solution that offers a fuller UX process and doesn't charge any extra for this. And this is precisely what PlaybookUX always aims to do as it continues to develop a better UX usability testing tool that all types of businesses will continue to cherish. Want to find out how PlaybookUX can help your business with it's UX needs? Contact us for a demo today.     
Resources
User Testing Templates
Speak to high quality people