Top seven usability testing software tools to improve your CRO in 2021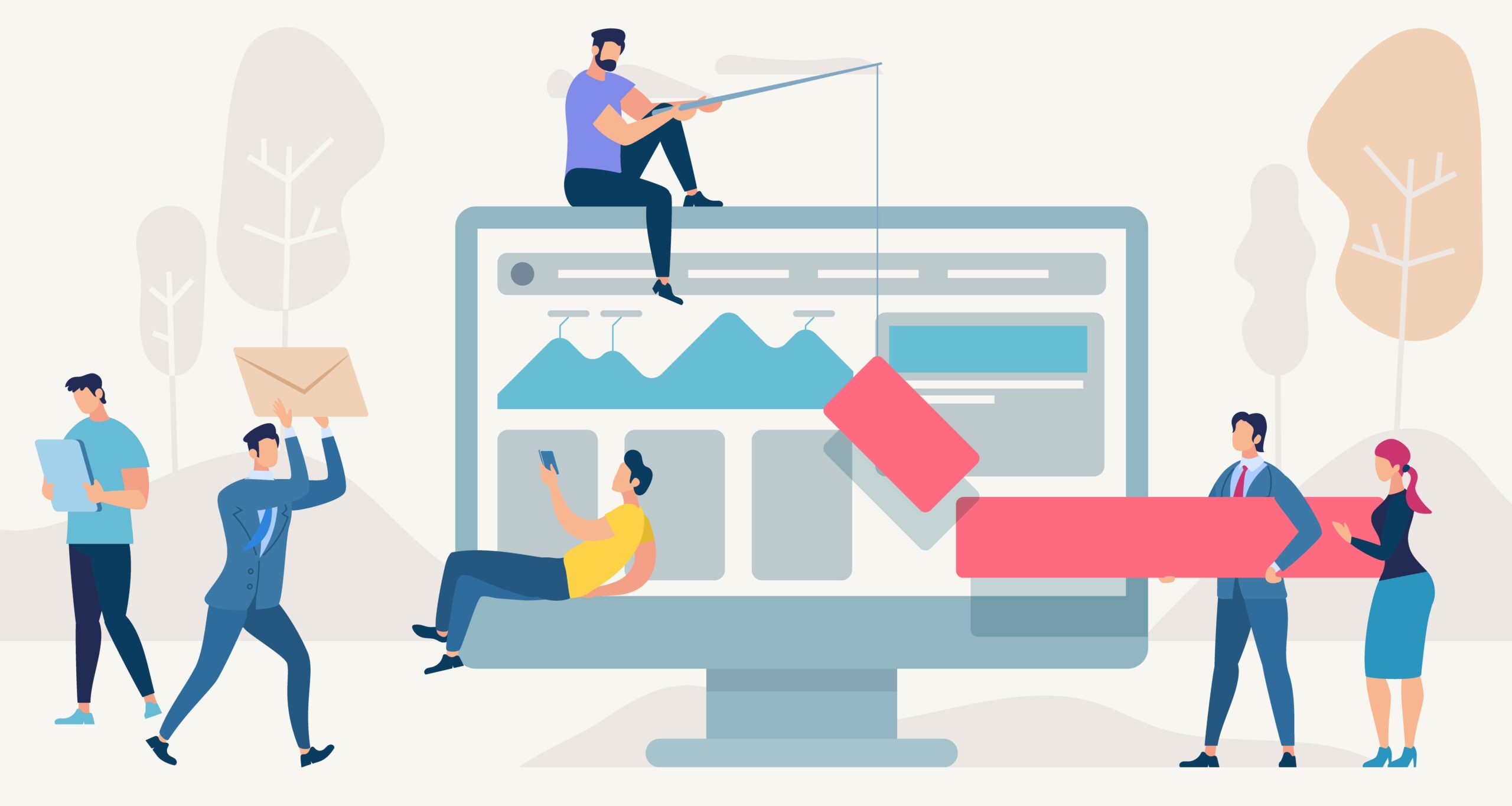 Want to improve your conversion optimization rate (CRO) on your website or app so that you can hit your sales goals? Using usability testing software can help you do this as it demonstrates how well users can use your website or app. 
According to Forbes, using software usability testing strategically for your business can improve your conversion rates by 400%. Usability testing in software testing also aims to improve the customer's journey when they visit your website or app. It seeks to discover ways of reducing their pain points or frustrations to convert them into buyers. To help you improve conversions on your website or app, we've identified 7 of the best remote usability testing software tools that you can use to exceed your revenue goals.     
Top remote website usability testing software:
TOOL NAME: PlaybookUX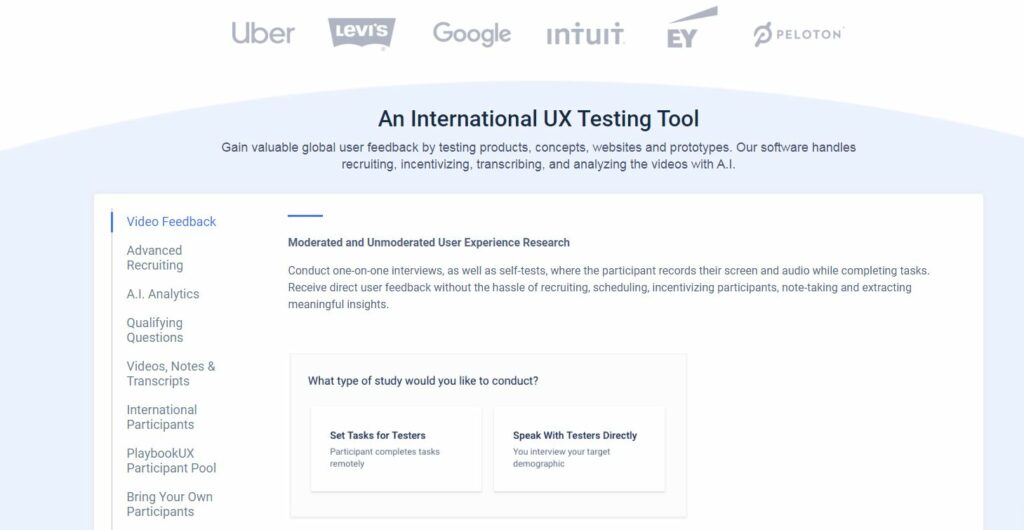 DESCRIPTION: We are an end-to-end-UX software solution that can help any business, irrespective of their budget or size, to evaluate how their target audience uses their websites, apps, products, concepts, prototypes or services.
BEST TO USE FOR: If you want an affordable piece of usability testing software that helps you set up moderated and unmoderated tests with ease, choose us. Our software can also handle the hassle of recruiting, transcribing, incentivizing and then analysing your results using A.I.
KEY FEATURES:  
Multi-platform usability testing (desktop, tablet or mobile) that allows you to test your website, mobile app or prototype. Our user testing software also works on all browsers and not just Chrome.  

Our AI analytics package is included with every

usability test

your purchase. Using our software, you can source quantitative metrics such as time-on-task and the System Usability Score (SUS) as well as qualitative analysis such as sentiment analysis. This type of analysis includes highlighting quotes from participants that are relevant to your study and creating interactive charts that help you visualise your results from each participant.

International recruiting with B2C and B2B vetted testers from over 40 countries. In addition to this, we can also provide you with translation services for the test script as well as transcription services for different languages. As part of our software usability testing, all our testers go through a 2-step verification process. This involves assessment through LinkedIn and manually checking their details so that you can source the ideal participants for your study.     
PRICING: If you use our participant panel for a 15-minute unmoderated session, you pay $49 dollars per participant. You could also start with a 30-minute moderated session which would cost you $99 per participant. If you choose to pay in advance, you can also get a discount! These prices include providing you with robust analytics, screener questions and transcripts. You also get notes, videos, verified testers as well as the ability to test on all devices (tablet, laptop and smartphone).
TOOL NAME: Hot Jar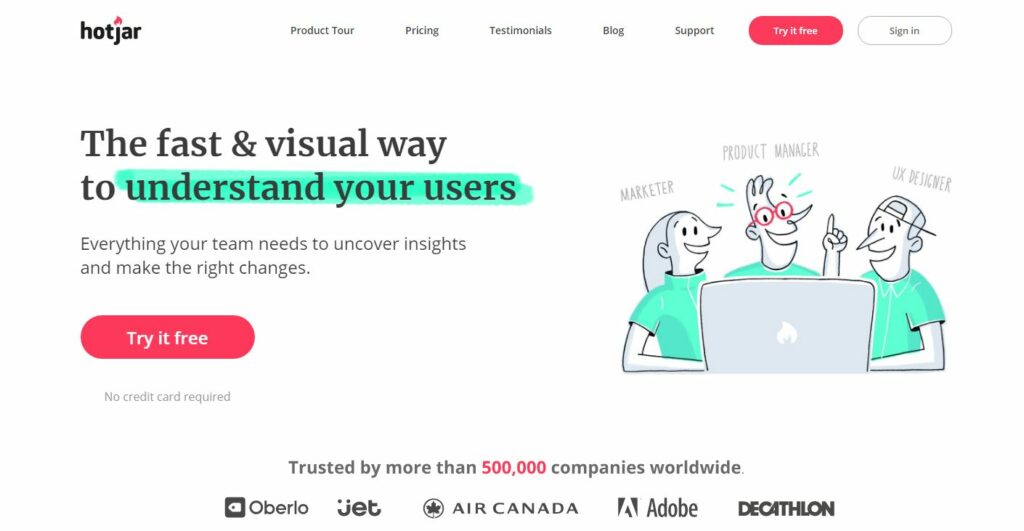 DESCRIPTION: Hot Jar uses its usability testing software to help you understand the behaviour of your website visitors through obtaining their feedback from tools like heatmaps, surveys and session recordings. 
BEST TO USE FOR: Whether you are organizing a moderated or unmoderated test, Hot Jar's heatmaps feature will allow you to see the exact behaviour of the participants as they are completing a task. Also, if you want an instant visual way of understanding your target customer, Hot Jar can show you what the users did when completing your task.
KEY FEATURES: 
Heatmaps which allow the visual representation of a user's clicks, taps and scrolls while on a screen to show you what they care about on your site.

Visitor recordings to help you visualise your visitor's clicks, taps and mouse movements as they navigate your site. You can also share these recordings with anyone, take notes while watching them and tag them.

Analysis of conversion funnels to help you test, improve and understand the page and the step where visitors leave your site. You can also use the Hot Jar software to analyze online form completion rates. In this way, you could reduce users abandoning your forms and the relevant pages.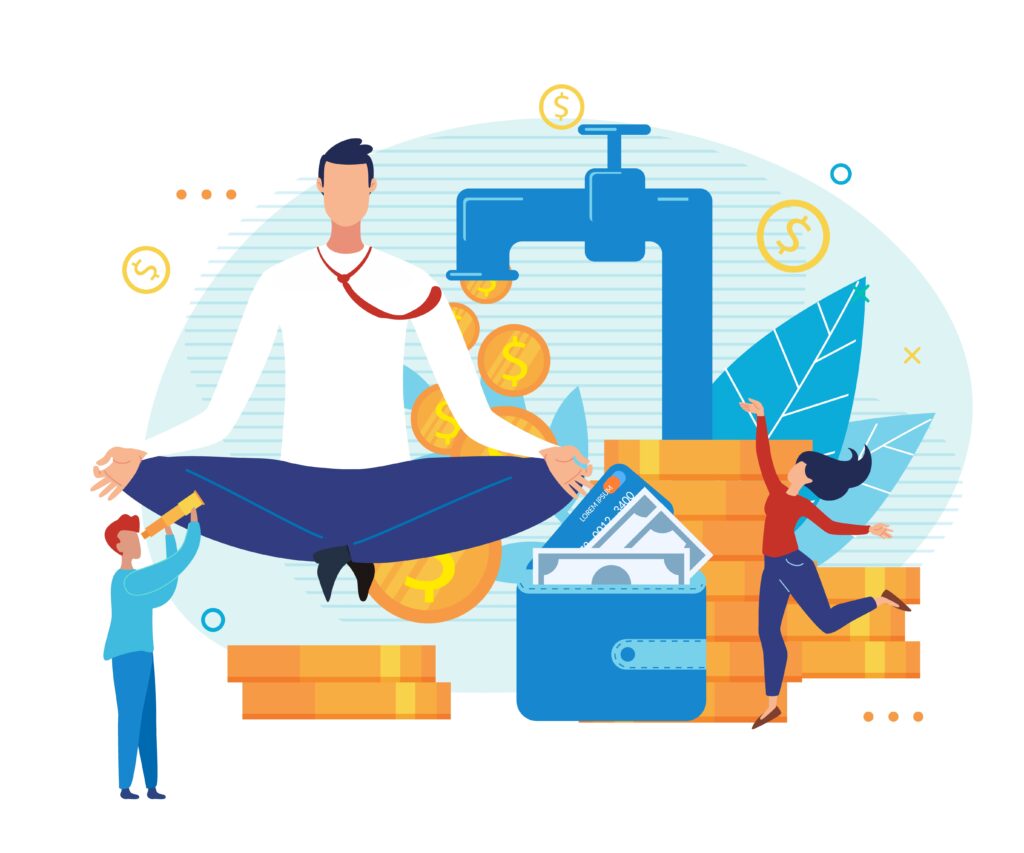 Feedback surveys/polls on your website to improve the user experience on your website through survey questions that aim to find out more about their visit to:

No user limits on any plan meaning you can invite all your team and clients to view it at no cost.

Features that are compatible with desktop, mobile and tablet device.  

Installation can occur with just one script.

No limit to responses you can get using feedback tools. Feedback tools can be localized in over 40 languages.
PRICING: Plans are available for all types of businesses based on page views they want to receive. For example, twenty thousand page views starting at 89 euros per month. If you wish to obtain 120,000 page views, it will cost you 289 euros per month. You can also sign up for their free usability testing software package for 15 days.
TOOL NAME: User Zoom

DESCRIPTION: Using a combination of quantitative and qualitative software, user testing studies and participant testing pools, User Zoom allows businesses to get the full story of their customer experience through software usability testing. They do this by enabling you to test, benchmark and measure the user experience of a digital product at any stage of development on any device. 
BEST TO USE FOR: If you want reliable UX insights from a piece of software that allows you to combine qualitative and quantitative UX methods, choose User Zoom. Choose from tree testing, card sorting, online surveys, intent testing (heatmaps) and usability testing (unmoderated recordings).
KEY FEATURES:
 All-in-one solution that can help you plan and build your studies across multiple devices source participants from its pool and analyze the results you receive from the tests.

Their participant pool includes access to over 120 million users worldwide. But you can also use your own unlimited number of users for free. Their screening questions also help you reduce time spent on recruitment.

Get quantitative metrics such as success rates, page views, number of clicks and time on task with studies with usability studies. User Zoom analytics dashboard allows you to look at individual responses from participants, sort and filter options to analyze specific data or segments or see dynamic charts created using the answers received.

User Zoom also allows easy integration of prototyping tools like Marvel, Just in Mind and Figma, analytics tools such as Adobe Analytics and Tableau, A/B testing tools such as Mix Panel and A/B Tasty as well as tag management tools like Realium.
PRICING: There are no prices advertised on their website as you have to contact their sales team. Opt for their annual subscription with access to all tests, participants, unlimited seats and data collection. You can also go for a customized plan that includes advanced participant pool options or additional live studies.
TOOL NAME: Usability Hub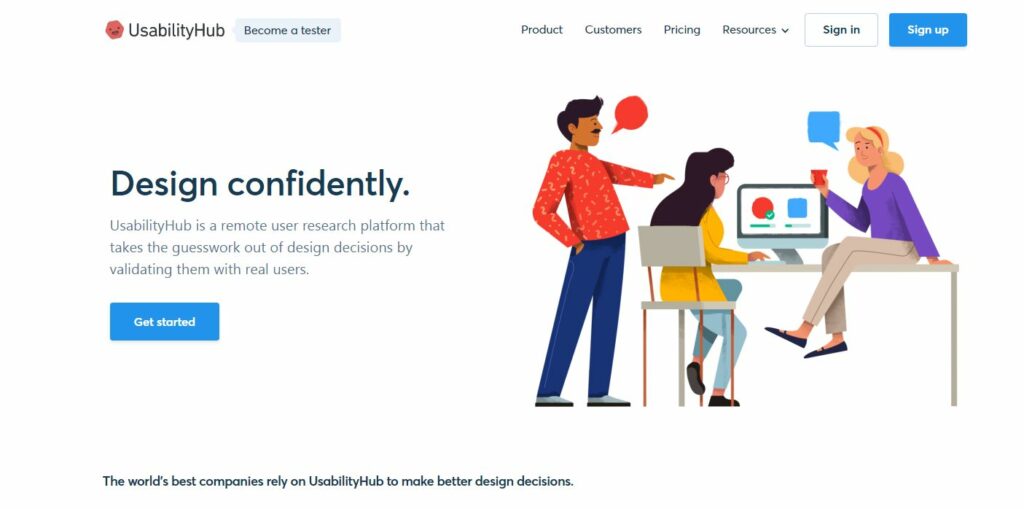 DESCRIPTION: It's a remote usability software tool that helps you discover design issues early. This factor means that you spend less time and effort spent on developing a product that will cause your users frustration.
BEST TO USE FOR: If you want an end-to-end solution that is simple to use, choose Usability Hub. They have advanced heat maps that go beyond click density. This platform also gives you heatmaps with metrics such as time-to-click. Other than heatmaps, you can also go for their first-click tests, design-based surveys or preference tests. These type of tests can improve your visual assets, branding or marketing copy. 
KEY FEATURES:
You can recruit as many of your participants as you wish on any of their vetted participant panels with no additional cost for hiring users by age, location, gender or income.

  Usability Hub also operates audience split testing, which means that each participant sourced from their panel is unique.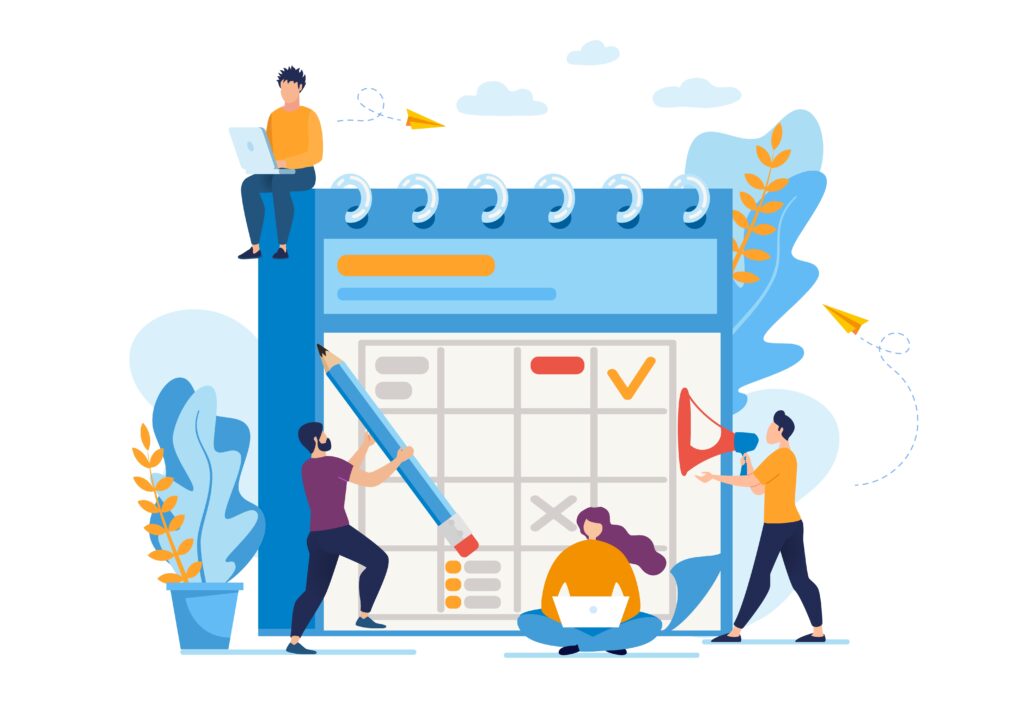 You can analyze open text to find themes in the data you received or assess user funnels to identify the frustrations at specific points of their journey.

Time spent on tasks is available for each task a participant performs. What's more, is that you can also export your full test data to any analysis tool of your choice for detailed analytics.
PRICING: If you only want to test occasionally, it is $50 per test upgrade (flexible plan). Regular software usability testing will cost you $100 per team member every month (annual plan) where you will also have unlimited upgraded tests. An upgraded test is one which is longer than two minutes which could contain upgraded features like a custom welcome or thank you section as well as custom branding.
If you want more, you could also opt for bespoke pricing for which you will need to contact their team for more information. If you wish to use their participant panel, it is $2 per panellist. This is the case if you choose a medium test which is 3-4 minutes long and has 15 questions. For more extended tests that have 15 questions which are 5-7 minutes long, it is $4 per panellist.
TOOL NAME: CRAZY EGG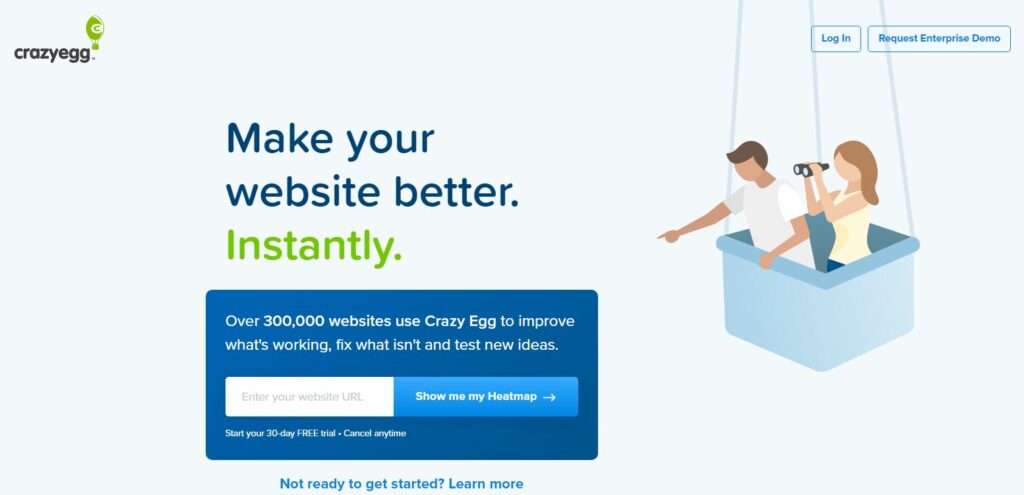 DESCRIPTION: Crazy Egg can offer businesses website usability testing software that can help them improve their conversion rate in as little as 30 days.
BEST TO USE FOR: If you want an all-in-one website conversion tool that helps you understand the customer journey through snapshots, heatmaps and recordings, Crazy Egg is your choice.
KEY FEATURES:
Their heatmaps, scroll maps, and other visual reports like their confetti reports indicate how customers are responding to elements on their site. For example, you could see whether your calls to actions are visible or whether a page needs a redesign.

Their user session recordings feature within their usability testing software allow you to understand the areas of frustration on your site for customers. You can also see how individuals interact with your product or check out pages. Also, divulge deeper into specific audience segments such as new visitors or more active visitors.

Their A/B testing interface is straightforward to use. All you need to do is pick a website goal and assign a website action to that goal.
PRICING: Prices for their plans depend on the number of page views you want, the number of recordings you need and the amount of recordings storage you require. There are 100 recordings per month, three months of recording storage, and 30,000 tracked page views with their basic package of $24 per month.
They also have standard packages from $39, a plus package from $99 and a pro-package form $240 per month. There are unlimited A/B tests and edits with all plans at an annual cost. You could also use a custom plan option which includes priority support just like their pro plan.
TOOL NAME: Optimizely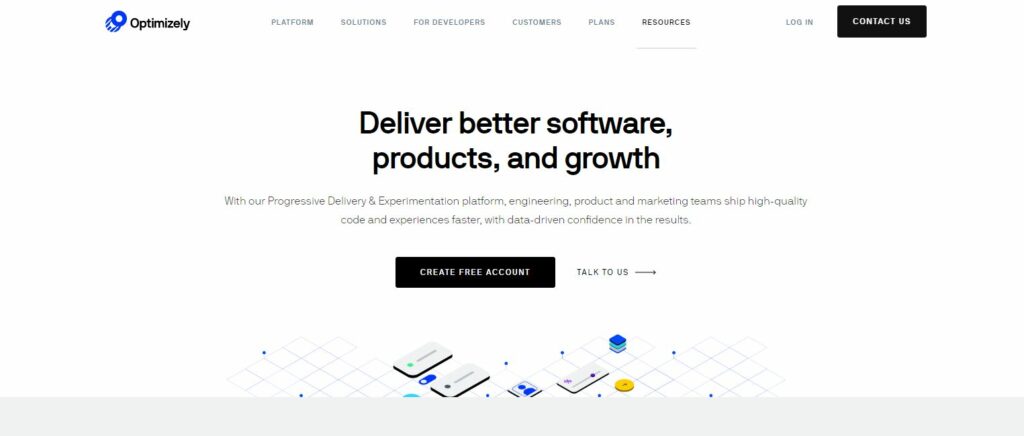 DESCRIPTION: It is a customer experience optimization software tool that allows businesses to increase the value of their digital products campaigns and online stores.
BEST TO USE FOR: If you want to conduct A/B testing, multivariate testing or server-side testing, use this remote usability testing software. You can also create new studies without any knowledge of coding! 
Get specific with your participant choice as you narrow down participants' geographical location. Or opt for those who have a particular type of cookie setting. Designed for teams rather than just designers, it allows a developer to take advantage of several extensions, coding options and API's when building websites or prototypes.
KEY FEATURES:
Monitor visitor behaviour, target specific users, based on how they behave and create a particular process of selling for each visitor based on these results.

Has a wide variety of website templates to choose from and allows you to customize it for your needs.

Its usability testing software, when used on your website, can also recommend products based on order history and online behaviour to customers and can deliver targeted messages to those who are about to leave an online store.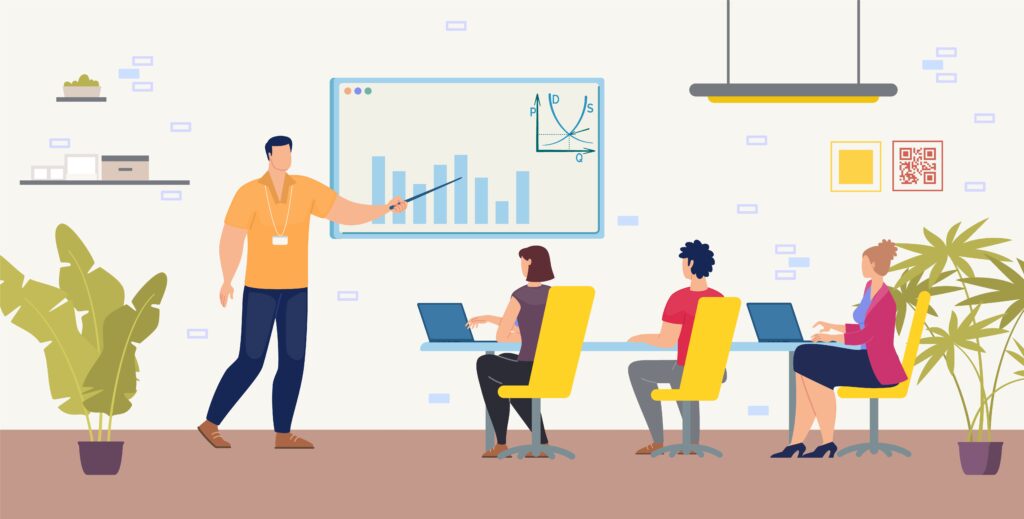 Can use it to help you customize messages and other types of content for email, mobile and the web.

Test landing pages, websites as well as marketing campaigns.
PRICING: You have to contact their sales team for their prices. 
TOOL NAME: Optimal Workshop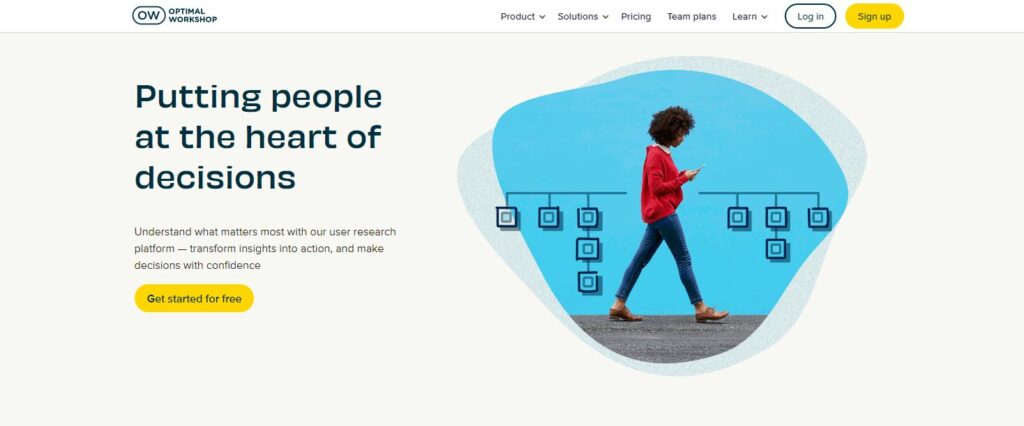 DESCRIPTION: Optimal Workshop offers remote usability software that contains a bundle of user experience tools that are affordable. It also allows businesses to create studies in over 80 different languages. 
BEST TO USE FOR: If you want a collection of user research methods such as tree testing, card sorting, online surveys, first-click testing and qualitative research, this platform is the best value.
KEY FEATURES:
You can recruit participants for free through your website or use optimal workshop's recruitment panel. This panel offers many demographic filters and additional screeners.

Choose participants from a pool of 50 million who all speak over 80+ languages.

Combine qualitative and quantitative tools using their five testing tools to get the bigger picture from your user research.
PRICING: Their annual plan starts at $166 per month per user. This plan only includes one user but consists of the use of all types of studies. If you need around 2 to 19 users to use this software, opt for their team plan which costs $153 per month per user. This option also includes customer success support, priority support and free credits for their participant recruitment panel.
Want more than 20 users when using this software usability testing solution? Go for their enterprise plan for which you will have to contact their team for more information.
Not sure whether Optimal Workshop is for you? Sign up for their free usability testing software package where you can collect the first ten responses to a study for free. You can also have three free tasks when trying their tree testing and first-click tools as well as the first free 30 cards of their card sorting tool. 
Using usability testing software to improve your CRO shouldn't be a one-time process; implement it into your long-term strategy. Utilising software usability testing regularly to assess whether you are meeting your target audience's expectations is the key to continued growth and success. Optimizing your CRO through remote usability testing software will also help you improve your customer experience across their journey, which will promote brand loyalty and increase engagement and revenue. If you don't know where to go next, see how our user testing software features can help boost your CRO.
Resources
User Testing Templates
Speak to high quality people