The Best Unmoderated User Testing Tools for a Successful UX Design Project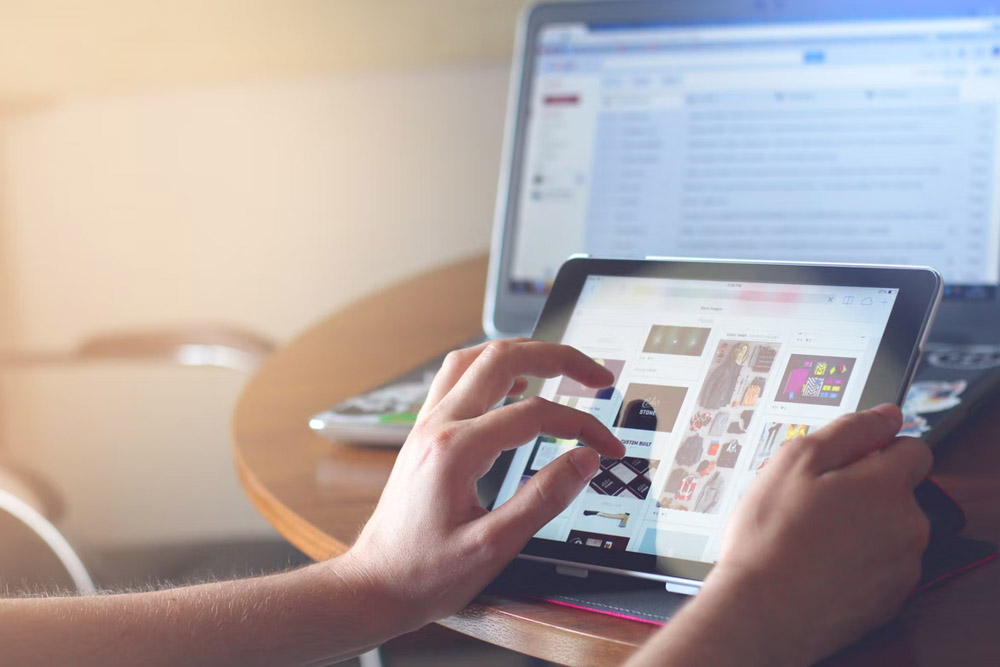 Image source: unsplash.com
Testing new features can be complicated process, and user feedback is one of the most important things to consider. User testing allows product teams to check whether their solutions are accessible and usable – if they effectively solve the users' problems. It also helps uncover potential issues before production, understand what users think about your product, and figure out how well it meets their expectations.
With the right user testing tools, you can test your products efficiently and cost-effectively. Unmoderated user testing does not require time and expertise, and you can quickly get started.
While creating PlaybookUX, our video-based user research software, we conducted extensive research on unmoderated user testing tools on the market to develop our product according to customers' needs. PlaybookUX lets you watch video recordings of users interacting with websites or apps on their schedule. You can conduct moderated, unmoderated user tests, card sorts, and tree tests on your desktop or mobile device. Create your account today to see how PlaybookUX works.
In this article, you'll learn more about user testing, the pros and cons of unmoderated user testing, and the best unmoderated user testing tools for a successful UX design project. Let's get started.
What is unmoderated usability testing?
Unmoderated usability testing provides actionable insights into how potential users interact with your website, web app, landing page, or mobile app.
Unlike moderated usability testing, unmoderated user testing lets all the test participants act independently by only having a small guidance document and completing tasks at their own pace.
The goal is to gather qualitative data you can use for product improvement.
Why is unmoderated usability testing important?
With unmoderated usability testing, you can save time and money and get compelling data about your product's performance without meeting your test participants. Also, unmoderated user testing tools are beneficial when you don't have enough time or can't afford meetings with other people to conduct standard usability tests.
How to conduct unmoderated usability testing?
Before deciding which tool to use, you need to know how to conduct an unmoderated usability testing session. You need to perform six steps to ensure you don't overlook anything and get the most out of the money and time you spend on the research. Let's go through each step.
Step 1: Define study goals
Like any other research session, you'll need to set objectives to conduct unmoderated usability testing. We highly recommend using the SMART goal approach when creating specific objectives for your usability test. Defining SMART goals will help you determine whether your expectation are realistic and if your unmoderated usability tests will generate actionable insights or not.
Step 2: Select testing software
Getting the appropriate tech stack to support your research session will make a notable difference. Whether we're talking about remote usability testing tools or on-site options, it is crucial to collect user feedback effectively.
There are plenty of tools you can use for user testing. Preparing a usability test requires appropriate features, so get ready to try out a handful of solutions before choosing the best one.
One of the most viable solutions is PlaybookUX. It helps you perform all kinds of user testing sessions (including unmoderated and moderated). It also comes with a handful of other features we will cover in the upcoming sections.
Step 3: Create the guidelines
User testing generally requires attention to detail and clear guidance with transparent steps for users to complete. Especially when it comes to custom user research, you must develop a set of instructions.
Clear instructions will help your real users identify usability issues and report them accordingly. After all, this is the final purpose of any usability testing session, regardless of the other goals.
To simplify things, you can take advantage of unmoderated usability guideline templates. Professionals created these examples, and you can easily tailor them to your company's needs.
Step 4: Pilot test
After putting everything in its place, it is the perfect time for you to try the test yourself. All you have to do is put yourself in your test participants' shoes and read the guidelines like it's your first time seeing them.
Here are some tips to keep in mind when performing a pilot test:
Grammar and punctuation in guidelines are important
Instructions must fulfill three distinct conditions
Be clear and concise
Include any additional information you feel your users might benefit from
State a standard procedure for reporting any possible usability issues
Anything that seems unclear to you will mess up testers' experiences
Taking advantage of these three steps will help you decide whether your usability testing session is ready for deployment or if it simply needs additional work before going live.
Step 5: Recruit participants
Finding the right people and putting them in the right place at the right time is a complicated job. Therefore, you will need to be very attentive when it comes to recruiting the appropriate participants for your unmoderated testing session.
Here are some of the most effective ways to recruit users:
Contacting a user testing software company
Collaborating with a recruitment agency or a panel company
Creating a gig on social media
Step 6: Analyze insights
Unlike moderated testing sessions, unmoderated ones let real users experience your user interface on their own. After finding the right target audience and deploying the unmoderated testing sessions, it is time for you to analyze all the quantitative and qualitative data and use the results to improve your product.
Pros of an unmoderated usability testing tool
Taking advantage of an unmoderated usability testing tool brings a lot of exciting aspects to the table. Here are some of them:
It helps you validate your idea
It doesn't involve a moderator in the process
It's fast and cost-effective
It saves you time
It provides you with insights that you may not have thought of on your own
It reduces potential risks
It helps you prioritize features
It can help you discover bugs and glitches
Users can complete their tasks whenever and wherever they want
Unmoderated user testing is one of the most effective ways to get insights into your product and users. It's anonymous, allowing you to see your users in their natural environment and get feedback on their behavior without any outside influence.
That makes unmoderated user testing especially valuable for uncovering issues that are difficult to test with other methods.
Cons of unmoderated usability testing tools
User testing can reveal flaws in your product, usability issues, and bugs. It also helps you understand how people will respond to your app. However, besides its benefits, there are disadvantages to unmoderated user testing:
You can't control the testing environment
You can't control the participants
You don't know who will show up
Yet, these cons are not a big deal compared to the pros this methodology brings to the table. Depending on your company's needs, the pros will probably outbalance the cons.
Unmoderated user testing tools: Evaluation parameters
Since we know how time-consuming writing an effective testing script can be and how much effort picking the right focus groups takes, we conducted our research to help you decide which unmoderated testing tool to choose for your business.
To make things as transparent as possible, we used five parameters during the comparison phase:
Ease of use
The complexity of features
Available integrations
Reports and insights
Price
Moreover, our experts have tested the tools themselves and gathered valuable information for the list of the best unmoderated user testing tools in 2022. Let's start.
Unmoderated user testing tools: The best of the best in 2022
In this list, we will present you with five different solutions. It's important to mention that user testing doesn't go with the one size fits all model.
Each company has its objectives, needs, and requirements. Therefore, each of the unmoderated testing tools described below comes with advantages and disadvantages. It is up to you to decide which one works best for your company.
1. Unmoderated user testing tools: PlaybookUX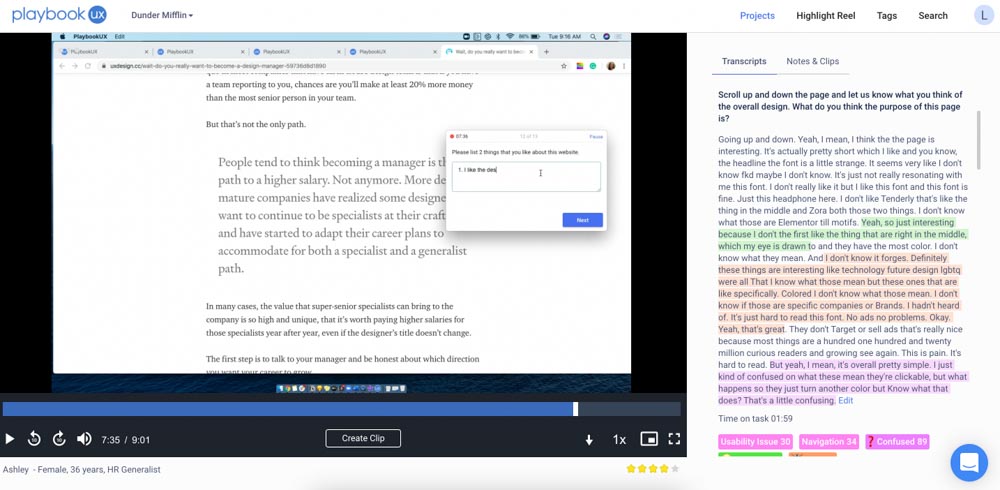 PlaybookUX is one of the most popular video-based user testing tools available. Thanks to its great features, it is widely used around the world. It has successfully saved product teams from missing crucial Key Performance Indicators (KPI) by offering straightforward user testing solutions during the past years.
Deploying an unmoderated user testing session using PlaybookUX is effortless. Its easy-to-use interface helps you create the appropriate guidelines and recruit testers most similar to your target audience, willing to identify potential usability issues.
User Rating
According to the user reviews available on the Internet, it is definitely a tool to consider for your tool kit. For example, all the users that rated PlaybookUX on Capterra have chosen the 5-star feedback.
Some of the most praised features offered by this tool are:
Simple and easy-to-use interface
Helpful automation for time-consuming tasks
Complex insights and self-explanatory reports
Who uses it
PlaybookUX is popular among product teams. It allows you to ensure everything works as planned and aligns with the target audience's needs. It helps you improve your product performance and provide the best user experience.
Deployment
PlaybookUX is available on:
Mac
Windows
Android
iOS (iPhone and iPad)
Cloud, SaaS, web-based
Features list
Speaking of features, PlaybookUX comes with:
Recruitment features

Consumer research
B2B targeting
Screener questions

Conducting guidance

Unmoderated testing
Multi-device tests
Automated payments

Analysis features

Highlight reels
Editable transcriptions
Quantitative data metrics
For further information about each of the available features offered by PlaybookUX, we highly recommend checking out the Features section on our official website.
What makes this tool unique
Our solution is unique among the usability testing tools. One of the most critical aspects that make PlaybookUX stand out from the crowd is that it comes with plenty of automation. Our AI-based software performs all the manual and time-consuming tasks for you. You'll save precious hours and invest them in something else.
Integrations
When it comes to integrations, PlaybookUX lets its users connect their favorite calendars (CallDav, Google Calendar, Exchange Server, and Outlook Calendar) into their testing gigs. This way, you can easily schedule testing sessions (for moderated usability testing) and meetings for further discussions.
Customer support
Fortunately, PlaybookUX comes with a comprehensive online library created to help users solve any technical problem they may encounter. Alternatively, you can discuss your issue with one of the representatives using the live chat on the official website.
Pricing
Regarding pricing, PlaybooxUX has a business model that provides you with flexibility. Therefore, according to your needs, you can either buy a subscription package that brings you unlimited access to the available features or stick to individual packages for user testing sessions.
For example, one 15-minute session costs $49. All the pricing-related information is available in the Pricing section.
Pros
Now that you know more about PlaybookUX, let's take a look at some of its advantages:
Advanced tagging functionality without extra payment like Dovetail or EnjoyHQ
Effectively organized workspace with advanced search capabilities
Advanced user testing options with multiple helpful features
Automation of all the time-consuming tasks
Cons
Might be a bit out of the budget for startups
2. Unmoderated user testing tools: Maze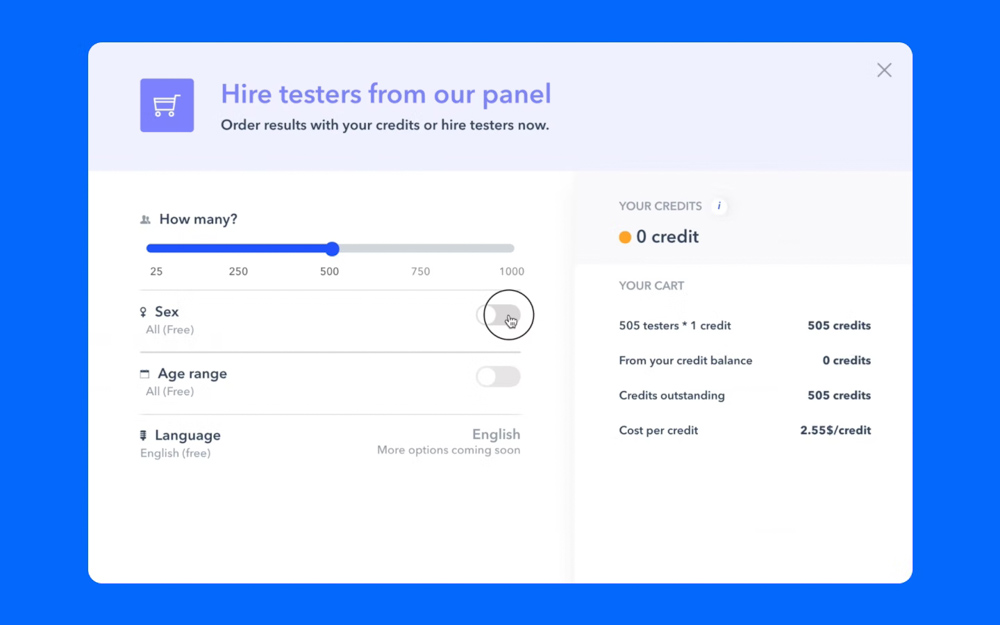 Image source: capterra.com
Maze is a user testing tool that allows business owners and team leaders to perform basic moderated and unmoderated research sessions on their new products.
Maze is pretty simple and doesn't take much of your time. To set up a basic usability testing session, you will need about an hour to do so.
User Rating
According to the reviews available on G2, Maze has a 4.5 out of 5-star rating.
Who uses it
Small business owners, startup CEOs and team leaders in different market segments use Maze for unmoderated user testing. Its primary purpose is to allow its users to conduct the research phase and find potential usability issues related to their product.
Deployment
You can use Maze as a cloud, SaaS, web-based tool.
Features list
Among its most noteworthy features, Maze comes with:
Unmoderated and moderated testing solutions for usability purposes
Insights and statistics based on users' experiences
Shareable content for multi-perspective analysis
What makes this tool unique
The most interesting aspect of Maze is that it comes with a well-developed sharing feature. This feature lets team leaders share the most relevant insights with their teammates to assess the potential usability issues accordingly.
Integrations
When it comes to integrations, Maze has the ability to connect with a handful of other useful tools. For example, some of the most popular ones are:
Adobe XD
Figma
InVision
Sketch
Marvel
Customer support
Some users complain about customer support service, harming Maze reputation on the web. They have no live 24/7 chat, so you will have to fill in a ticket and wait for their reply if you run into a technical issue. It typically takes around 24-48 hours to be resolved.
Pricing
Maze comes with a free plan for personal purposes. It includes only one seat but lets you use all the available features. Their Professional plan costs $49 per month per user, so if your budget is relatively low, you should keep this in mind. Alternatively, you can discuss with the Sales team to get their best offer for your specific needs.
Pros
Free plan available
Sharing feature
User-friendly interface
Cons
Unresponsive customer support
High pricing
Basic deployment options
3. Unmoderated user testing tools: Hotjar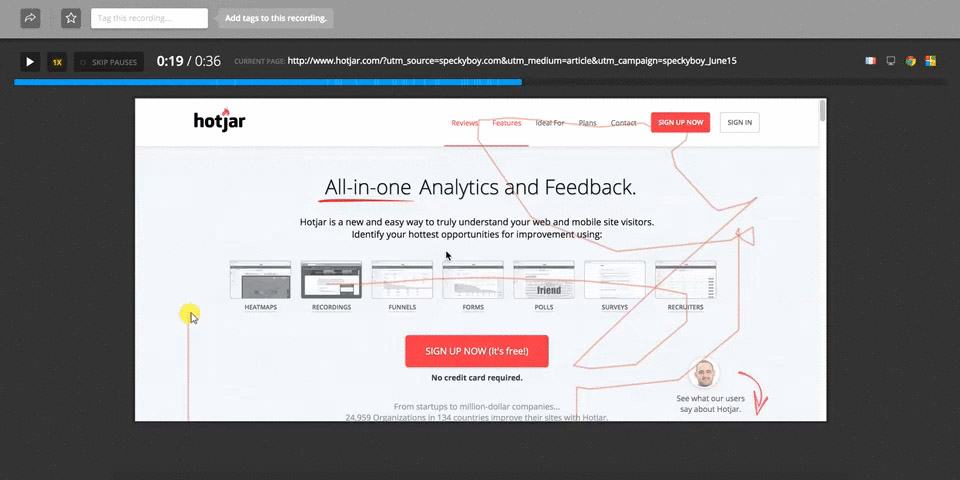 Image source: nvision.co
Hotjar is a well-known tool you can use to conduct unmoderated usability tests. However, you may find Hotjar interface somewhat complex since it provides many features. Also, depending on your previous experience with usability testing tools, you might need additional time to overcome its high learning curve.
User Rating
According to the latest updates on G2, Hotjar comes with a 4.4 rating out of 5 stars.
Who uses it
Web developers and product managers use Hotjar to better understand their customers' behavior. It comes with a handful of features that are also helpful for small business owners.
Deployment
If you are planning on using Hotjar for your product, be aware that it only works in a web-based environment.
Features list
For unmoderated tests purposes, this usability testing tool comes with plenty of features, including:
Ability to compare user behavior over time
Monitor user trends
Spot problems and bugs
What makes this tool unique
One notable aspect of Hotjar is that it includes a multi-purpose heatmap. You can easily see where your visitors click and analyze their behavior based on their actions.
Integrations
You can easily integrate Hotjar with tools, such as:
Slack
HubSpot
Segment by Hotjar
Zapier
Omniconvert
Customer support
If you run into a technical difficulty, you can check out Hotjar guides or the support center. However, finding the relevant information may take you quite much time.
Pricing
Depending on your exact needs, Hotjar may be more or less expensive. For example, you can easily take advantage of the free subscription plan for basic requirements, as it includes up to 35 distinct sessions per month. The least expensive package costs $31 per month.
Pros
Free subscription plan
Interactive heatmaps to monitor user engagement
Plenty of integrations
Cons
The support database is quite bulky and takes time to get used to it
For more advanced functions you will probably end up paying quite a costly subscription
4. Unmoderated user testing tools: TestRail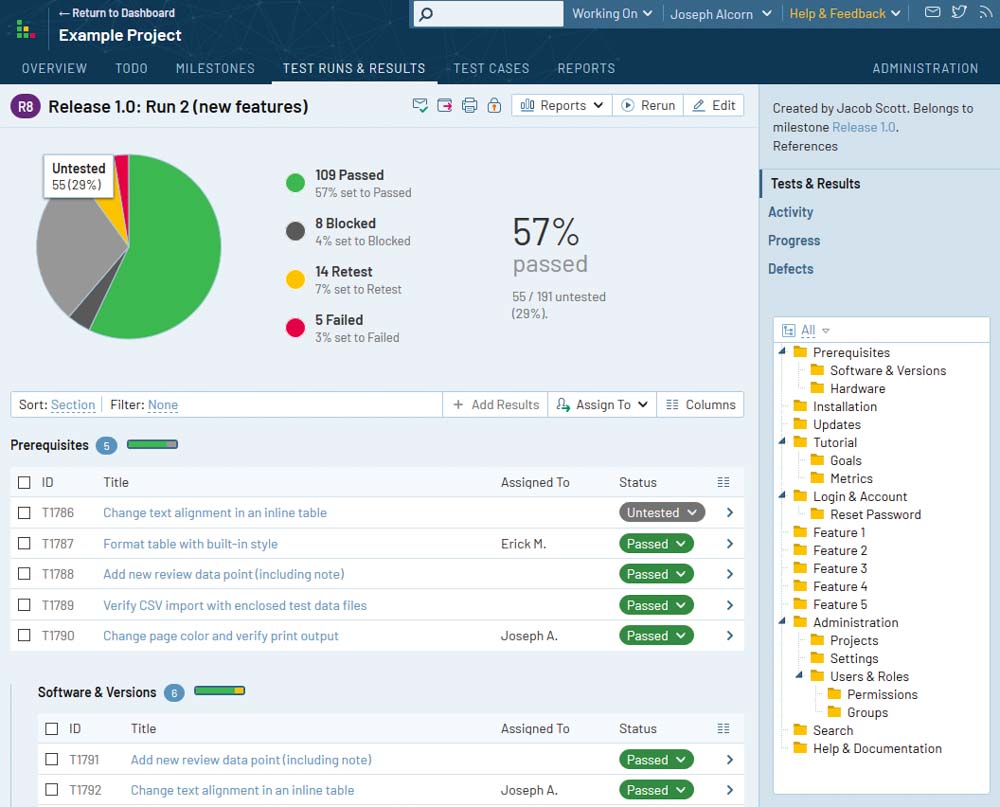 Image source: gurock.com
TestRail is one of the many unmoderated and moderated usability testing tools available. It lets team leaders and developers understand how their software is doing (spot bugs, understand potential user behavior, and analyze user trends over time).
If you want to set up an unmoderated testing session, you will need around 2-3 hours without considering the recruitment phase.
User Rating
According to G2, TestRail has a 4.3-star rating. It shows that some of their users didn't find the features optimized enough (especially the quite unfriendly interface).
Who uses it
This tool is commonly used by developers, product managers, and small business owners for product testing purposes.
Deployment
Compared to other user testing tools, TestRails is available on:
Mac
Windows
Linux
Chromebook
Cloud, SaaS, web-based
However, it does not work on Android or iOS.
Features list
TestRail lets you perform a handful of easily customizable activities. Thanks to the integrated Test Plans and Milestones, you will be able to conduct tests according to your needs. Some of the most popular features are:
Creating and editing testing permissions
Historical reporting
Requirements-based testing
What makes this tool unique
TestRail main advantage is the level of customizability, letting each team leader decide which KPIs to include in their research.
Integrations
In matters of integrations, TestRail works with dozens of bugs and issue trackers and Jira Cloud and Data Center.
Customer support
You can always contact their team using the integrated Ticket Sender for customer support purposes. However, it takes around 48-72 hours to solve your problem.
Pricing
TestRail only comes with two subscription packages: one for cloud-based tests and one for server-based tests. The cost depends on the number of users accessing the interface. Their least expensive plan is $36 per month per user. It may be costly, especially for startups.
Pros
Highly customizable sessions
Plenty of integrations
Cons
48-72 hours are needed to get a reply from Customer Support
A quite complex user interface
5. Unmoderated user testing tools: UXCam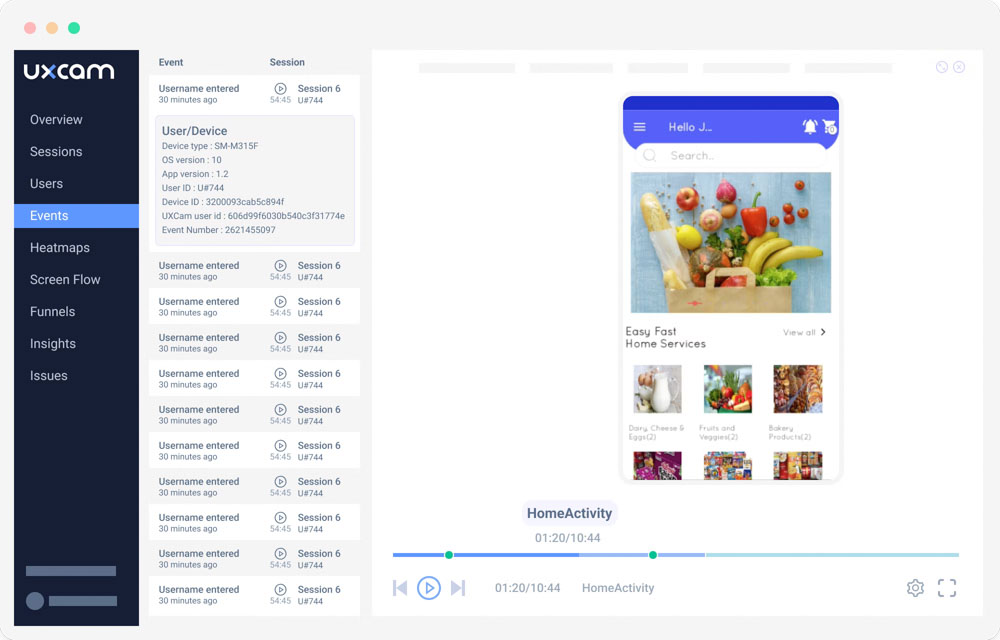 Source: capterra.com
UXCam is an app-testing-oriented tool based on moderated and unmoderated sessions that offer developers the most helpful insights about their mobile apps.
Deploying a completely unmoderated usability testing session for your mobile app takes around 2-3 hours, without participants' guidance creation or recruitment.
User Rating
G2 shows a total rating of 4.7 stars out of 5 stars.
Who uses it
This tool is commonly used by mobile app developers and product managers in different industries, including gaming, healthcare, and finance.
Deployment
You can use UXCam on:
Android,
iOS (iPhone & iPad)
Cloud, SaaS, web-based
Features list
Just like other usability testing tools, UXCam comes with several features, including:
Embedded events analytics
Graphic reports
Shareable and actionable statistics
What makes this tool unique
UXCam is one of the very few tools available on the market that are specifically built for unmoderated testing of mobile applications.
Integrations
Among the apps you can integrate with UXCam, the most noteworthy are:
Customer support
If you run into a problem, UXCam has its support teams available 24/7. Usually, they will reply to your ticket within 30 minutes.
Pricing
UXCam comes with a free pricing plan that lets you test some of the available features for unlimited time. However, if you need some more complex features, get ready to pay a significant fee. The pricing of their subscription plans is not available on the website, so you will have to request a personalized quote.
Pro
Useful integrations
24/7 live support team
Con
Quite costly for more advanced subscription plans
Unclear pricing model
Unmoderated user testing tools: A quick recap
Here is a quick recap of all tools we compared in this article.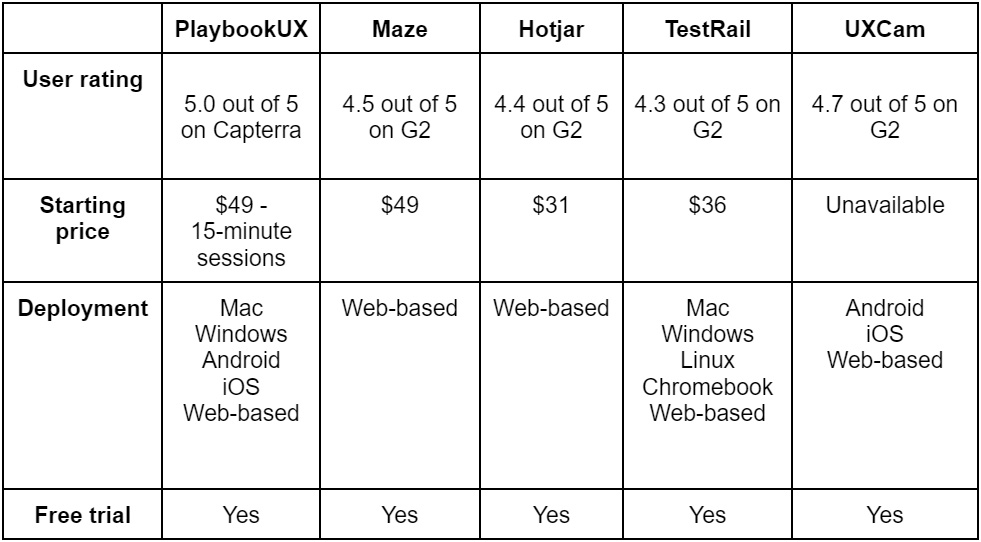 Unmoderated user testing tools: The verdict
To put everything in a nutshell, there is no such thing as the perfect unmoderated user testing tool. However, some of the unmoderated testing tools available on the market are better than others.
Thinking about the feature/pricing ratio, PlaybookUX is your best bet. What is more, the automation of particularly time-consuming tasks will surely save you hours of your life. Needless to say that the well-organized workspace will help you generate and easily access valuable data for your product. But if you are still not sure whether PlaybookUX fits your business needs, we highly recommend you create your account today and test all available features.
Unmoderated user testing tools: FAQ
Before initiating your first unmoderated testing session, it's time to recap some of the most commonly asked questions about the tools and concepts you need to know.
What are moderated and unmoderated user testing?
Moderated equals closely supervised and guided. Unmoderated equals completely unsupervised. Moderated user testing requires a moderator to be part of the testing session, while unmoderated user testing only involves the test participant.
How many participants are in unmoderated tests?
Depending on your expectations and requirements, you can include as few as 5 participants and as many as you want. However, some tools come with particular limitations regarding the number of participants.
Resources
User Testing Templates
Speak to high quality people