Tree Testing Tools: The Ultimate Guide in 2022
Image source: unsplash.com
Tree testing is a user research method that helps you evaluate your website information architecture. Whether the website is still under development or you want to improve an existing site, tree testing enables you to discover and fix navigation issues to help users find what they need and improve their overall experience.
You can conduct this kind of UX research with tree testing tools. They allow you to monitor user actions during tests and understand challenges that prevent them achieve your desired goals. Tree testing tools also provide actionable insights and high-level data, such as total success rate, task success rate, or first-click attribution.
How does this look in practice? You can check it right away by signing up for the PlaybookUX service. We help you recruit participants, conduct tree tests, and analyze data to improve information architecture and optimize your product navigation.
In this article, we will explain the importance of tree testing, help you learn how to conduct tree test research and analyze results, and go through a shortlist of the best tree testing tools on the market.
Now, let's start with some general information about tree testing.
What is tree testing?
Tree testing is sometimes called reverse card sorting. Users get index cards or sticky notes with web elements in card sorting. Their task is to group these elements into categories and name or label each category to create a website structure.
In tree testing, your participants work with your website's existing categories. Their job is to find an item in your website structure and evaluate if your navigation is user-friendly and easy to understand. It also helps you understand behavior patterns that lead to website or app drop-offs.
Why are tree testing tools important?
Tree testing tools help you simplify and automate this process, providing you with valuable insights you can use to improve your product. Instead of making assumptions, you can conduct user-centered sessions to observe how real users navigate and interact with your website.
It helps you validate your product's vision and define the optimal user experience. You can use tree testing as a complementary method to card sorting to validate your results.
Let's explore some of the additional benefits that tree testing tools provide.
The benefits of tree testing tools
Tree testing is one of the first things you should do when starting a new project. The primary benefit of tree testing is that you can get a lot of information from a small user sample, making it cost-effective.
Here are some other important reasons for using tree testing tools.
1. They help you save your resources
Tree testing tools reveal significant issues with the navigation structure. If your product team understands the problems and resolves them early on, it will positively impact future product iterations. It saves your time, money, and effort.
2. They help you bring important content to the surface
Thanks to tree testing research, you may learn that some items have decreased visibility, so users can't find them intuitively. You will know what steps to take to bring these website elements to the surface and make them more approachable.
3. They help you improve content organization
Do all your categories have clear labels? When the product is in the design phase, it might seem that all the content falls under the proper category. Still, after conducting a tree test, it can turn out that some of the content under a specific category isn't relevant. If tree testing reveals a high fail rate, you can move the content to a more appropriate category.
Although tree testing tools are pretty helpful, they also have some limitations. What exactly? Let's take a look.
The drawbacks of tree testing tools
Tree testing differs from other information architecture tests because it provides realistic task scenarios so you may have a glimpse of users' real-world behavior. Still, it comes with the following disadvantages:
You can test only your site structure without other navigation areas.
This type of research lacks visual elements. It means that testers can see only basic site structure presented in the textual format without graphic elements to help them out.
You won't have an opportunity to hear an explanation for specific choices as most tree tests are done remotely.
Some tree testing tools are better than others. So what should you focus on when you want to choose the best solution to conduct tree tests?
Key features to look for in tree testing tools
To make your work with a tree testing tool as smooth as possible, check out the following during your evaluation:
What are the available options for recruiting testers?
Can you invite your test participants?
How can you create a tree for testing purposes?
What recording tools does the solution provide?
Are tests moderated or unmoderated?
What data can you find in the reports?
Does it provide automation?
The 5 best tree testing tools in 2022 (shortlist)
There are quite a few tools available when it comes to tree testing. Finding the best one can be difficult. To help you make your decision faster, we have compiled a list of noteworthy tree testing tools you should consider.
1. PlaybookUX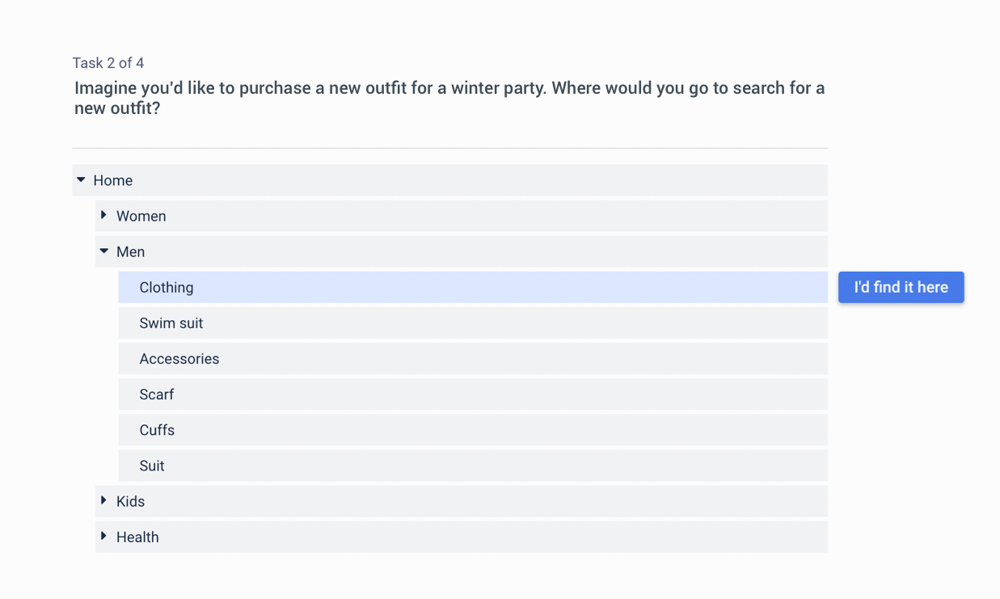 PlaybookUX lets you conduct tree tests to find any issues with the proposed menu structure. Apart from having a great UI, it provides you with options to ask follow-up questions and identify success paths. First click analysis and task success analysis are also available.
Beyond that, the advanced tagging functionality will help you easily organize test results, find patterns in your qualitative research data, and draw actionable insights.
PlaybookUX user rating
PlaybookUX scores 5 out of 5, based on 7 user reviews on Capterra.
PlaybookUX features
Tree and tasks building
Follow-up questions
Define success paths
Personalize instructions
Task success analysis
First click analysis
Participants recruitment
Testing with your own participants
Session recording
Moderated and unmoderated sessions
PlaybookUX pricing
To start conducting tree tests, you should subscribe to Grow or Scale plan. The cost of a tree test is $8 per session.
PlaybookUX pros:
Setting up studies is quick and easy
Offers unlimited seats
Simple and transparent pricing
Very detailed and unique tags
Tagging and repository built into the platform
Awesome customer support
PlaybookUX cons:
Doesn't have surveys yet (we are currently developing this feature)
2. UXtweak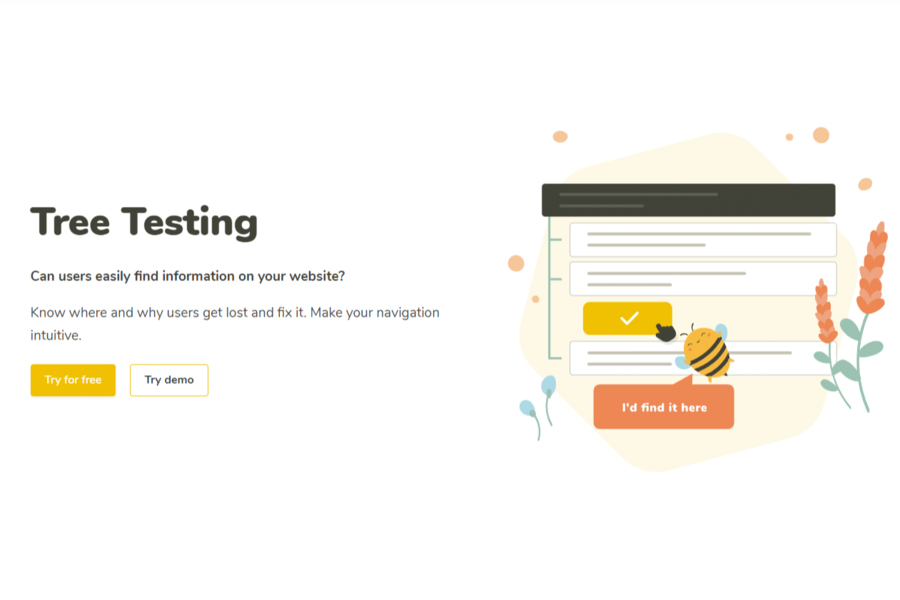 Image source: capterra.com
UXtweak is a research platform with a variety of tools. Their tree testing tool allows you to create detailed PDF reports to share with your team or client. It gives you options to fully customize the study.
UXtweak user rating
UXTweak scores 4.9 out of 5, based on 18 user reviews on Capterra.
UXtweak features
Build your tree from scratch, import from CSV or live web
Advanced task customization options
Respondent segmentation and filtering
Detailed statistics, reports, and analysis
Send questionnaires before or after each task
Share your studies with team members
Easy respondent recruitment and screening
Customize the design of your studies
UXtweak pricing
UXtweak offers several pricing options, and each pricing plan includes tree testing. However, responses and tasks per study are limited in the low-cost and free plans. The paid plans start at $99/month. To use certain features without limitations, you need to subscribe to the higher-priced plans.
UXtweak pros:
Implementation with GTM manager
User-friendly interface
Advanced user session filtering
UXtweak cons:
Bugs sometimes appear while creating tasks
It might be complex to use for non-technical users
3. UserZoom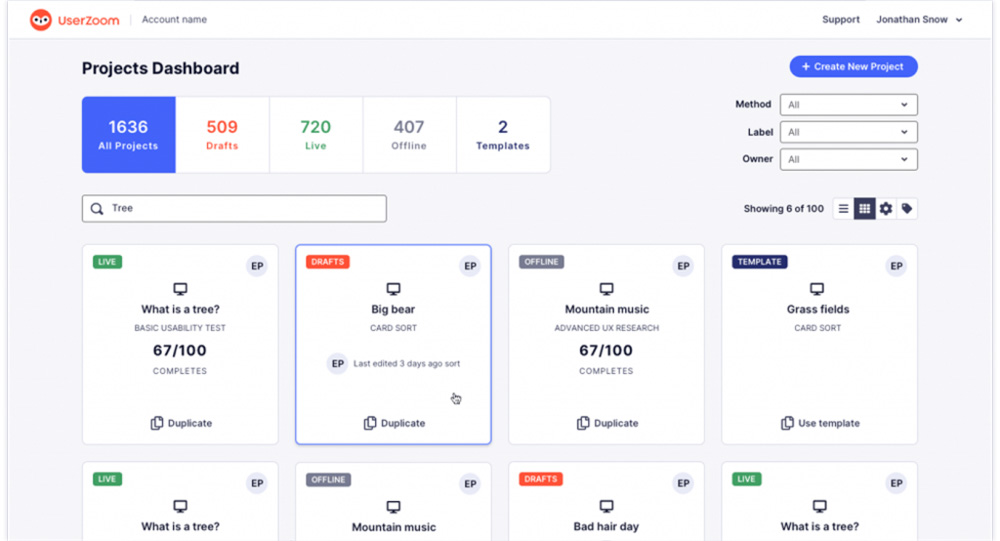 Image source: tree-testing.com
UserZoom offers different research methods, UX consultancy, an engine for participant recruitment, and measurement and reporting tools. Check out our UserZoom vs UserTesting comparison to learn more about this solution.
UserZoom user rating
UserZoom scores 4.6 out of 5, based on 7 user reviews on Capterra.
UserZoom features
Hierarchy testing
Label testing and optimization
Menu evaluation and feedback
UserZoom pricing
Unfortunately, the pricing is not publicly visible on the UserZoom website. You can ask for a demo or contact their sales rep for more information.
UserZoom pros:
Supports various test methods like surveys, unmoderated and moderated testing, card sorting, and first click testing
It offers detailed reports
UserZoom cons:
You need to buy an EnjoyHQ subscription to access the data repository
The panel is of poor quality
The pricing policy isn't transparent
4. Optimal Workshop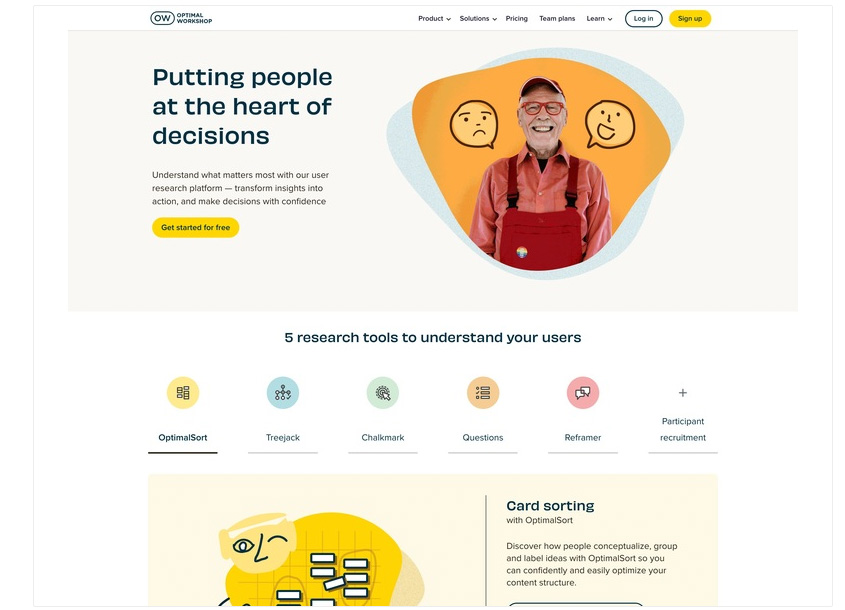 Image source: search.muz.li
Optimal Workshop is a UX research platform that offers testing, participant recruiting and product features analysis in one place. Their tree testing tool is called Treejack. It is useful in identifying which menu items are placed in the wrong location and helps you fix the mistakes to create intuitive information architecture.
Optimal Workshop user rating
Optimal Workshop scores 4.5 out of 5, based on 11 user reviews on G2.
Optimal Workshop features
Unmoderated tree tests
Participant recruitment
Detailed insights
Results sharing
All data in one place
Optimal Workshop pricing
Optimal Workshop provides a free plan and three paid plans. The lowest starts at $199/month.
Optimal Workshop pros:
Feedback data is organized in a helpful way
Good interface design
Graphic reports that help understand data faster
Optimal Workshop cons:
With larger studies, performance issues appear
It can be costly, especially for startups or small businesses
Some users complain about the professionalism of testing participants
It has a high learning curve for non-tech users
5. UserTesting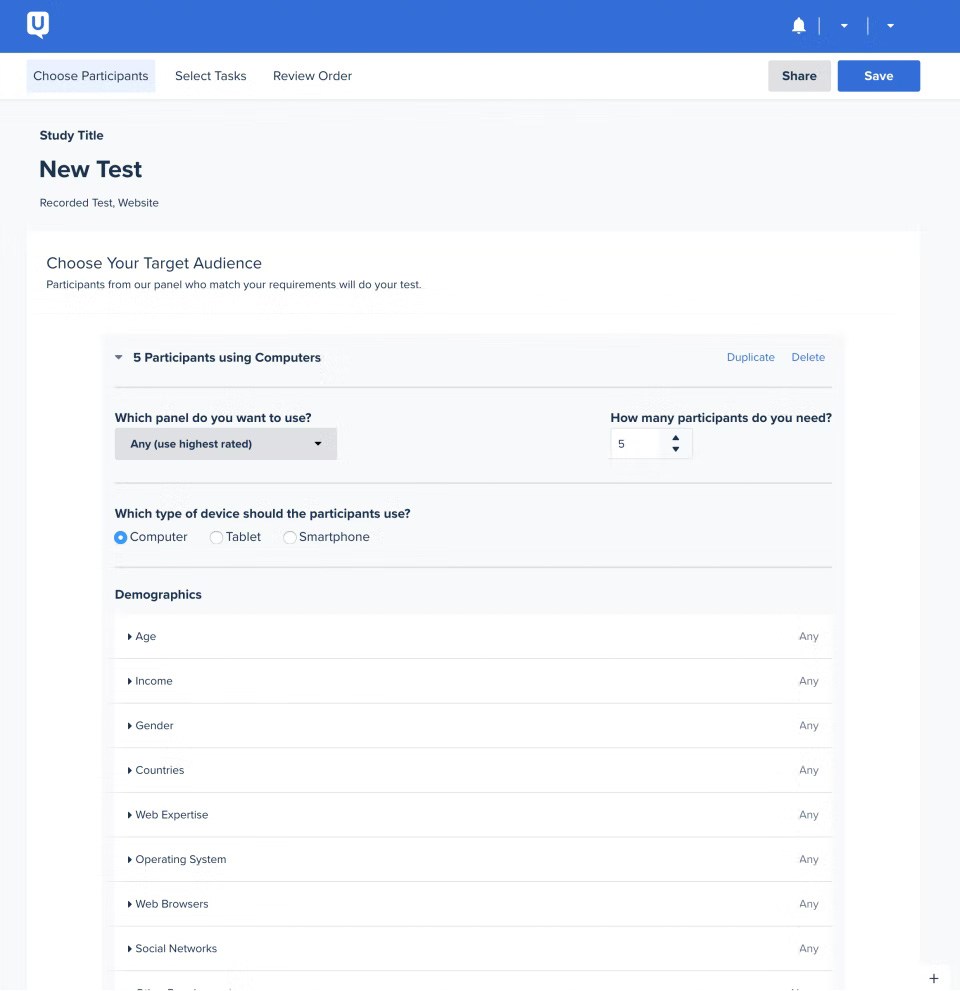 Image source: capterra.com
UserTesting is a human insight platform with a focus on video recording. It makes the design process of digital tools easier by providing insights about target audience behavior throughout different experiences and offers explanations for these behaviors.
UserTesting user rating
UserTesting scores 4.5 out of 5, based on 103 user reviews on Capterra.
UserTesting features
Unmoderated tree testing
Participant recruitment
Link generation for inviting your own participants
An unlimited number of tree levels
Follow-up questions
Detailed results and insights
UserTesting pricing
The pricing is not publicly visible on the UserTesting website. To learn more about the pricing plans, you need to contact the company.
UserTesting pros
Fast participant responses
Clear reporting dashboard
Saves previously used screener questions
Besides tree testing, it offers card sorting, moderated testing, and unmoderated testing
UserTesting cons
Fit more for B2C studies (unable to target enough B2B demographics)
Gets expensive when you want more members of your team to join, as they charge per seat
No-tag structure
Some features like transcription and various question types are available only on higher-level plans
Tree testing tools: A quick recap
In this table, we have included some essential information to provide you with a bird's eye view of the differences between these tools.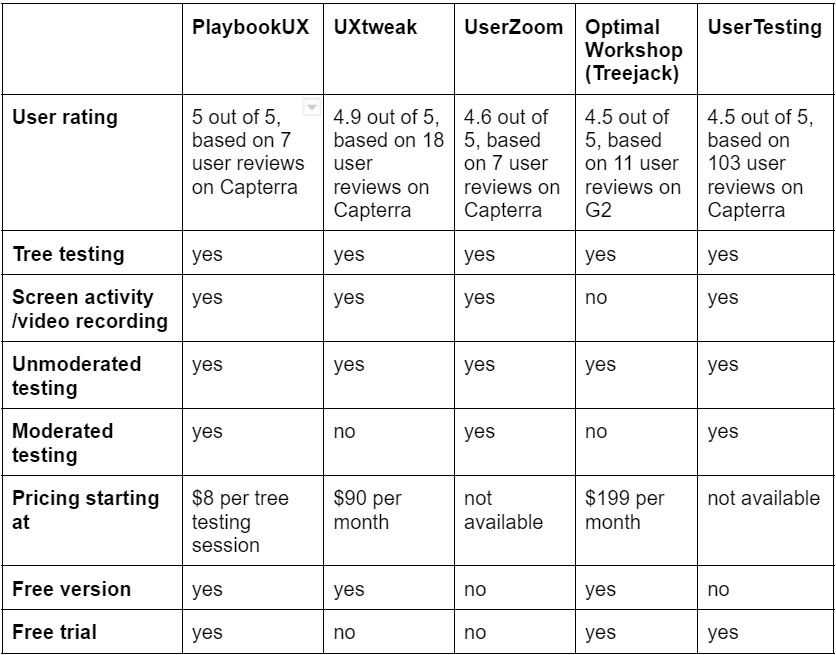 So now you should know which tree testing tool will be right for you. But what does exactly a tree testing session look like? Let's discuss it based on PlaybookUX features to give you a better picture.
How to conduct tree testing with PlaybookUX
PlaybookUX allows you to conduct a tree test in three ways: a non-recorded tree test, an unmoderated tree test, and a moderated tree test.
1. Non-recorded tree test
This type of tree test doesn't include session recording. The participants are free to choose their own time to complete the test without the presence of a moderator. The tree test results will be visible in the PlaybookUX dashboard as soon as the participant completes the test.
2. Unmoderated tree test
This screen and voice recording session, without the presence of a moderator, allows you to see the participant's actions and hear their opinion. You can access the video recording and the standard tree test analysis when the session is over.
3. Moderated tree test
The moderator – usually a team member – joins the participant on a call. The participant shares their screen while completing the tree test. Session recording and analytics will be available under the tree test project once the participant completes the assignment.
Step-by-step instructions on using PlaybookUX for tree testing
After deciding on the research method, you are ready to conduct the test. Here's how to do it:
Recruit users: you have to find the right participants for your study. Our tool allows you to bring your participants to the research or work with PlaybookUX participants. The prerequisite is to have an active Grow or Scale plan.
Prepare the tree structure (website hierarchy): include all categories and subcategories. Don't exclude any sections, even if you only want to test a specific area of your tree. The tree may be up to 5 levels deep.
Create tasks for your participants: tell them what items they should try to find within the menu structure. Apart from key website goals, you should focus on areas that can potentially cause issues.
Conduct your tree test: with or without the presence of a moderator.
Analyze the results: after participants complete the tasks, visit the Analytics section to gain actionable insights.
How to analyze tree testing results
The tree testing results will provide you with answers to the following questions:
Were participants successful in finding the items?
How many people gave up and didn't complete the task?
How many participants backtracked?
How quickly did they make decisions on where to find the item?
The PlaybookUX system will automatically calculate the number of successes, failures, and backtracks to save your time. For example, the Task Success tab in Analytics shows you how participants performed each task.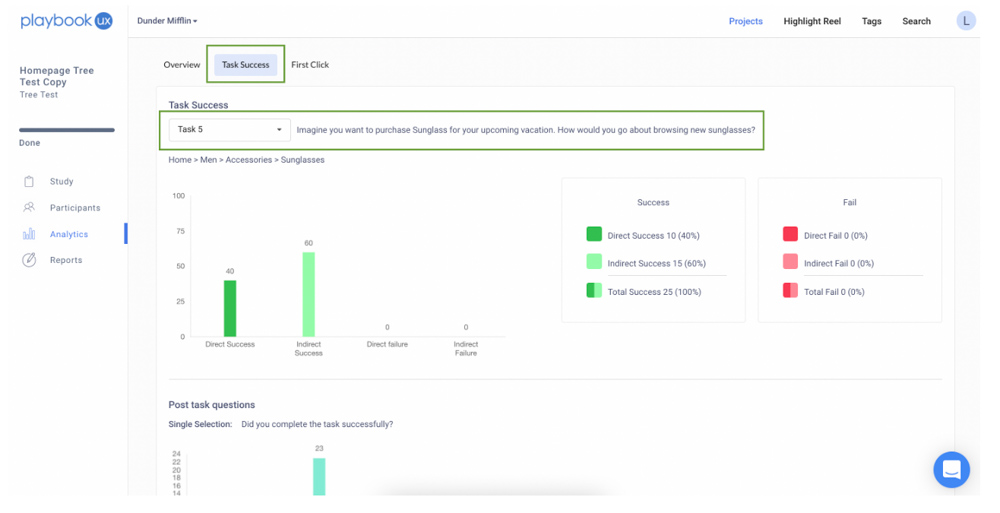 Then you can use this data to improve the structure of your website. If the results show that participants need too much time to choose between labels, backtrack, or give up, you know exactly what to fix.
Before we discuss some commonly asked questions, let's wrap things up.
Tree testing tools: The key takeaway
A tree test study gives you insights that help you considerably improve your website's information architecture. It enhances the user experience, which leads to higher customer retention and customer loyalty, increasing your revenue.
Tree testing tools help you understand how real users navigate your products and what problems they encounter along the way. They allow you to uncover any vague categories or content that gets lost under the surface.
PlaybookUX offers all four methods of user research: tree testing, card sorting, moderated, and unmoderated testing. When you conduct your tree test with PlaybookUX, you can give participants personalized instructions, ask follow-up questions after each task, and define success paths.
What's more, PlaybookUX gives you access to task success analysis and first click analysis. You can start testing the unique PlaybookUX features today by signing up for a free account.
Need to know more? Here's a list of some commonly asked questions about tree testing.
FAQ about tree testing tools
How do you write good tasks for tree testing?
Try to avoid ambiguity in your instructions, be specific, and remember to use real-life situations and language that the testers are familiar with.
Some of your instructions should use alternative words to describe navigation items. That's because different people use different words to describe the same thing. Also, keep in mind that your survey questions should be concise and direct.
How many users does tree testing have?
To get a good idea of user behavior and identify clear patterns, you should involve at least 50 users in the test.
How many tasks are there in tree testing?
If you want to test a specific part of your tree, one task might be enough. But if you need more testing, you shouldn't assign more than ten tasks. Why? Some participants might get discouraged and stop testing when you give them too many tasks.
Is tree testing qualitative?
Tree tests are mainly conducted as unmoderated studies and provide quantitative data. Nevertheless, tree testing interpretation involves the same type of assessment necessary for qualitative tests.
Resources
User Testing Templates
Speak to high quality people