UserZoom vs UserTesting: Which User Testing Tool to Choose?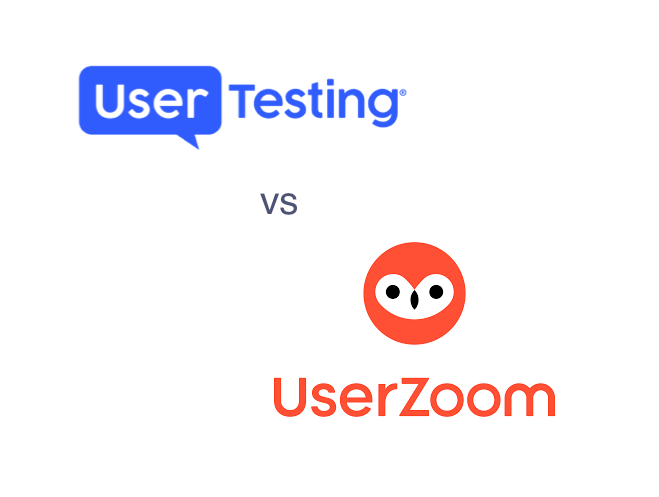 User testing is a research method that helps you understand the needs and wants of your customers by watching people in real-life situations and seeing how they behave and react to your products or services. You can start with user testing on websites, web apps, landing pages or mobile apps.
In this post, we'll discuss two popular user testing services available in the market — UserZoom, and UserTesting. We'll go over their features and benefits, so you can make an informed decision about which one to use.
In addition, we'll help you learn more about PlaybookUX, our video-based user research tool, that helps you obtain feedback from your target demographic on all aspects of your business, products, or services. To test all features, you can create a free account today. But first, let's start with some fundamentals about usability testing tools.
User testing helps you gather user feedback
User testing helps you learn what causes users' anxiety or excitement, where they struggle and succeed, and if they're confused or easily master new features. The insights gained from user testing can completely transform your business, giving you data-backed guidance on how to improve your site's functionality, content, and usability.
User testing improves project management and product development
User testing is an essential part of the product development process. It helps you identify issues, common pain points, and any confusing user interface (UI) elements so you can narrow down features you need to polish or remove. It helps you save time, reduce costs and understand how to improve your product performance.
Examples of user testing
Some examples of user testing include:
Guerilla testing

Lab usability testing

Unmoderated remote usability testing

User interviews

Card sorting

Session recordings
Anyone developing or marketing a website, web app, landing page, or mobile app should use user testing tools. It includes product managers, product developers, UX designers, and digital marketers.
The benefits of user testing
User testing is valuable because it makes your business more responsive to the needs of end-users. By testing early and often, you can:
Find and fix usability flaws that cause harm to your business

Ensure your product is user-friendly, easy to navigate, and intuitive to use

Lets customers accomplish their goals quickly

Create a product people love using

Provide your customers great user experience

Focus on what users care about and understand their motivations

Eliminate any friction that keeps people from becoming engaged with your product

Boost customer loyalty and increase your sales
You'll want to get in front of as many people as you can when it comes to user testing. That's where UserTesting and UserZoom come into play. There are many similarities that connect the two platforms, but also some important differences. Continue reading to learn more about these research tools.
UserTesting the human insight platform
UserTesting is a video-first platform that provides usability testing and research tools to help you get in-the-moment feedback or customer experience narratives from your target audience. You can get started in minutes without any prior experience or training.
With quick turnaround times and video recordings, you can see how actual users share their experiences and respond to your product before you release it. It helps you make improvements to create a successful online business.
UserTesting reviews
UserTesting has an average score of 9.0/10 on TrustRadius based on 170 user reviews.
UserTesting features
UserTesting combines the best of qualitative and quantitative research. You can capture different types of data such as audio, video, or facial expressions. It gives you a complete view of user experience, whether designing websites, mobile or tablet apps. Here is the list of UserTesting features:
Test builder and template gallery

Demographic filters and screener questions

Dashboard and metrics

Transcripts

Integrations with Slack

Test plan and audience management

Live conversation

Interactive path flows and click maps

Unlimited workspaces

Card sorting and tree testing

Secure prototype testing

Notes, clips, and highlight reels

Approval flow
UserTesting support
For any issues you may have with the platform, you can send a message, start a live chat or call the support team during workdays. The official website also has FAQs and a knowledge base that can be helpful.
UserTesting pricing
If you're interested in getting started with UserTesting, you can request a trial on their official website. It offers three plans – Essential, Advanced, and Ultimate. Each plan differs in features and available seats. Their pricing is currently unavailable, so you need to contact sales reps.
UserTesting pros
Moderated testing, unmoderated testing, card sorting, and tree testing are the four research methods it provides.
UserTesting cons
B2B marketers have a hard time reaching their key demographics with UserTesting. The company is geared more towards B2C research.

UserTesting charges its services per seat and can become expensive.

Tags lack structure and don't replace repository tagging

The features you can use depend on the plan you choose. To use features such as transcription or different question types, you need to upgrade your account.
UserZoom UX research and testing solution
UserZoom is an enterprise user testing tool that enables you to get valuable feedback from customers, stakeholders, or any other user group during website development projects, helping you create more intuitive and engaging products in the process.
If you want to put your business in the best position for growth, you shouldn't miss the mark with product strategy, information architecture, or UX. These three elements often intertwine and have a direct impact on customer experience. UserZoom will help you make customer-focused decisions.
UserZoom reviews
UserZoom has a score of 7.6 out of 10 on TrustRadius, based on 63 user reviews. Reviewers like the company's customer service, with a 9 rating.
UserZoom features
UserZoom lets you continually test, validate, and measure your product performance. You can keep track of what works or doesn't and make adjustments accordingly. Here is the list of UserZoom features:
Screen activity recording unmoderated testing

Screen interactions and front-facing camera in moderated sessions

Prototypes, websites, native apps testing without SDK

Testing on desktop, mobile or tablet devices

Surveys, live intercept, card sorting, tree testing, click testing

Timestamped notes during moderated sessions

Clips

Graphs of question responses and task reports

Download results to CSV

Highlight reels

Transcriptions

Slack integration
UserZoom support
If you have issues with the platform, send an email to their customer support, start a live chat on the website, or check the library or blog for advice. You can also enroll in the UserZoom Academy to improve your knowledge of UX.
UserZoom pricing
UserZoom offers customized pricing packages based on your unique needs. The price depends on daily UX research volume, reach, audience, and the number of users you want to target, upskill needs, available seats, and other. For additional information, you need to contact their sales team.
UserZoom pros
It supports many different methodologies. Examples include surveys, unmoderated testing, moderated testing, card sorting, tree testing, and first-click testing.

It offers detailed analytics reports that can be difficult to understand without training.
UserZoom cons
UserZoom is geared more towards B2C studies rather than B2B ones.

UserZoom has a low panel quality.

Studies with general demographics could take weeks to fill!

It offers per-seat licensing so it can become expensive as your business grows.

It is not fully integrated with Enjoy HQ for data repositories and you need a subscription on both UserZoom and Enjoy HQ. This increases your expenses.

UserZoom supports only open and closed card sorting, hybrid card sorting is not included.
UserTesting vs UserZoom
Now that you know more about these tools, let's take a closer look at their differences and compare them in greater depth.
UserTesting vs UserZoom: the basic differences in research tools
UserTesting tests the website functionality, while UserZoom focuses on UX issues.
UserZoom provides quantitative data on customer experience, usability, and product feedback. It has comprehensive testing capabilities and provides more research methodologies than UserTesting. Due to its complexity, it has a steep learning curve regarding reports.
UserTesting is a simple way to get qualitative data about your users. It offers screen activity recordings and task completion information that helps you understand users' emotional reactions and the barriers to their experiences. It's fast, effective, and best used to capture issues that you might miss during user testing in real-time.
UserTesting vs UserZoom: users
Ecommerce managers, product teams, UX researchers, marketers, and customer experience representatives use both tools.
UserTesting is popular in retail, financial services, healthcare, and consumer tech, while UserZoom is popular in tech, finance, governmental, retail, travel, healthcare, and gaming and gambling industries.
UserTesting vs UserZoom: participants recruitment
With UserTesting, you'll get access to a larger pool of participants you can recruit from and conduct your usability testing. The platform does everything for you, from creating a panel to recruiting participants and following up, so you don't have to worry about managing the whole process yourself.
On the other hand, UserZoom allows you unlimited testing of your website or mobile app with your own users. By using the platform, you can be sure that the researchers take your test only once, and know who to compensate for their time.
UserTesting vs UserZoom: deployment
UserTesting is a cloud-based solution you can use on your desktop or mobile devices. It offers iOS and Android apps. SDK integration is not required.
UserZoom is also a web-based solution and has a specific app for iOS and Android called UserZoom Surveys. You can run your surveys on mobile devices and get real-time, actionable insights. It's easy to invite survey participants via email, but only those registered in an online panel will receive the invitation.
UserTesting vs UserZoom: participant languages
UserZoom supports around 20 languages to help you localize your studies or user interface, meaning your participants will be using the platform in the language that's familiar to them.
On UserTesting, English is the primary language, and the solution offers localization for participantsin Brazilian, Portuguese, Chinese (simplified), French, German, Japanese, and Spanish.
UserTesting vs UserZoom: pricing
UserZoom and UserTesting are both very expensive. For both solutions, you will have to pay per team seat. 
PlaybookUX scalable user research software
With PlaybookUX, our user testing tool, you can watch video recordings of users interacting with your website or app while they're in the moment, on their schedule.
PlaybookUX is a user research service for UX designers, researchers, and product managers who want to make sure their product fits users' needs before investing time and money into further development.
How PlaybookUX compares to UserTesting and UserZoom
Now that we've covered all of the tools, let's compare them to see the differences and help you learn more about PlaybookUX benefits.
PlaybookUX user reviews
PlaybookUX has a 10.00 out of 10 score on TrustRadius, based on two user reviews. We have a large and growing list of happy clients that help us grow in the long term.
PlaybookUX features
You can conduct PlaybookUX moderated, unmoderated user tests, card sorts and tree tests on your computer or mobile device.
Here is the list of PlaybookUX features:
Demographic filters (both consumer and B2B) 

Unlimited screener questions

Dashboard and metrics

Transcripts

Advanced tags

Universal search

Test plan and audience library

Live conversation/Moderated studies

Interactive path flows and click maps

Sentiment analysis

Unlimited workspaces

Unlimited team seats

Card sorting and tree testing

Secure prototype testing

Create your own reports

Notes, clips, and highlight reels
You can visit our website to find the complete features list.
Quickly get started with PlaybookUX. We offer a free trial to test out the bring your own participants features. Sign up for an account.
All of those painful manual tasks, like transcribing, creating highlight reels and scheduling studies are handled by PlaybookUX automatically. It's great because it saves you time while helping you accelerate product development and improve customer insights.
Advanced tagging
Compared to UserTesting and UserZoom, PlaybookUX provides you with advanced tagging functionality that lets you find patterns in your qualitative research data and organize your transcript, notes, and clips. It helps you identify and understand themes in usability tests and customer feedback sessions. Tagging is similar to many of the repositories out there so you don't have to pay extra for a repository tool like Dovetail or EnjoyHQ.
Universal search
PlaybookUX helps you search and find anything in your workspace, anytime and anyplace. It automatically indexes all of your notes, transcripts, reports, tags, and highlights. It helps you conduct your research more accurately and efficiently.
Card sorting and tree testing
With PlaybookUX, you can conduct customized and personalized open, closed, hybrid, and image card sorting studies. It removes the guesswork and doesn't just tell you what's wrong. It shows you how to fix it by finding patterns to make grouping decisions.
Besides card sorting, PlaybookUX lets you conduct tree testing to help you understand issues with your navigation structure. You can ask follow-up questions and define success paths. Also, you can conduct first click analysis and task success analysis.
PlaybookUX support
If you have any questions, you can start a live chat with our friendly customer support reps or check out the help center to find answers. Enterprise customers receive a dedicated customer success manager. 
Also, you can watch the demo or read useful articles on our Blog.
PlaybookUX pricing
We make our pricing simple, transparent, and easy to understand by outlining all costs, so you are never left wondering about major expenses that could derail your budget.
There are currently two options you can choose from. You can either use the PlaybookUX panel or choose a subscription plan to conduct studies with your participants. In each case, you'll get unlimited seats. To dive into details, visit our Pricing page.
Short overview of UserTesting, UserZoom, and PlaybookUX
Here's an easy-to-digest table to help you understand how these tools compare.
UserTesting

UserZoom

Playbookux

User reviews

9.0/10 on TrustRadius

7.6/10 on 

TrustRadius

10/10 on 

TrustRadius

Unmoderated testing

Yes

Yes

Yes

Moderated testing

Yes

Yes

Yes

Card sorting

Yes

Yes

Yes

Tree testing

Yes

Yes

Yes

Surveys

No

Yes

No

Free Trial

Yes

Yes

Yes

Unlimited seats

No

No

Yes
UserTesting vs UserZoom vs PlaybookUX: the verdict
Many tools are available, but few give you the kind of support, features and flexibility that PlaybookUX has to offer. Our dedication to drawing out your vision and making it a reality is what sets us apart from other leading tools, such as UserTesting or UserZoom.
Our outstanding customer service team and our commitment to building relationships with clients' businesses helps them think big and achieve their goals.
Want to see how it works? Sign up for a free trial today.
Frequently asked questions about user testing
We researched the most frequently asked questions about these tools to help you find answers. Here is what we've discovered.
Resources
User Testing Templates
Speak to high quality people