The Top 5 Card Sorting Tools to Reach Your Goals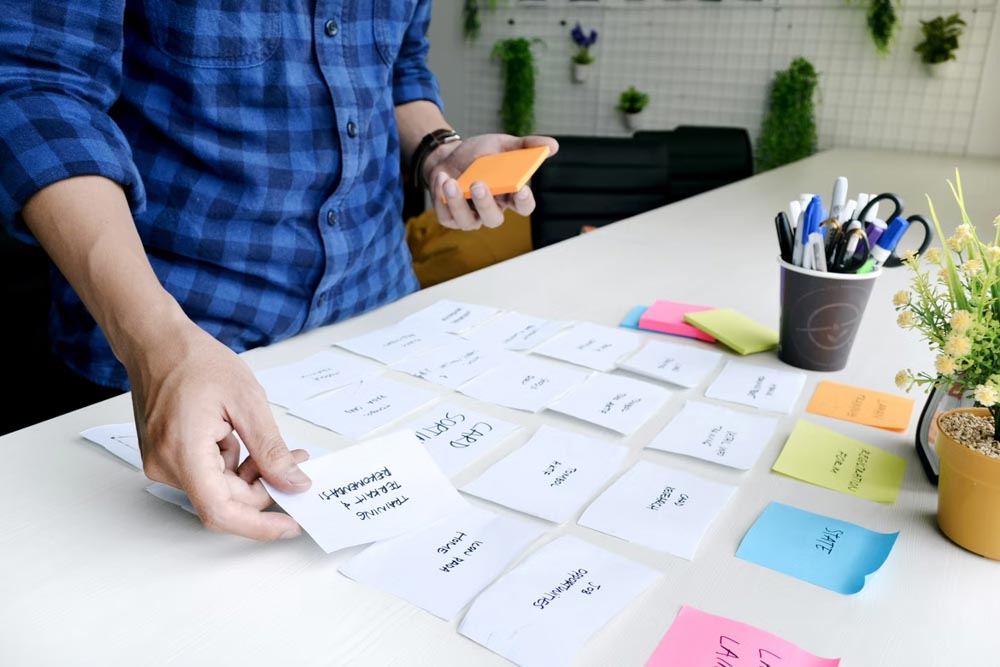 Image source: unsplash.com
When you publish content online, your users expect familiar content categories and subcategories linked logically. It is easier said than done because users are not the same. They operate under different mental models, and matching many possible models is challenging.
It is up to UX designers and researchers to survey these mental models and build an information architecture that matches the most common model. One of the means for this type of research is card sorting.
In this article, we'll discuss why card sorting is essential for research and how it can help you organize your content better. We'll also evaluate the top 5 card sorting tools you can use to conduct your card sorting session online.
Tools like PlaybookUX are great at automating user research tasks that would be cumbersome and time-consuming if done manually. PlaybookUX is a top choice for card sorting and tree testing and has a solid base of test participants worldwide. You can create your free account today to scale up your UX research and accelerate your product development.
Before continuing with our top five list, let's explain what card sorting is and why UX researchers use it.
Why do researchers use card sorting?
Card sorting is an easy and effective way of grouping content units into categories. It helps designers and researchers find the optimal way to organize website content.
The procedure is straightforward. You give your potential users a pile of cards representing objects or concepts. Then it is up to the users to sort them into groups. Researchers may define the groups in advance or let the users define them.
First and foremost, card sorting is a user testing method. It shows what mental models users apply in their interaction with digital content. With card sorting, researchers learn how people perceive their content and group different topics.
According to the Interactive Design Foundation, card sorting provides three main outputs:
Definitions – what people call things
Relationships – how people group items based on their proximity and similarity
Categories – how people call the groups where they put things together
After UX researchers gather this information, they can decide on an optimal information architecture that suits most users.
Now that we know what card sorting is, let's see what tools can help with your user testing activities.
What are card sorting tools?
Card sorting tools help researchers carry out different user testing activities. They automate and speed up what was originally a manual task.
Not long ago, card sorting was done with paper cards on a table. Modern-day technology allows the use of digital cards on a screen. To no surprise, this is called digital card sorting.
Card sorting tools like PlaybookUX allow for quick setup of your card sort and easy creation of items and categories. Researchers can choose between open, closed, or hybrid sorts. PlaybookUX also allows both moderated and unmoderated card sorts. Additional features like screen and voice recording assist with further analysis of the results.
Let's see what makes card sorting a critical part of UX research.
Why is card sorting important?
The higher the volume and complexity of digital content, the more critical it is to organize it well. Product teams usually organize website content in groups, label them, and order by importance in a way that seems logical to them.
Users must know where to look for content items to navigate your website. Designers must place content where users expect to find it to make navigation easier. Otherwise, finding a page would require too much effort, and the users would give up.
Card sorting helps you tap into the users' mental models, understand their preferences, and determine how they group and label items.
What types of card sorts are there?
Card sorts fall into several categories based on three main criteria:
Is a researcher (moderator) present?
Who defines the content categories?
What technology will be used during the research?
Based on these criteria, we can distinguish seven types of card sorts:
Moderated card sorting – done in person, with a moderator present
Unmoderated card sorting – done remotely with the help of an online card sorting tool
Open card sorting – the users are free to define all content categories
Closed card sorting – the researcher defines the categories
Hybrid card sorting – the session starts with a set of predefined categories. The users can create new groups if they feel they need them
Paper card sorting – includes physical cards printed on paper or even sticky notes
Digital card sorting – is done on a screen with digital cards
Nowadays, most card sorting sessions are digital and unmoderated, thanks to modern card sorting tools. Technology also allows for capturing screen videos and sound for additional insights into user behavior.
Now that we know the difference between the card sorting types, let's discuss the advantages of card sorting tools in your research.
The benefits of using card sorting tools
There are many practical reasons for using online tools for your card sorting sessions:
Low cost – an online card sorting session is cheaper than putting people in a room
Convenience – users can sort cards at a time that works for them
Unmatched speed – setting up a card sort is effortless and fast
High efficiency – you can run numerous card sorting sessions in no time. Results are fast
Audience targeting – you can target very narrow groups based on location, device, and demographic criteria
Advanced analytics and data visualization with built-in analytic tools like similarity matrices and dendrograms
All these benefits prove that researchers can rely on card sorting tools for informed decisions. Keep in mind, however, that technology has its limitations.
The drawbacks of card sorting tools
Card sorting software resolves the problem with manual work, but there are some disadvantages:
Remote card sorting may require some user training
Results may be inconclusive with too many patterns
Possible user biases can compromise your data set
Some of these disadvantages are not related to the tools you choose but to the research method itself.
Now that we know the benefits and drawbacks of card sorting tools, let's quickly explain our evaluation parameters before reviewing our top five.
Card sorting tools: Evaluation parameters
We focused mainly on features and price to evaluate the best card sorting tools. We also compared the subscription plans to see which tool offers the best value for money as far as pricing is concerned.
We examined the capabilities of the card sorting tools to run all common types of card sorting sessions. We also looked into available participant panels and detailed targeting criteria. Advanced data analytics also contributed to the ranking.
Now that we have more clarity about the evaluation parameters, let's proceed to the top card sorting tools.
Card sorting tools: The best of the best in 2022
In our research, we shortlisted five online tools, which we examined further based on the criteria above. Here are our top five picks:
PlaybookUX
UXTweak
UXArmy
Proven by users
OptimalSort
Each of these services has its unique selling point, pros, and cons which you can check in the following paragraphs.
1. PlaybookUX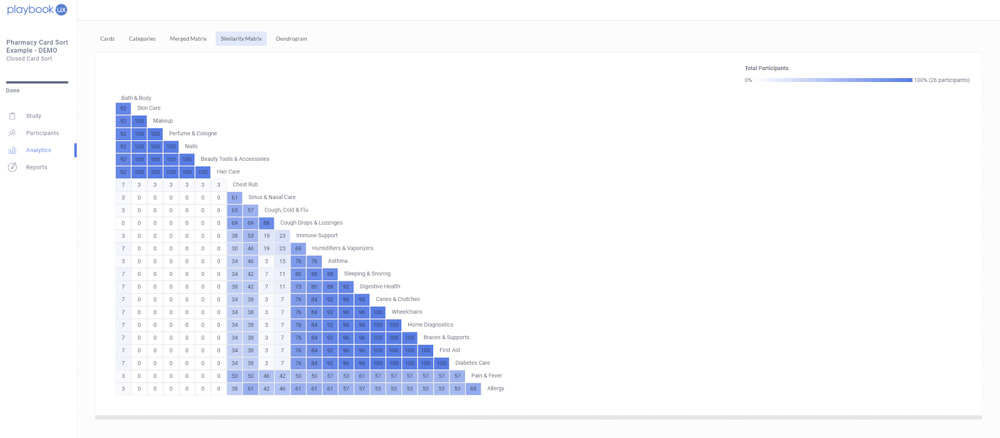 PlaybookUX is our user research SaaS platform for product design teams. We provide you with video-based real-time feedback from users. PlaybookUX is a valuable tool for tailoring digital products to users' needs.
PlaybookUX is equally helpful in the ideation and testing stages of the product design process. You can test concepts, website and app prototypes, or live pages.
PlaybookUX card sorting feature
PlaybookUX card sorting is an efficient and versatile tool for gathering user feedback. It reduces the time and effort involved in early-stage product development by providing insight into users' needs, preferences, and priorities. You can use it to validate the initial assumptions made by the team through interviews, surveys, or focus groups.
PlaybookUX provides you with open, closed, and hybrid card sorting studies with or without a video recording. You can also include card sorting in your unmoderated or moderated sessions, recruiting participants, or inviting your own.
You can personalize instructions and customize card sort settings to adjust studies to your needs. Finally, you can find patterns and use similarity matrix and dendrograms to make informed grouping decisions.
PlaybookUX user rating
The PlaybookUX product reviews we found are all positive. It has a maximum score (5/5) on Capterra and G2.com based on 13 reviews. The most common use is for moderated and unmoderated sessions. Customers also testify that PlaybookUX has a top-notch participant panel and audience targeting capabilities.
Who uses the PlaybookUX research tools?
PlaybookUX is an excellent tool for UX researchers, UX designers, product designers, and web developers. The platform is handy for large design teams with many roles and split responsibilities.
How to deploy PlaybookUX?
PlaybookUX is a web-based tool. No download is required, but you need to set up an account to use it. Participants can use it on desktop, mobile, and tablet, meaning you can run tests for all screen sizes.
Main PlaybookUX features
PlaybookUX offers various features that allow researchers to automate audience recruitment, conduct research, analyze data, and collaborate. Here's a shortlist list of the key features
Own participant panel with advanced audience targeting
You can bring your audience
Moderated interviews
Unmoderated testing
Open, closed, and hybrid card sorts
Tree tests
Audio and video recording
Automatic transcripts
Advanced tagging options and theme discovery
Category merging
Analytics and data visualizations – similarity matrix, dendrogram, merge matrix
It is not a complete list but it highlights well the commonly used features of PlaybookUX. Let's see which ones are unique and make PlaybookUX stand out from the competition.
Why is PlaybookUX unique?
PlaybookUX is built for qualitative research and addresses common issues related to non-numerical data. It automatically generates transcripts from the video recordings. Also, it provides advanced tagging options that allow you to find patterns and organize your qualitative data.
With PlaybookUX, you can easily create, save and share highlight reels for critical events in the recordings. The tool indexes all transcripts and tags as well as notes and reports. That's why everything is easy to find on the platform.
PlaybookUX integrations
PlaybookUX makes it easy to arrange moderated sessions. You can sync your calendar availability and let users know what time slots are open for moderated interviews. The user only has to pick from the available times to set the meeting.
With PlaybookUX, you can link your Google Calendar, iCloud Calendar, Outlook, or Microsoft Exchange Calendar.
How much does PlaybookUX cost?
PlaybookUX has two pricing plans – Grow and Scale. These are available at a monthly price of $249 and $449. With annual billing, the monthly cost is more affordable, and you also get one month for free.
You can also skip the subscription and pay for some of the features when you need them. You can hold unmoderated and moderated user sessions at a fixed price per session. Card sorts and tree tests cost $8 per session, but they require a subscription.
PlaybookUX pros
Here are the main advantages of PlaybookUX that we highlighted during our test:
Easy to use intuitive interface
Test prototypes and live sites and apps
Record sessions on all devices and browsers
Unlimited teams and team members
Category merging to avoid duplicates and keep clean data sets
Top features for qualitative research automation
Seven-day free trial
One free month with annual billing
PlaybookUX sets a high standard for features, which you will see once you start using our solution.
Playbook UX cons
While we don't consider it a real disadvantage, you need a high-end subscription plan to invite participants. It isn't a big concern to those who can rely on the PlaybookUX participant panel. If you need to conduct research with your user panel, you need to change your subscription plan.
Create your account today and start enjoying all the benefits that PlaybookUX provides.
2. UXTweak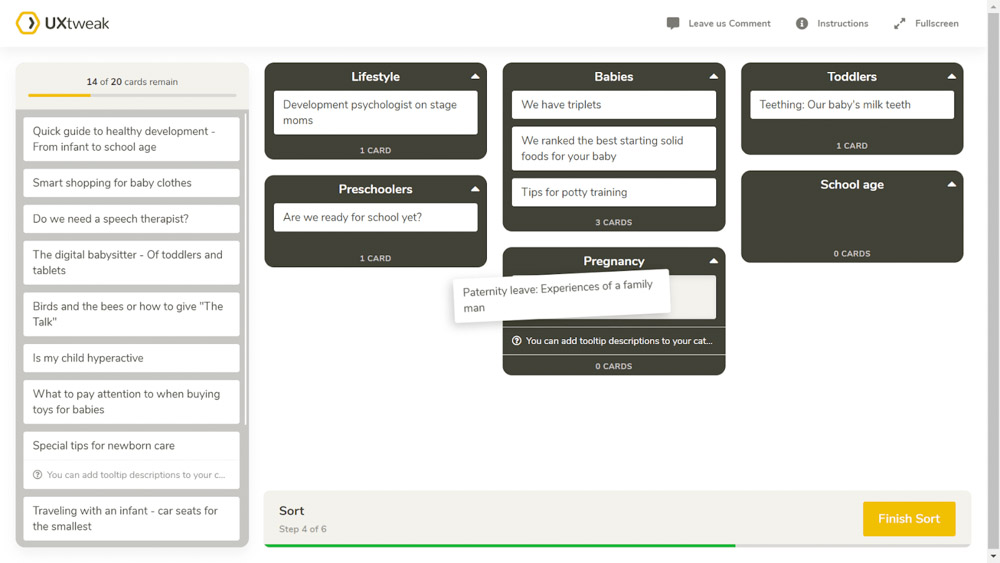 Image source: AppRater.
UXTweak is an all-in-one research platform. It has nine different research tools split into three categories. You can organize your content with card sorting, run user surveys, or product and prototype tests.
UXTweak user rating
UXTweak has a score of 5/5 based on 11 reviews on G2 and 4.9/5 based on 18 reviews on Capterra. This product's most common use case is website testing and card sorting.
Who uses the UXTweak research tools?
UXTweak is suitable for UX researchers at all stages of the design process. You can survey users, run usability tests with prototypes or test live websites. The platform has proven helpful for research before site redesigns.
How to deploy UXTweak?
UXTweak is web-based and doesn't require desktop or cloud installation. However, some features require installing a code snippet on your website or prototype. You can do it manually or via Google Tag Manager.
Main UXTweak features
UXTweak offers an extended toolset for all kinds of UX research. On this platform, you can:
Organize content with open card sorting, closed card sorting, hybrid card sorting, and tree tests
Test your designs with preference tests, five-second tests, unmoderated surveys, moderated sessions, and first click tests
Test Figma prototypes and live websites
Recruit participants with a customizable widget
Analyze data with visualizations, e.g., similarity matrix, dendrogram, and click map
Automatically index all data from session recordings
Use the SmartSearch feature to filter the indexed data by various parameters
You can use the features separately or in a combined research project to get deeper insights.
Why is UXTweak unique?
The biggest strength of UXTweak is that it has many research tools. Most testimonies about the platform explain how data analysis from several research methods produces the best results. With its extensive toolset, UXTweak promises to cover these needs.
UXTweak platform integrations
To run website tests, prototype tests, or install a recruiting widget, you need to integrate a UXTweak code snippet on your site. It is essential for capturing data. Tech-savvy users can install the snippet manually.
If you are familiar with Google Tag Manager, you can use the UXTweak integration with GTM. Just open the tag manager and give UXTweak the required permissions. Then the data recording snippet will be added to your site automatically.
UXTweak pricing
UXTweak has four subscription plans: Starter, Plus, Business, and Enterprise.
Starter – completely free but comes with many limitations
Plus – entry-level paid subscription at $90 per month, with some limitations
Business – high-end deal starting at $112 per month for one user
Enterprise – customized offer and pricing
Keep in mind that there are additional costs per study for all plans that depend on the duration and scope.
UXTweak pros
UXTweak provides helpful features. Here are some of the advantages:
Extended set of research tools
Data indexing and filtering options
Free Starter plan
The entire toolset is available with all pricing plans
Available participant panel
Export results in CSV and PDF reports
UXTweak Cons
Although UXTweak is a primary choice for many users, the platform has its disadvantages:
The free version has many limitations
Lack of video tutorials
Prototype testing supports only Figma files
Overall, UXTweak is a useful research platform and it's good to have its tools in your arsenal.
3. UXArmy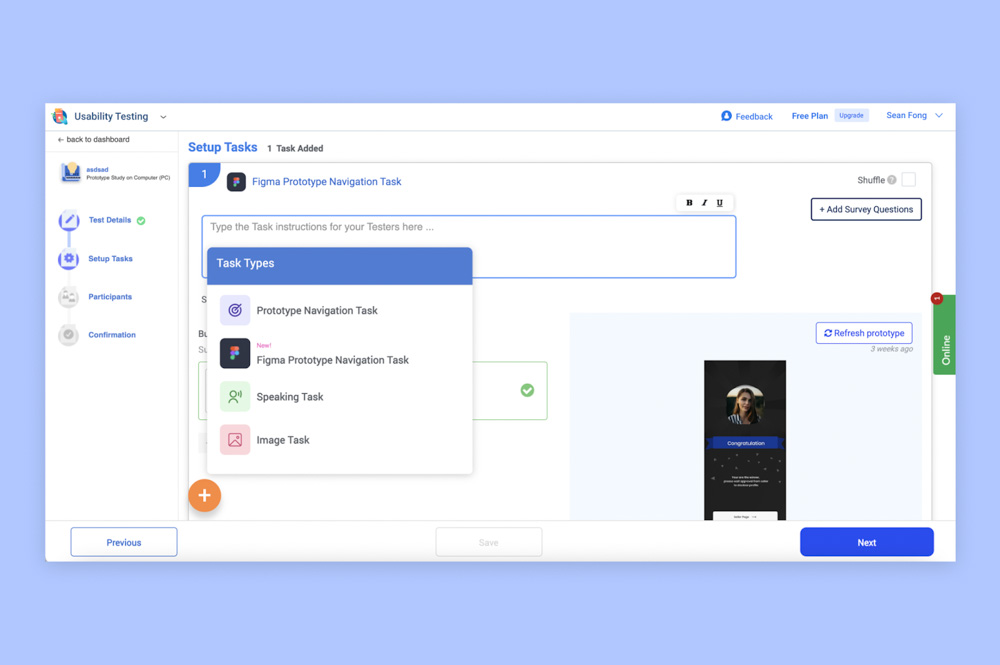 Image source: G2.com.
UXArmy provides a unique combination of a UX research platform and premium UX consultancy. You can use UXArmy as a self-serve toolset or outsource your UX research to their in-house team. It offers various tools for online research and testing.
UXArmy user rating
UXArmy has 14 reviews on Capterra with an overall rating of 4.4/5. There are also four reviews on G2 with an aggregated rating of 4.5/5. A common theme among the testimonies is the size and responsiveness of the user panel.
Who uses UXArmy?
Like the rest of our top picks, UXArmy serves UX designers and researchers who need to make data-driven decisions. It also helps other stakeholders, like project managers and product owners.
Main UXArmy features
With the UXArmy card sorting tool, researchers can benefit from these features:
Fast card creation with spreadsheet uploads
Closed card sort, open card sort, and hybrid sessions
Detailed participant stats
Tracing of confusing cards with card movement paths
In addition, researchers can use the tools for unmoderated and moderated user research to test prototypes, websites, and mobile apps.
How much does UXArmy cost?
The card sorting tool comes with a seven-day free trial. The paid subscription for individuals costs $63.20 per month if billed annually. It includes unlimited projects, access to the UXArmy panel, expert advice, and tech support.
UXArmy pros
UXArmy stands out with the following:
Flexible pricing based on the used tools
Affordable card sorting
Access to the participant panel
UXArmy cons
The main disadvantage is that the remaining tools have steeper prices with many limitations and additional costs emerging as you go. If you plan on using only the card sorting tool, UXArmy is a good choice.
If you need a one-stop shop for research tools, you'd better consider some of the other solutions.
4. Proven by Users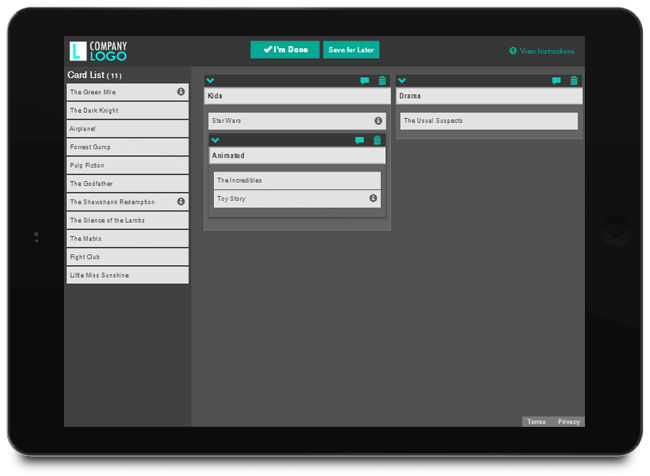 Image source: Capterra.
Proven by Users is a platform for remote unmoderated UX research and usability testing. It offers six types of tests and surveys to help you ideate or validate designs.
Proven by Users ratings
The platform scores 4.5/5 from five reviews on G2.com. The few available user testimonies point out it's effortless to use its features and schedule tests.
Who uses Proven by Users?
Proven by Users is helpful for researchers and UX designers who need quick results from unmoderated tests and surveys. The platform is good for card sorts and tree tests, and you can attach surveys to them to gather more insights.
Main Proven by Users features
Proven by users offers a selection of online testing tools:
First click tests
Preference tests
Five-second test
Card sorting
Tree testing
Unmoderated surveys
It's important to point out that the platform doesn't offer screen recording or audio capture. The video capabilities are not the main focus, and this is an area where Proven by Users lags behind the competition.
Why is Proven by Users unique?
Proven by Users is very easy to use and offers well-organized documentation. The pricing model allows you to select and pay only for the needed tools. Card sorts are easy to set up. Open, closed, and hybrid sorting sessions are available. It also has pretty decent analytics and data visualization options.
Proven by Users pricing plans
Proven by Users comes three pricing plans:
Free plan – includes all research tools with three responses per project.
Targeted Testing – one test tool with unlimited responses at $39.96.
Full Testing Suite – all features are available for $49.95 without limitations.
These prices are for 30-day subscriptions.
Proven by Users pros
Proven by Users has three clear advantages:
It's straightforward to use
It's helpful for remote unmoderated card sorting sessions
It offers convenient pricing options
Proven by Users cons
The platform doesn't provide the advanced features as other competitors. Here are the disadvantages:
No moderated sessions
No video capture of user screens
No integrations with third-party platforms
You can't test live pages and interactive prototypes
No participant panel
To sum it up, if card sorting is all you need, Proven by Users is an affordable option. If you need a more extensive toolbox, you'd better check the other solutions.
5. OptimalSort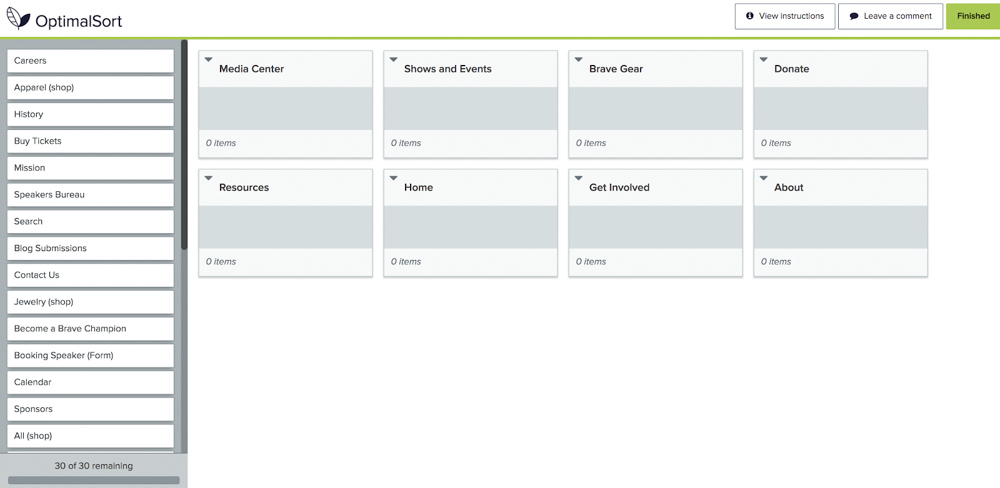 Image source: George Sordoni Design.
OptimalSort is the card sorting tool in the Optimal Workshop suite. It covers multiple variations of remote card sorting sessions. It adds a lot of value to designers who want to make informed decisions about their information architecture.
OptimalSort user rating
OptimalSort has a score of 4.5/5 based on 11 reviews on G2. Users like the speed of acquiring data and user recruitment.
Who uses OptimalSort?
OptimalSort is for all stakeholders involved in the design of digital products. The platform has subscription options for large teams and enterprises. You can bring product managers, UX designers, researchers, and project managers to collaborate and share research findings and insights.
Main OptimalSort features
OptimalSort is suitable for common types of card sorting tasks. Here you can:
Run a moderated or unmoderated card sorting session
Open a project for a hybrid card sort, closed card sort, or open card sort
Use the available participant panel
Get quick insights from automated data analysis
Identify common groups automatically
Use similarity matrices and dendrograms
The other tools on the platform are also available if you want to combine card sorting with other research methods.
OptimalSort pricing plans
The Optimal Workshop suite offers five pricing plans, including a free subscription. Here are the details:
Free – one live study at a time and 10 participant responses
Starter – $99 per month, billed annually
Pro – $166 per month, billed annually
Team – 166 per month, for two users and the option to pay for more
Enterprise – custom plan with tailored features
Keep in mind that participant recruitment comes at an additional cost. The high-end plans have free credits included for recruitment.
OptimalSort pros
Given all the details we gathered about OptimalSort, let's sum up the advantages of this tool:
Fast and reliable online tool
Well integrated with the rest of the Optimal Workshop suite
Decent automation of data analysis
Supports open, closed, and hybrid card sorts
OptimalSort cons
The OptimalSort disadvantages are:
Costly user recruitment
No video capture for user screen
Moderated card sorting isn't available
To sum it up, OptimalSort is a good option if you value the speed and efficiency of remote card sorts and appreciate additional tools in a well-built package.
Card sorting tools: A quick recap
We said a lot about our top picks, and it's time to wrap it up with a quick side-by-side comparison in the table below.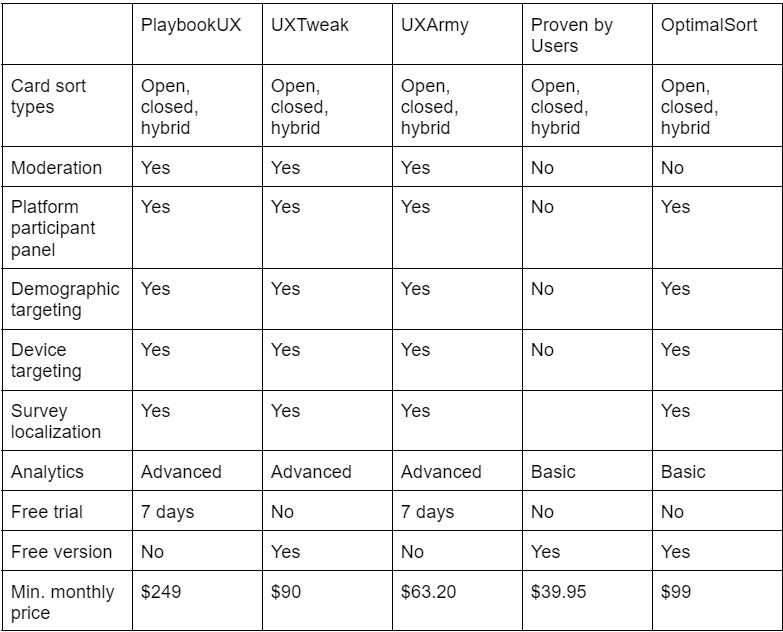 Card sorting tools: The final verdict
Card sorting is a valuable research method for organizing website content. It helps you make informed decisions on proper category names. A short session with the right participants can help you create a good information architecture that matches the preferences of your user groups.
There are many card sorting tools from which we picked the top five. Still, we recommend you start using PlaybookUX as an affordable solution that provides you with valuable features to improve your products. It offers quality online tools, automation, and analytics for card sorts and other research tasks. Sign up for a free trial today, and take your qualitative UX research to the next level.
Card sorting tools: FAQ
What type of research is card sorting?
Card sorting is a method for qualitative user experience research. Card sorts help UX designers and researchers find the best category labels for their information architecture. If you want an easy-to-use content structure on your site, card sorting will help your research.
Is card sorting qualitative or quantitative?
Card sorts collect qualitative data. They are usually done remotely with online tools that help index the results and data visualizations. Commonly used charts for result display include similarity matrices and dendrograms.
How many people should be in a card sort?
The optimal participation includes 20-30 users. It isn't cost-effective to use a larger user group. However, you should take the results and targeting criteria into account. Some card sorts may not give you conclusive results with this group size.
Is tree testing similar to card sorting?
Tree testing and card sorting are qualitative user experience research methods, but they suit different purposes. Card sorting helps decide on a content structure that makes sense to the users. Tree testing shows how easy or difficult it is to navigate the content.
Resources
User Testing Templates
Speak to high quality people