We Researched the Five Best UserTesting Alternatives – Here's What You Need To Know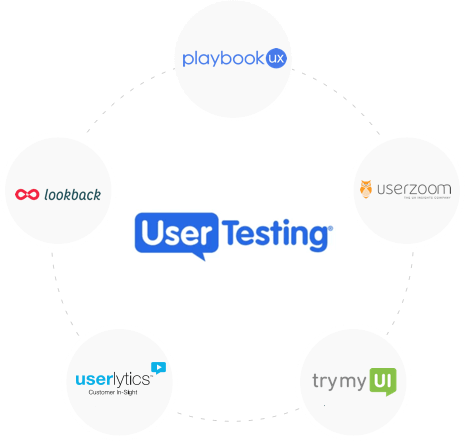 Are you a user research ninja looking for a more affordable UserTesting alternatives? Or maybe you're a Researcher, Designer, Product Manager or SaaS founder looking to get feedback from your target demographic on product usability, concepts, ideas, or pricing model. 
You've probably heard of UserTesting and how they allow you to speak to users and validate assumptions. It's a great software to get feedback from real users on designs or prototypes. It helps build better, more customer-centric products and websites. 
Why are so many customers using UserTesting?
UserTesting Pros
A massive panel of testers
Fast results
Extensive feature list
However, like any other software solution, UserTesting.com isn't right for every company's needs. Certain things drive companies to seek alternatives. 
UserTesting Cons
Very expensive
Minimal analytics
Limited participant platform localization options
Surveys are not supported
Here is a view of many online user testing reviews highlighting this problem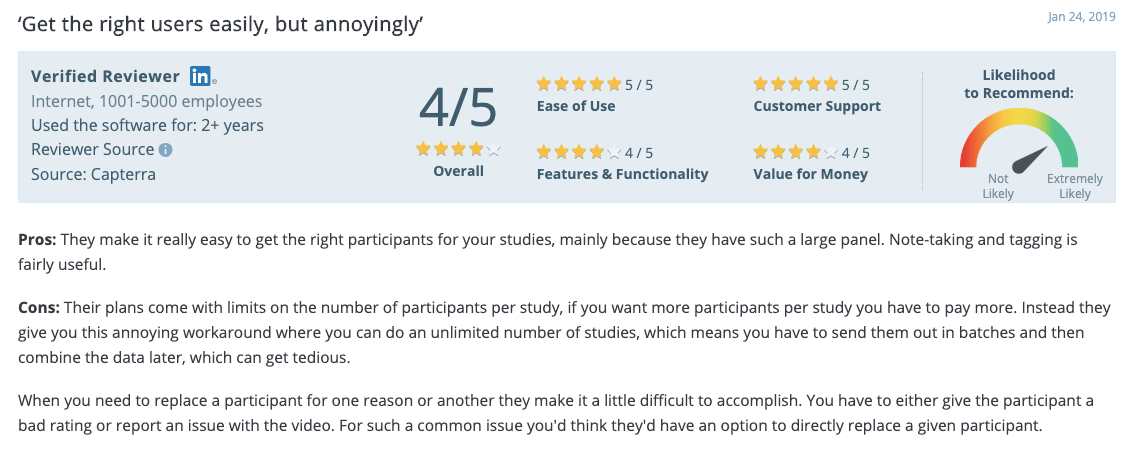 There are a lot of Google & Quora searching asking, How much does usertesting.com cost. As of this post, UserTesting.com's lowest price tier is approximately $20k annually. The cheapest plan includes 5 participants per study.
Usertesting.com pricing is expensive for most companies, people are constantly asking the question "do cheaper options exist?" It's such a common question that there's an active Quora thread with an answer wiki of 15 highlighted alternatives. 
15+ Usertesting Competitors, or not really?
Many of these alternatives are really not alternatives, rather, software for different use cases. A few are QA softwares. Some usertesting competitors are solely focused on conversion rate optimization and heatmaps. Other usertesting.com competitors have participant quality that is way too low for us to consider as alternatives. 
If you drill into UserTesting's core features, they are
Access to a panel of testers 

Software to conduct the video-based sessions 

Dashboard to review the videos

Highlight reels
After testing the software ourselves, reviewing user testing reviews (wordplay, we know) and talking to users about different alternatives, we noticed a pattern. We've identified criteria to rank usertesting competitors based on what's most important to UX software users. 
Criteria
Software ease of use

Customer support level 

Features 

Value for money 
We identified there to be five great UserTesting alternatives
PlaybookUX

trymyUI

Userlytics

UserZoom

Lookback
PlaybookUX –

#1 UserTesting Alternative
With PlaybookUX you can
Target your right demographic with advanced filters and screener questions

Conduct both unmoderated, moderated, card sort, tree tests and surveys

Create clips, highlight reels & custom reports
Analyze results (timestamped notes, A.I. analytics)
PlaybookUX Software ease of use
The process from signing up to putting your first study through takes 5 minutes. With a simple user interface, there's a simple 3 step process to create a test. 
PlaybookUX was designed to simplify the process because setting up a study and reviewing results shouldn't be a burden. 
PlaybookUX Customer Support
PlaybookUX is obsessed with customer support. With Intercom installed on the website and product, chat PlaybookUX anytime. Response times are quick – within minutes. Get quick feedback instead of submitting support tickets and waiting for responses.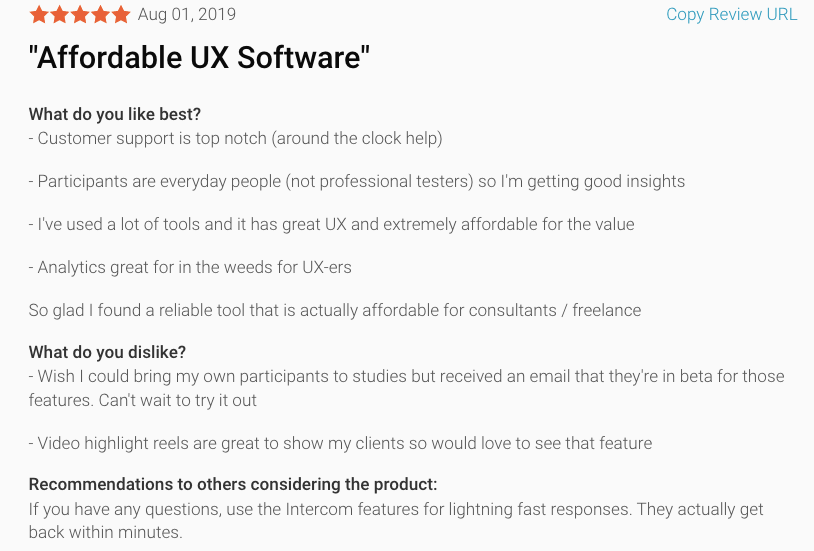 PlaybookUX Features
Access to verified participants

Unmoderated and moderated research on all devices (desktop, tablet and mobile)

Most general studies are filled within 2 hours
Flexible question types (verbal response, rating scale, written response, multiple choice)
Card sort testing (open, closed and hybrid)
Tree testing
Surveys
Use the PlaybookUX panel – or invite your own participants

International recruiting & localized participant platform

Ability to target participants on advanced demographic filters (age, job role, industry etc)
Unlimited screener question available for all plans
Scheduler for moderated interviews with custom configurations (buffer, advanced notice, max bookings per day)
A.I. synthesis (sentiment and keyword analysis)
All sessions are automatically transcribed
Live Notes
Segmentation 
Custom report builder, which allows you to summarize research to present to stakeholders
Everything is sharable with a password protected link
Create clips & highlight reels
Timestamped notes
Unlimited seats so you can invite your team
Unlimited workspaces
SAML-based SSO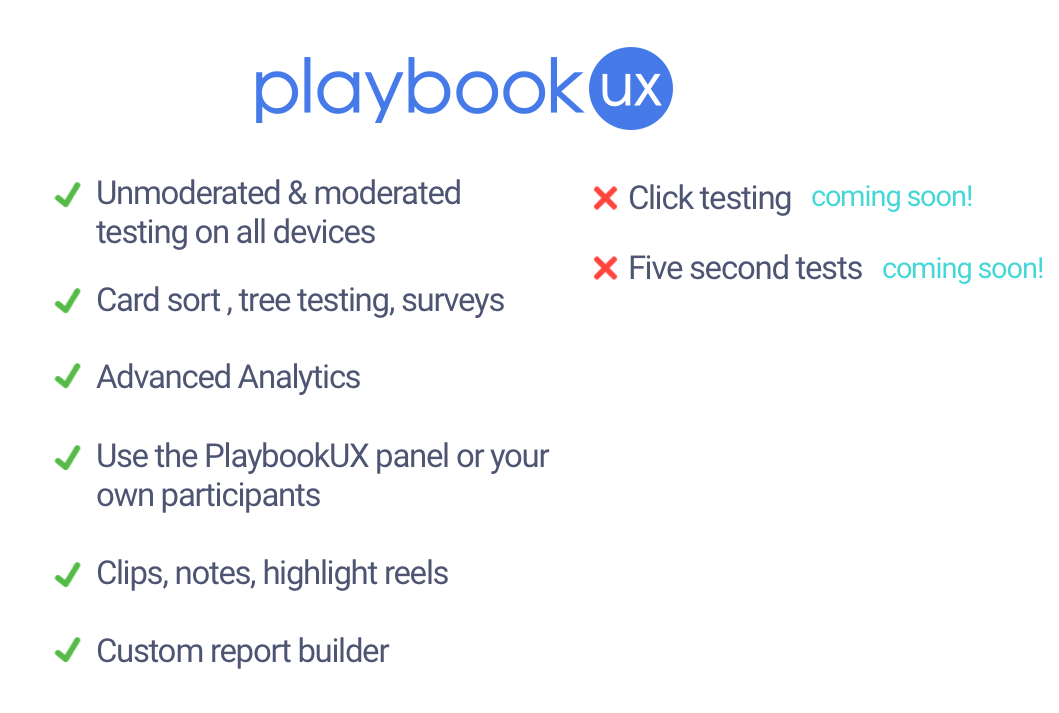 PlaybookUX Value for money
Value for money is the criteria where PlaybookUX wins hands down. All features are included in the price so you don't have to worry about upgrading to send a screener survey or invite an additional team. Pricing is simple and all incentives are included in the price. 
A subscription isn't required for running qualitative research with the PlaybookUX panel.
Cost per PlaybookUX participant
Unmoderated session – $49 USD per participant 

Moderated 30 minute session – $99 USD per participant (+$50 for 60 min sessions)

Card sort / tree test – $12 USD per participant
Surveys – $5 USD per participant
What's unique to PlaybookUX compared to other Usertesting.com alternatives?
Ability to target participants in over 40 different 

countries

Localized participant platform (over 50 languages and accents)

Granularity of participant targeting

5 methodologies are supported (unmoderated, moderated, card sort, tree test, surveys)
Advanced A.I. analytics (sentiment analysis and keyword analysis)
Custom report builder that allows you to pull in videos and charts from your sessions
Projects, highlight reels and clips are sharable with a password protected link
All sessions are automatically transcribed
Unlimited team seats & workspaces
Use the PlaybookUX panel or use your own participants
PlaybookUX vs. UserTesting: Alternative Comparison
PlaybookUX & UserTesting are similar when it comes to computer and mobile testing. Both offer moderated and unmoderated research capabilities. 
PlaybookUX is way more affordable, with pay as you go pricing. Companies have the ability to filter on employment data points (such as job title, seniority, industry etc).
The UserTesting price is hefty and they limit the number of admin seats – since they want to upsell you on additional licenses. Some plans have a maximum number of testers per study, don't include moderated interviews nor transcription. PlaybookUX includes those features in the pay per participant pricing plus you can invite your entire team.
PlaybookUX has additional features such as recruiting from over 40 countries and localization.
UserTesting is an excellent option for large companies with big budgets that do a lot of user research. However, PlaybookUX is a great alternative for companies who don't want to blow their UX budget on one tool but don't want to sacrifice participant quality and synthesis features.
The biggest advantage of PlaybookUX is the analytics. You can leverage extensive charting, A.I. sentiment analysis and custom report building. 
TrymyUI – #2 UserTesting Alternative
trymyUI Software Ease Of Use
The user interface is outdated but it's decently functional. The software does not have a pay per participant plan – so you'll need to jump on a monthly subscription. According the this trymyUI review it doesn't have a modern look and feel, but it's still a great way to get user feedback. 

trymyUI Customer support level
We couldn't find any information on this topic but we noticed they have a chatbot on their homepage.
trymyUI Features
Mobile and desktop testing, as well as surveys. 

Quantitative options including SUS (system usability), SEQ (task usability), task duration and task completion. 

They also have a crowdsourcing option called "UX crowd"

The testers video shut off after 20 mins, which is important to know when setting up a test.

Card sort and tree tests are not available.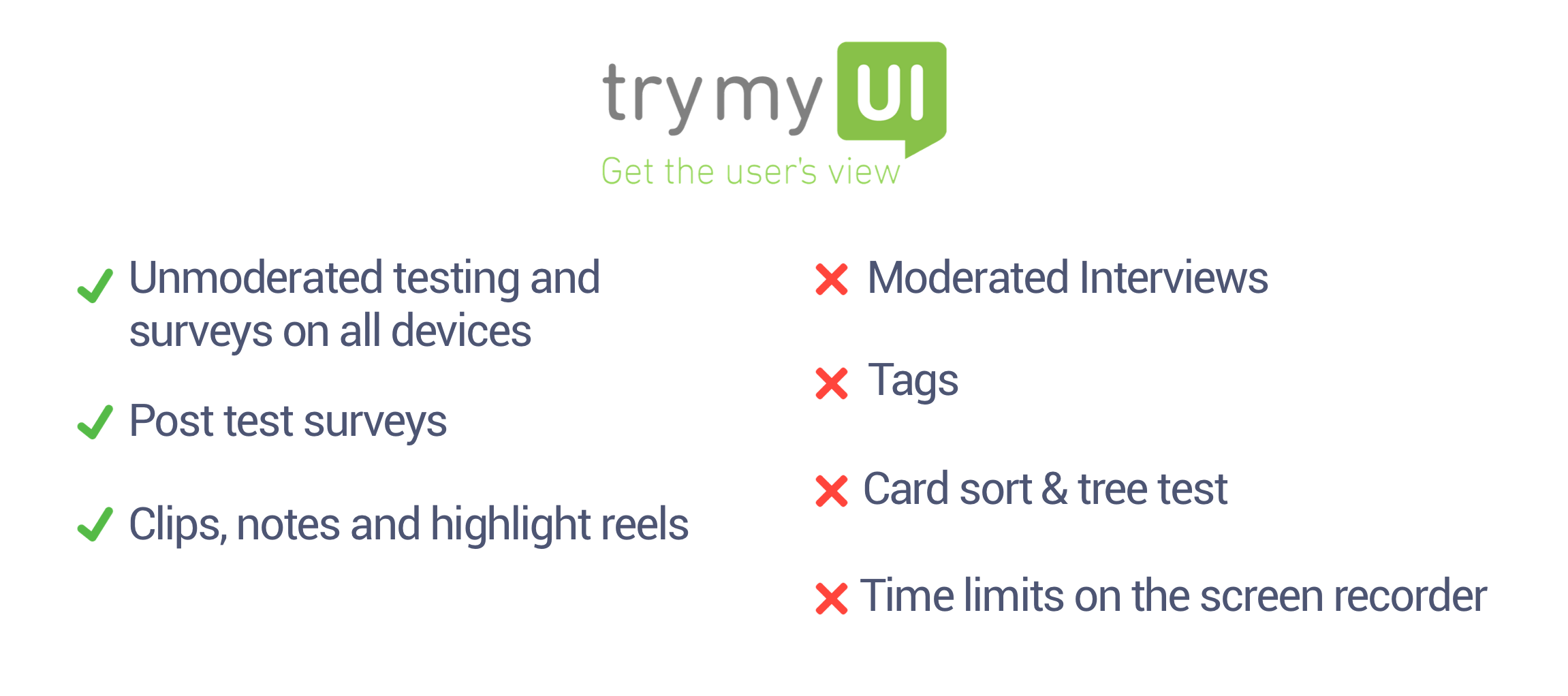 trymyUI Value for money
trymyUI has monthly subscription options based on a credit system which is somewhat confusing if you're not familiar.
The videos are 20 minutes long, so be prepared to have tasks cut off. Also, they massively limit the features in the first plan.
For $333 a month (billed annually) you get:
Ten test credits to an unmoderated study (no rollover)

After you use the first five, you pay $35 per credit

One admin seat
The last pricing tier is $8,000 per month.
Userlytics – #3 Alternative to UserTesting 
Userlytics Software Ease of use
The software UI is outdated, with many users citing that in reviews. Setting up a test takes some time and screens contain a lot of jargon, which is confusing for those who are not pro-researchers. Here are a few reviews that capture this sentiment.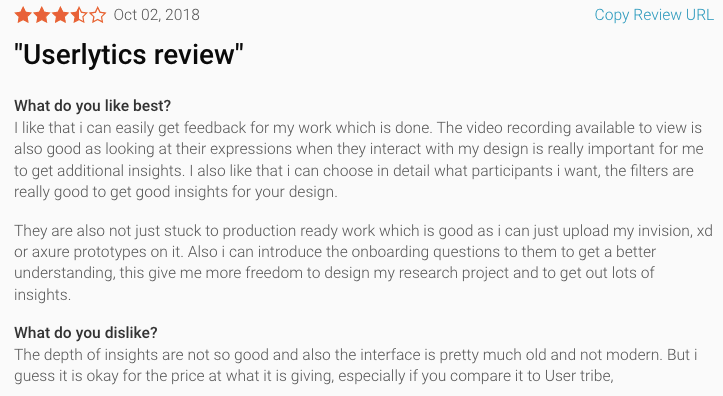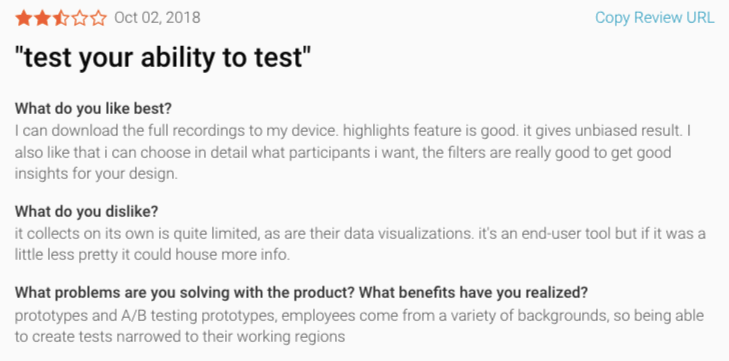 Userlytics Customer support level
We couldn't find information about this topic. We noted that the only means of contacting Userlytics is via phone or email.
Userlytics Features
Web and iOS / Android testing

Quantitative metrics – SEQ and SUS scores.

Card sort & tree testing

View people's faces through their webcam as they complete tasks.

Add skip logic to task questions.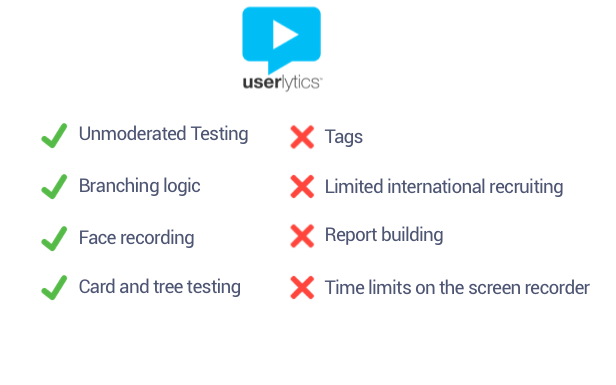 Userlytics Value for money
Userlytics has three pay as you go plans and a subscription plan for enterprise. The pay as you go plans start at $49 per participant. However, the lowest tier is limited when it comes to features. It's really difficult to assess the value at each tier.  
Pricing is also based on the unmoderated session length, so pricing gets complex quickly. Also, certain tiers require bulk pricing
UserZoom – #4 User testing Alternatives
UserZoom Software ease of use
UserZoom has a lot of features – combining qualitative and quantitative. With that, comes a very bulky platform. There's a lot of jargon so it's not for your everyday person. According to the UserZoom reviews, the software is a "bit clunky".

UserZoom Customer support level
You'll get a dedicated account manager, so the response time depends on your account manager's attentiveness.
UserZoom Features
UserZoom is loaded with features.

It's a qualitative and quantitative UX tool.

Perform moderated, unmoderated, card sorting, surveys, true intent studies and more. 

Both web and mobile app testing is supported.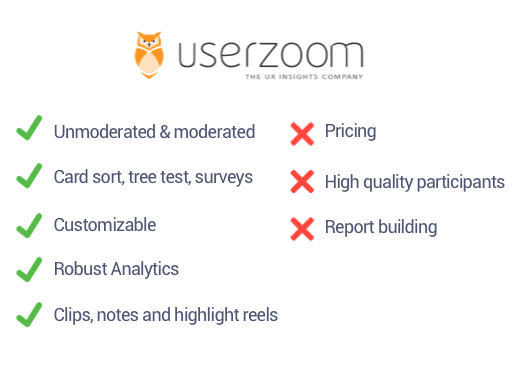 UserZoom Value for money
The software is very expensive so many companies will need to look for UserZoom alternatives. It's an enterprise-only solution. Pricing starts at $5,000 per researcher and only goes up from there. UserZoom's pricing is similar to UserTesting, here's a UserZoom review that addresses the pricing.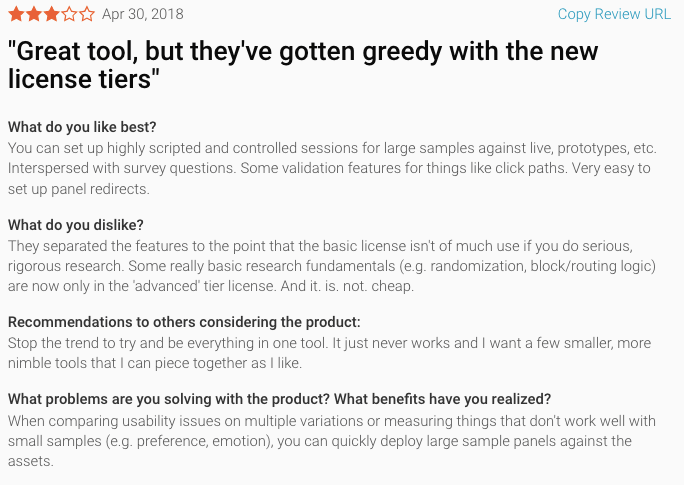 Lookback – #5 UserTesting Alternatives
Lookback Software ease of use
Lookback has a robust moderated offering for testing with your own participants. When it comes to unmoderated testing, it's extremely limited. You can't ask quantitative question types like written response, rating scale and multiple choice. Sessions are not transcribed and the analytics are limited (i.e. you can't create highlight reels and view analytics for unmoderated sessions). 
Lastly, you have to invite your own participants or source them from an external panel since they don't offer recruiting.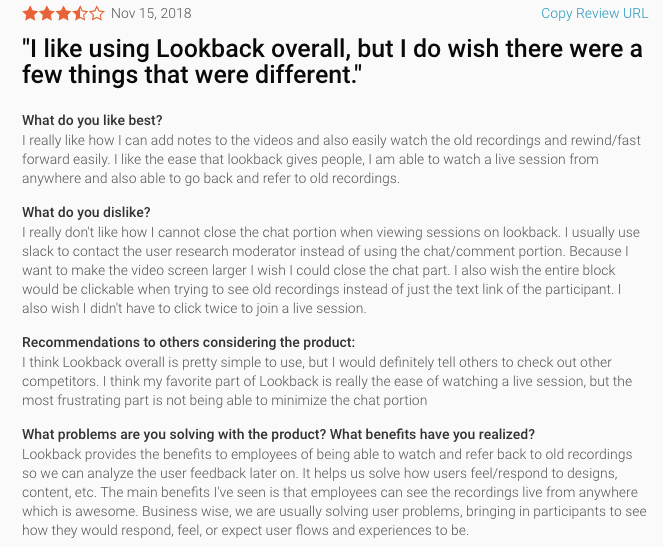 Lookback Customer support level
Support is slow to respond and doesn't always have helpful information.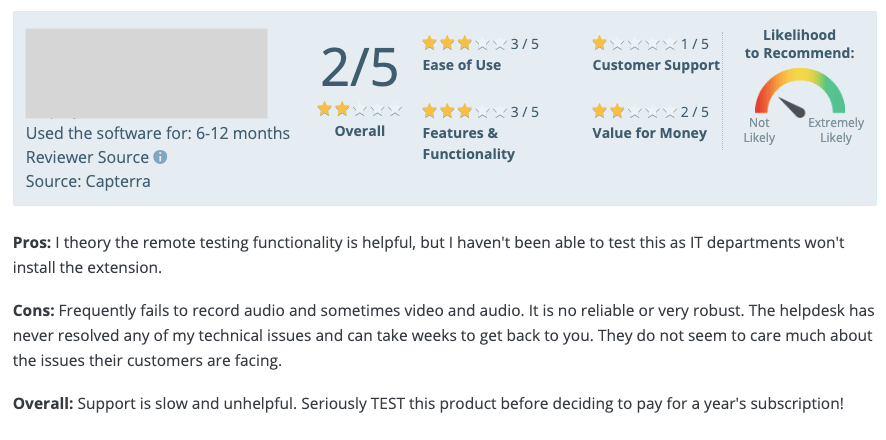 Lookback Features
Lookback's has a great moderated offering – supporting both mobile and web testing (note: they do not have a scheduler)

It's a great collaboration tool since the entire team can watch the session on their desktop computer.
Chat with coworkers during moderated sessions and take notes about important moments.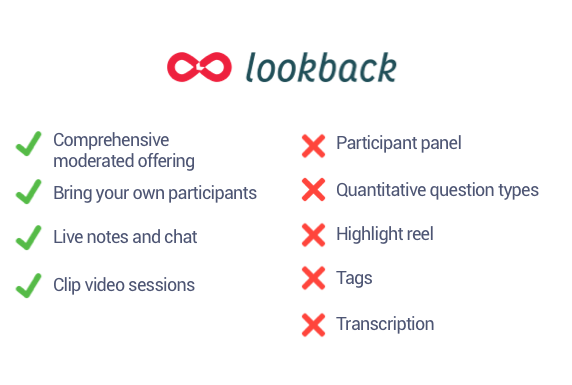 Lookback Value for money
The cheapest plan costs about $99 per month. With all Lookback plans, you're not able to recruit participants so you'll have to bring your own. Also, Lookback does not have a scheduler, nor do they incentivize your participants. 

 Hopefully, you've gotten a hang of the UserTesting alternatives out in the market.
What are the best alternatives to UserTesting.com?
PlaybookUX, UserZoom and Lookback
What are the most popular reasons for looking for an alternative to UserTesting.com?
UserTesting.com is a great tool, but it's expensive and their lower licenses limit many features. Companies with hard to reach demographics look to alternatives with higher participant quality and audience reach.
Is PlaybookUX the best UserTesting Alternative?
PlaybookUX is the best alternative due to the participant quality, features and affordability.
Resources
User Testing Templates
Speak to high quality people