5 Best Usability Testing Tools You Can Use in 2023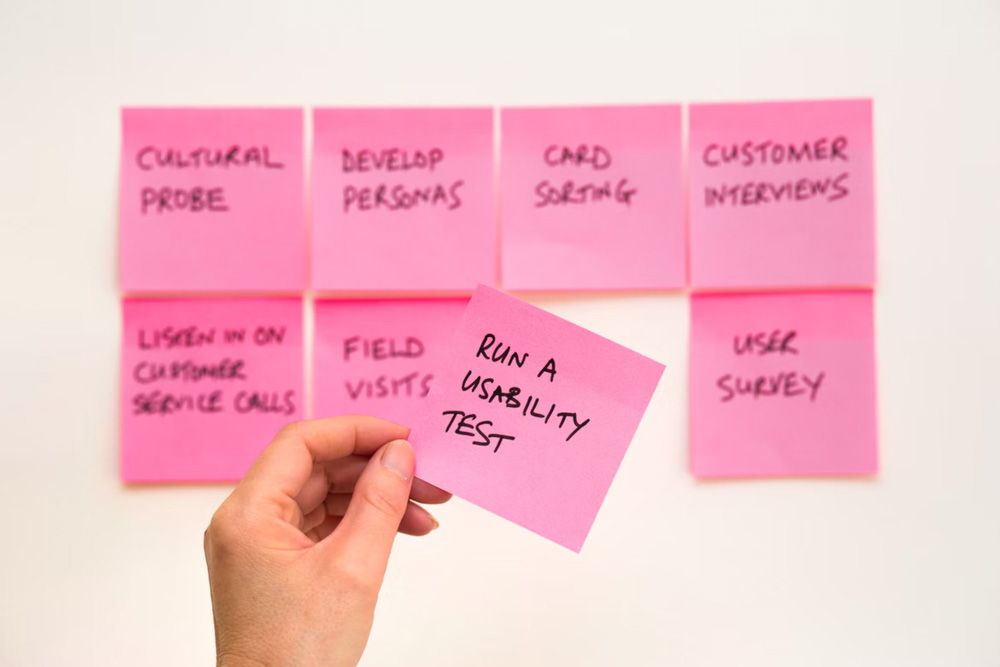 Image source: unsplash.com
Even the best, most exciting website or application will be less attractive to users if it's cumbersome, hard to use, or simply unintuitive. According to the study conducted by researchers from the University of Cambridge, software developers spend nearly 50% of their time debugging – fixing problems they could avoid previously by using usability testing tools.
Finding out how potential users react to your solution is paramount to any business owner and product or project manager. This insight can also be beneficial to web developers and UX designers, as it helps them plan their software better and therefore minimize costs.
Usability testing is one of the few effective ways to evaluate how your product works in real-life scenarios, so you can make changes to the UI (User Interface) or UX (User Experience) if it turns out they're necessary. However, for the process to be fully effective, you need a solid toolkit that'll help you gather and evaluate valuable information.
The usability testing tools market is full of various solutions you can use to achieve your goals. Our PlaybookUX is one of the best because of its powerful automation feature and the fact that it does a lot of work for you saving your time and resources. Sign up and check it out if you haven't already!
However, if you want a broader picture and don't have time to research different solutions, keep reading because we wrote this article to compare the five best usability testing tools you can use in 2022.
What are usability testing tools?
Usability testing is crucial because it allows you to evaluate how real users perceive your product and assess any possible issues and weak points before entering the market. Usability testing tools are software solutions that make these tests effortless, informative, and efficient. They provide you with access to testers you can select using specified parameters, let you introduce your testers into the study, and help you gather and analyze data.
Why is using a usability testing tool important?
Without a usability testing tool, testing applications and websites on a large scale is either completely impossible or very costly and time-consuming. Lack of proper testing means that users may discover many issues and bugs or bad, misguided ideas once the product enters the market, hurting your brand.
What are the types of usability tests?
The main types of usability tests are:
Moderated tests – studies during which a moderator guides participants and takes them through cases and tasks
Unmoderated tests – studies during which testers interact with the application or website without any guidance or moderation
Tree tests – studies designed to evaluate how easy it is to find information on a website (also known as reverse card sorting)
Card sorting – tests you can conduct to evaluate or design the information architecture
However, it's worth pointing out that there are other ways to classify the testing process. For example, you can distinguish several different types of usability tests depending on the primary goal of the entire process:
Open-ended, explorative tests are usually carried out in the early stages of project development to gather useful ideas and data
Assessment tests are conducted to measure a specific aspect (usually the user satisfaction or engagement)
Comparative research is used to determine which features work best for the users.
Also, tests can be either remote or carried out in person, which is another way to categorize them.
What are the benefits of using a user testing tool?
Usability testing tools allow you to achieve several important goals:
You can find out your solution's drawbacks and implement necessary changes to boost user engagement and retention.
These tools will enable you to evaluate how satisfied users are with your product – what they like and dislike.
They provide a way to assess specific aspects of the solution (like the user interface, for example) and see whether they fit established business goals.
They give you a better understanding of how the intended customer will use the product, which can sometimes open up some additional possibilities.
So, as you can see, there are plenty of reasons to conduct usability tests and use tools designed for that purpose. But what about the drawbacks?
What are the drawbacks of usability testing tools?
There are no real drawbacks to employing usability testing tools in your project. However, you need to pay for premium solutions, which means they incur costs, and sometimes these costs can be pretty high, depending on the platform you choose.
Even the best usability test will never fully represent real-life experiences. There are always unknown factors that can change a user's perception of the product.
Usability testing tools: Evaluation parameters
We've used several parameters to evaluate the tools on our list. Aside from features and user interface, we also considered the level of support, user scores on popular review aggregate platforms, and integration options. Finally, pricing and subscription were the last crucial puzzle pieces. Let's go through our findings together.
Top usability testing tools: The ultimate list in 2022
1. PlaybookUX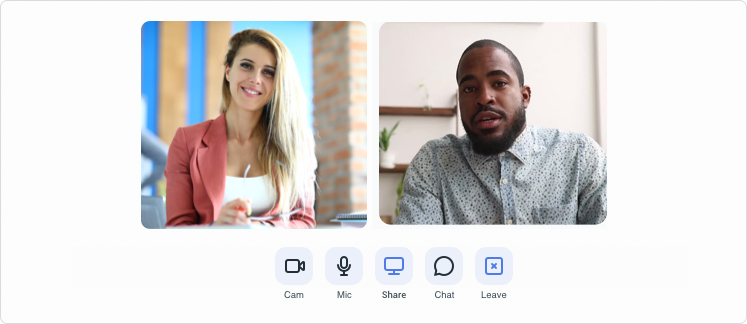 PlaybookUX is a powerful solution for video-based user research – it allows you to see and hear how users interact with your product in real-time. You can test websites, applications, and mobile apps. The software offers automation which makes it effortless to use. You can schedule and then run moderated and unmoderated user tests, tree tests, and card sorts using any device you want.
Who uses PlaybookUX?
Companies of different sizes can use PlaybookUX. It was created first and foremost for UX designers, product managers, and researchers.
PlaybookUX user score
PlaybookUX has a 5.0 score on Capterra (based on 7 reviews).
PlaybookUX features
Consumer research and B2B targeting – target consumers and professionals using various filters (demographic, career, etc.) and screener questions
Invite your participants – send recruiting links to invite your people to research studies
Templates – saved audience, saved questions, PlaybookUX templates
Unmoderated testing – watch recordings of users interacting with your solution and hear their answers to specified questions
Moderated interviews – speak directly with participants and look at their screen, shared audio and camera output
Card sorting – open, closed, and hybrid card sorts
Tree testing – a great way to understand how users can find items on your website
Scheduling, buffer time, advanced notice, max bookings – calendar integration and easy configuration of interviews
Concurrent studies – run more than one study simultaneously
Automatic and editable transcriptions – automatic transcriptions you can edit whenever you need
Notes, highlight reels, clips and reports – it's easy to document important details and create reports across research projects
Downloads – downloadable video sessions, clips and highlight reels
Keywords and quotes – assess phrases and keywords from unmoderated sessions
Sentiment analysis – access to positive and negative quotes from unmoderated studies
Tags and highlights – keep track of essential patterns
Unlimited team seats – invite as many team members as you want
Universal search – quick way to find important materials
What makes PlaybookUX unique
The best thing about PlaybookUX is the high level of automation – automatic transcribing and scheduling help you save a lot of time.
PlaybookUX makes it very easy to search for specific items in your workspace. It automatically indexes the created transcripts, notes, reports, and highlights. Thanks to that and our advanced tagging system, you can conduct your research more accurately, efficiently, and easily manage your workspace.
PlaybookUX allows you to conduct customized studies based on your specific needs. What's more, it doesn't just tell you what's wrong, but it offers some information on how to fix these problems – it helps you identify patterns to make grouping decisions.
PlaybookUX can also help you improve your navigation structure. You can perform tree tests to find critical issues and ask follow-up questions that allow you to understand better how to fix them.
PlaybookUX integrations
You can integrate PlaybookUX with popular calendar apps (Microsoft Outlook, Google Calendar, CalDAV, iCloud Calendar, Exchange Server).
PlaybookUX customer support
PlaybookUX offers a detailed help center and a PlaybookUX Academy guide, full of valuable articles and video tutorials. You can contact us via e-mail or chat with our support team.
PlaybookUX – Pricing
Users of the PlaybookUX panel can pay for single usability testing sessions: Unmoderated ($49 for 15 minutes) and Moderated ($99 for 30 minutes or $149 for 60 minutes).
PlaybookUX also offers two subscription plans. The first one – called GROW – allows you to bring your participants to unmoderated, card sort and tree test studies. It costs $249/month or $2739/year. The second one – SCALE – is priced at $449/month or $4939/year and offers access to all the GROW features, SSO/SAML, and the option to bring your participants to moderated studies.
Subscribers (both GROW and SCALE) can also pay for card sort ($8/session) and tree test (also $8/session).
PlaybookUX – Pros
You can run moderated and unmoderated user tests, card sorts and tree tests
Playbook UX automatically handles transcribing, and scheduling studies
The solution automatically indexes notes, transcripts, reports, tags, and highlights – helps you find whatever you need in a given moment
Advanced tagging helps you make real use of gathered data
It not only tells you what's wrong but also provides you with hints on how you can fix the problem
It helps you find issues with your navigation structure
Studies are easy to set up
Pricing is transparent and easy to understand
Unlimited seats
Free trial
PlaybookUX – Cons
No surveys
Some users complain about the way the roll-up summary of transcriptions is presented
To test PlaybookUX features and see if it is right for your business, sign up for a free account today.
2. UserBob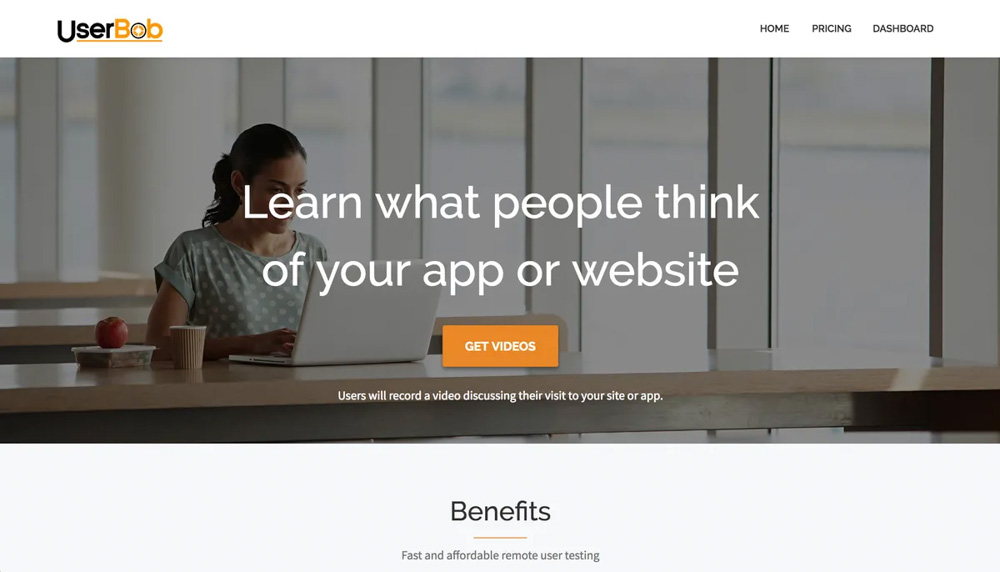 Image source: alternativeto.net
UserBob is one of the more straightforward user testing tools. You can use it for application and website usability testing. You can define the demographics of your test group to a certain degree.UserBob employs Amazon's Mechanical Turk service to find the right people, though it's worth noting that they'll always be from the USA or Canada with a task completion rate of 99%. You can also specify the details of a task you want the testers to perform. The tool is affordable and easy to use.
Who uses UserBob?
The relatively simple nature of UsuerBob makes it most suitable for small companies and freelancers, for example, web designers working on their own.
UserBob user score
UserBob has a 3.8 score on G2 (based on 2 reviews).
UserBob features
Fast and agile – setup is easy and quick. You just choose the number of testers and define the time they should spend on testing your solution
Targeted demographics and task definition – you can define the demographics of the test users and specifics of the task they should perform
Satisfaction guaranteed – test can be redone or money refunded if you're not satisfied with UserBob
Support for UX companies – UserBob videos can be "white labeled" and branded with a specific company's logo
REST API – can automate the process of starting tests
What makes UserBob unique
UserBob is simple to use and affordable. It doesn't offer many features compared to the competition, but it's a relatively easy way to conduct remote user testing, and it won't cost you a fortune. The solution's creators even offer a 100% refund if you're not satisfied with the service (no questions asked).
UserBob integrations
No integrations are mentioned on the UserBob website.
UserBob customer support
UserBob only offers a short FAQ. However, you can also contact the company via e-mail, phone or Twitter.
UserBob – Pricing
Customers have three ways to use UserBob. You can pay $20 for a First Impressions test that provides 20 testers (each works for 1 minute). You can also choose the Task Completion option, which costs $25. It allows you to specify a task that 5 people will try to complete (each person will spend 5 minutes on it). You will receive the recordings of that process.
Finally, the Custom plan allows you to define specific goals and target groups. Here, the cost is $1 for 1 minute of testing, so 5 testers who work for 5 minutes each will amount to $25.
UserBob – Pros
An easy way to test the usability of your product
Attractive price, with a money-back guarantee
UserBob – Cons
A simple tool, probably not the best choice for complex projects
There is no automation
There are no additional tools for reporting and analyzing data (notes, tags, etc.)
You can't bring your team to study
3. Userlytics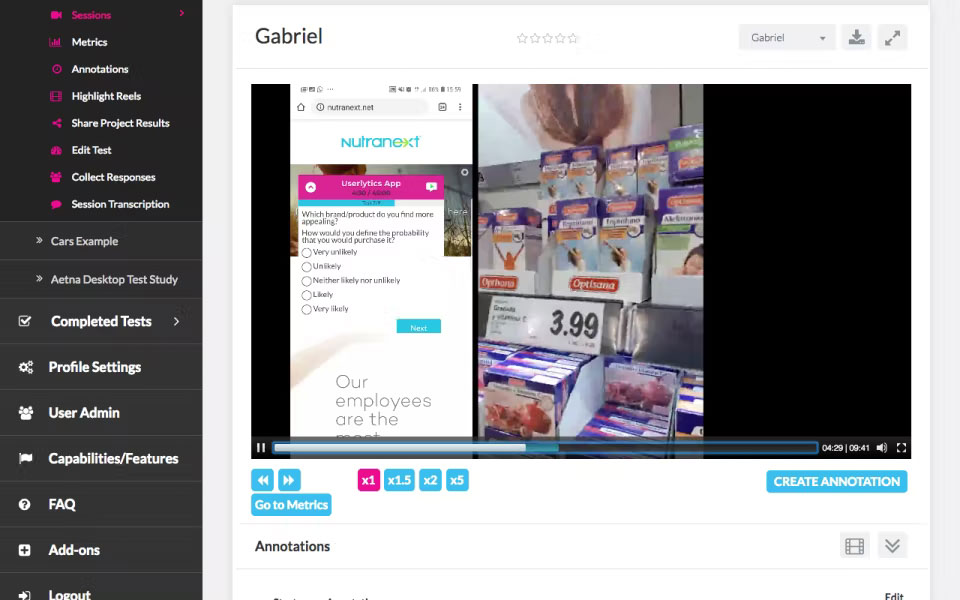 Image source: getapp.co.uk
Userlytics is an advanced usability testing tool that offers customization options but can be hard to handle for less experienced people. The software allows the testing of web pages, applications, and prototypes. You can set up moderated and unmoderated tests, and there's also the possibility of conducting card sorting studies and tree testing.
Who uses Userlytics?
Userlytics was created with small and medium businesses in mind.
Userlytics user score
Userlytics has a 4.7 score on Capterra (based on 39 reviews).
Userlytics features
Picture-in-Picture recording – allows seeing testers who are providing feedback and adding non-verbal insights to projects
PII protection – blocks recording of the screen when using sensitive information
Screener questions – defining participants better through unlimited, customized questions
Skipping logic – redirecting participants to tasks based on answers to previous questions
Private labeling – "white labeling" videos, adding your logo
Quantitative metrics – automatically calculated metrics with hyperlinks and some customization options
Automated transcriptions – automated transcripts in several languages
Annotations and highlight reels – annotate things you consider important and automatically create a highlight reel that visualizes them
Automatic reporting – an automated system that allows the creation of advanced, detailed reports
Advanced account management option – unlimited seats and accounts, multiple permissions sets, etc.
Card sorting – card sorting using the "mental model" technique of information architecture
Tree testing – tree testing using the "mental model" technique of information architecture
What makes Userlytics unique
The users like the tool's detailed filtering system that allows them to customize the test by defining specific parameters for test participants. You can also ask screening questions to disqualify some people from your study. As a result, the data from the test can be deeply segmented and, therefore, highly accurate. Also, Userlytics can automatically transcribe testing items from several languages.
Userlytics – Integrations
Userlytic website doesn't list any specific integrations.
Userlytics – Customer support
The company provides users with a FAQ and documentation that includes some video tutorials. You can contact the company via phone and e-mail.
Userlytics – Pricing
Userlytics offers three pay-as-you-go plans:
Basic (Unmoderated tests only, $49/participant, 15-minute sessions)
Enterprise (Unmoderated and moderated tests, $69/participant, 30-minute sessions)
Custom, which lets you use a customized plan.
However, it's worth pointing out that some features aren't available in the Basic plan (highlight reels, AI transcriptions, card sorting, tree testing).
There are also three subscription plans whose pricing doesn't depend on the number of participants. Starter costs $399/month, Premium is $499/month and Advanced is $999/month.
Userlytics – Pros
A detailed filtering system for test participants that allows you to customize your study to a great degree
Userlytics – Cons
Data presentation could be better – reports and statistics can be confusing and hard to navigate
Pricing is needlessly complicated – some features are only available in the more expensive plans
4. Dovetail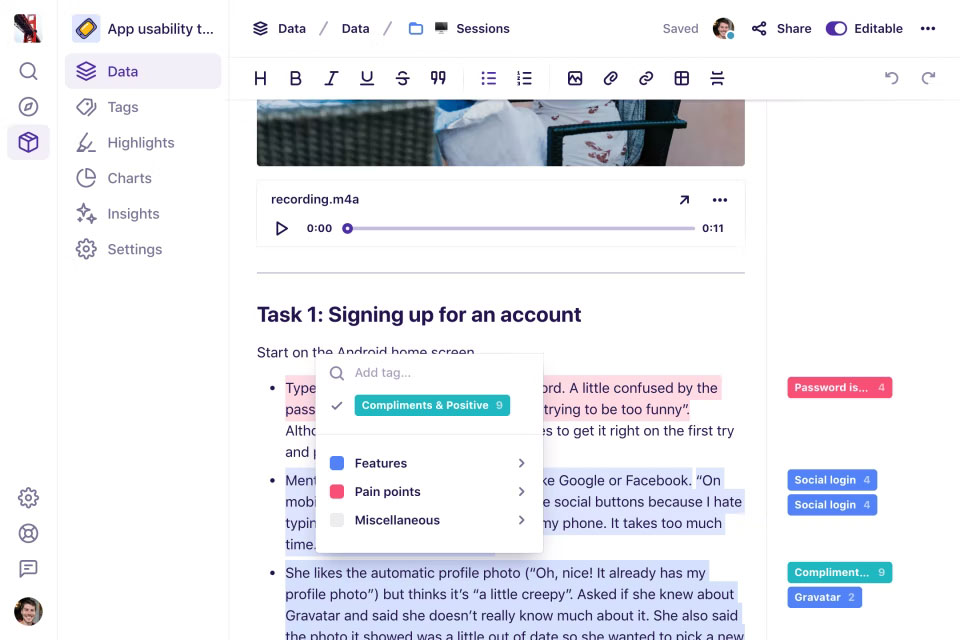 Image source: getapp.com
Dovetail is a video-based usability testing platform built from three different elements. Playback provides you with a place to store your research. Markup is a qualitative analysis software solution that goes through your research data and gives you valuable insights. Finally, Backstage is a tool that lets you create profiles for test participants and link them to specific data to manage and categorize your findings easier.
Who uses Dovetail?
Dovetail can be used by product teams in small, medium-sized, and big companies and solo researchers and designers.
Dovetail user score
Dovetail has a 4.6 score on Capterra (based on 42 reviews).
Dovetail – Features
File storage – Playback offers unlimited storage for presentations, images, PDFs, videos, etc.
Easy importing – integration with popular cloud services
Research stories – allows the creation of stories based on research you can share across the organization
Global search – easy way to find research materials in the repository
E-mail and Slack sharing – allows easy sharing of stories and materials
Intuitive analytics – analytical tools that help draw conclusions from the data
Affinity mapping – easy way to synthesize research and work collaboratively
Automated themes – use tags to cluster highlights automatically
Filter highlights – filtering by people or demographic data
Insights – traceable atomic insights from your analysis
Flexible editor – full-featured editor with sticky notes, videos, images and multi-column layouts
Video highlights – tag transcripts to easily build video highlights across recordings
Global profiles and links – people can be associated with multiple projects, searched for, and linked with specific data and insights
Custom fields – data can be segmented by contact details, metadata, demographic data, etc.
SOC 2 Type II – high level of security
Participant privacy – Dovetail is GDPR-compliant and protects test participants by assigning randomly generated profile pictures
What makes Dovetail unique
The multi-component structure of the service gives the users some flexibility when it comes to the parts they want to use, but it comes with a drawback: a confusing pricing model. Dovetail is intuitive, easy to use, and offers a degree of automation. However, the best thing about this tool is probably the free version, which can be very helpful for small teams.
Dovetail integrations
You can integrate Dovetail directly with Zoom, Google Drive, Dropbox and Slack. Zapier integration also allows you to connect the software to other tools (the website mentions Lookback, Qualtrics, UsabilityHub, UserTesting, Promoter.io, SurveyMonkey, Typeform, Wootric and Airtable).
Additionally, there's an option to integrate Dovetail with several identity provider services, such as Okta, OneLogin, Microsoft ADFS, Idaptive, Azure AD and Google Cloud Identity. However, you need to use the Enterprise component to do that.
Dovetail customer support
Dovetail has a help center and offers a series of guides that allow users to get to know the platform. You can contact the company via e-mail.
Dovetail pricing
Dovetail offers a free version that allows you to work with up to three users and access all three tools (Markup, Backstage and Playback). With the paid version, the pricing is separate for each component. Playback costs $8/user/month, Backstage is $25/1000 people/month and Markkup has two subscription tiers that provide access to a different array of features: Pro ($15/user/month) and Team ($30/user/month).
An additional Enterprise subscription ($900/month, 15 users included) gives access to all three tools and allows you to scale the platform's features in a large company.
Dovetail – Pros
A solid free plan that can be useful to smaller teams
An extensive list of integrations
Intuitive and easy to use
Helpful set of features
Dovetail – Cons
A needlessly complicated pricing model
5. UserZoom (formerly Validately)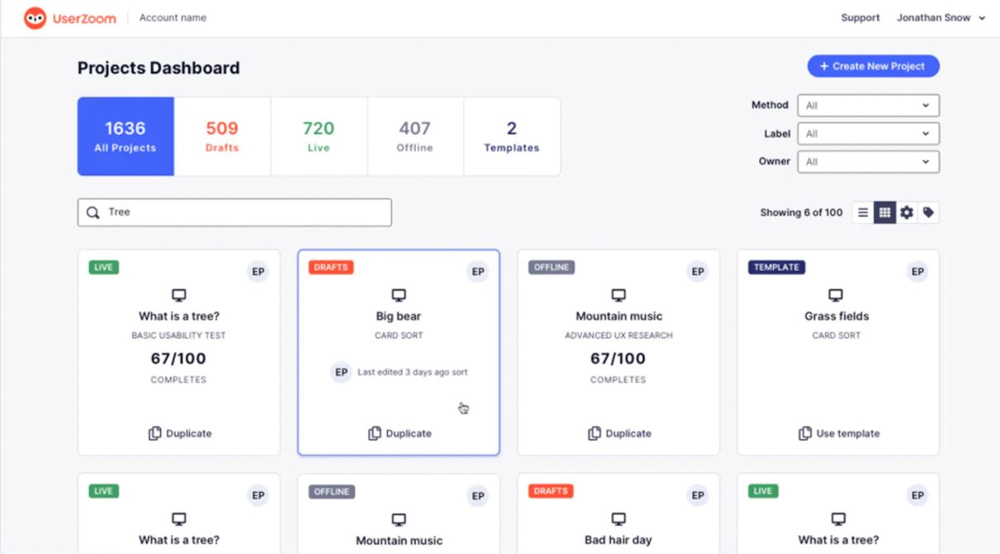 Image source: softwareadvice.co.nz
UserZoom is a well-established usability testing platform. You can use it to test websites, applications, prototypes and wireframes. The service offers a decent range of features and is available in two versions – UserZoom and UserZoom Go (the second one only provides access to the most basic features). There's also an additional product – EnjoyHQ – that you can use for collaborative work on UX.
Who uses UserZoom?
UserZoom was created for small and medium-sized businesses and can be used by UX researchers, UX designers, product managers and marketers.
UserZoom user score
UserZoom had a 4.2 score on G2 (based on 99 reviews).
UserZoom features
Multi-method testing – video-based interviews, click tests, card sorts, tree tests, etc.
Insights on a global scale – get insights from users around the world
Industry-leading security – the platform is SOC2 Type I and SOC2 Type II compliant
Quality participants at scale – access to 120 million test participants through the platform
Automated participant recruitment – help save some time on management
Session scheduling – allows the scheduling of test sessions
Automated reporting – easy way to receive key insights
Automatic video transcriptions – automatically transcribe video materials
Behavioral data – task success rates, time on task, visual heatmaps, etc.
What makes UserZoom unique
It's a well-known platform that provides access to a vast testing group of over 120 million people.
UserZoom integrations
UserZoom doesn't list any integrations on the website.
UserZoom customer support
UserZoom provides a help center. You can reach the company via phone or email.
UserZoom pricing
UserZoom offers two basic plans: UserZoom Go (with access only to unmoderated and moderated tests) and UserZoom (additionally offers click tests, surveys, card sorts, and tree tests, among other things). Unfortunately, pricing isn't available on the website – you have to contact the company to get information.
UserZoom – Pros
A solid, easy-to-use tool for gathering data
Decent customization options
A well-established brand
UserZoom – Cons
The interface is a bit clunky
No information about the price
Limited screening capabilities
Usability testing tools: A quick recap
Here's a quick recap of all the described remote usability testing tools in the form of a handy table with the essential information.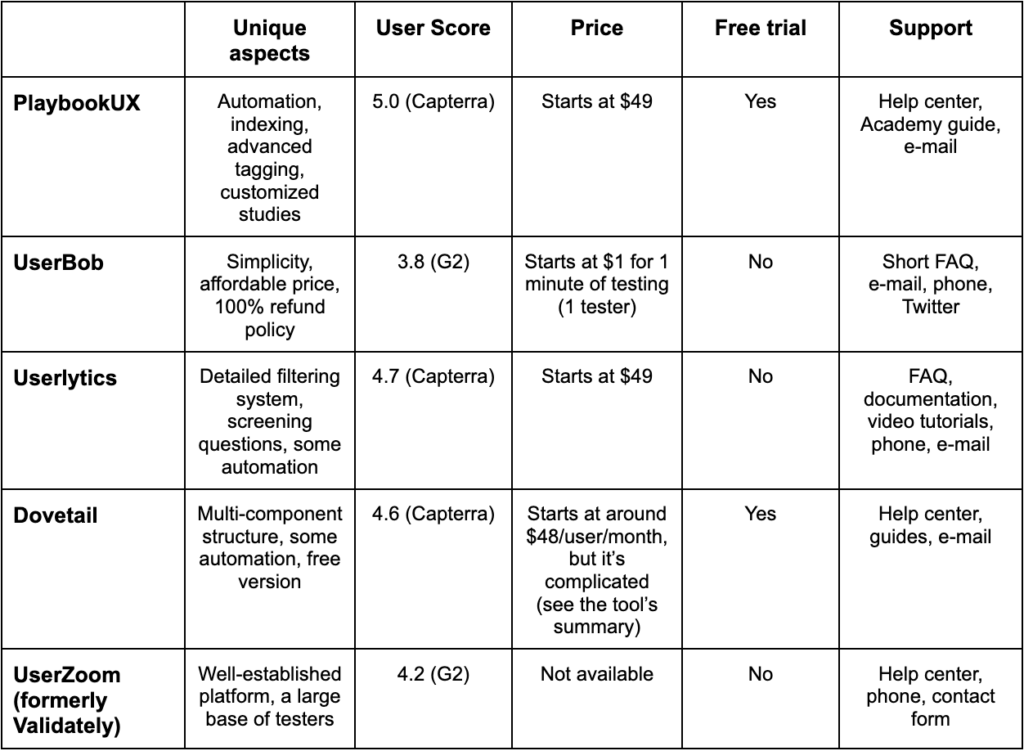 Usability testing tools: The verdict
Usability testing plays a vital role in developing applications and websites. It allows you to identify critical issues and find out how potential customers see your solution so that you can implement changes and improvements before it hits the market. As with most things worth doing in business, testing incurs a cost, but it's an investment that allows you to get a better product.
To achieve the best effects and get the most out of that investment, you have to make an important choice: find the right usability testing tool for you. Features and options offered by these solutions can vary widely, so it's a good idea to analyze these products carefully, check out what they can do, and how much you'll have to pay to use them.
In our opinion, PlaybookUX is the best option. It gives you plenty of features you can use easily by automating many manual, repeatable activities such as transcribing, scheduling, or creating highlight reels. Thanks to indexing and advanced tagging, PlaybookUX also helps you find the information you need quickly and without any hassle. Sign up, and use our 7-day free trial to check it out! It'll help you take your application or website to the next level.
Usability testing tools: FAQ
What are the goals of usability testing?
The main goal of usability testing is to identify issues with the tested solution – bugs, problems with the interface, general effectivity and efficiency, and even design flaws – to remove them before the product hits the market. Tests also help you evaluate how users perceive your application or website.
How long is usability testing?
It depends on the scale and complexity of the project and the type of tests. For example, inviting your participants into a study will probably take more time because you'll have to organize the group first. A single unmoderated session usually takes 15-30 minutes. Still, the whole testing process takes much longer since the project may require more than one test, and the data must be analyzed and formulated into a report.
Is usability testing functional testing?
No, there's an important difference between these two types of tests. Functional testing is all about checking whether specific features of the solution work as the designers intended. In the case of usability testing, the purpose is to find out how the product performs in the hands of actual users. Issues discovered during usability testing might not necessarily be bugs/problems from the perspective of functional testing – they might result from wrong assumptions and decisions made during the design phase.
Resources
User Testing Templates
Speak to high quality people