Agile UX: Tips for Using UX with Agile Product Development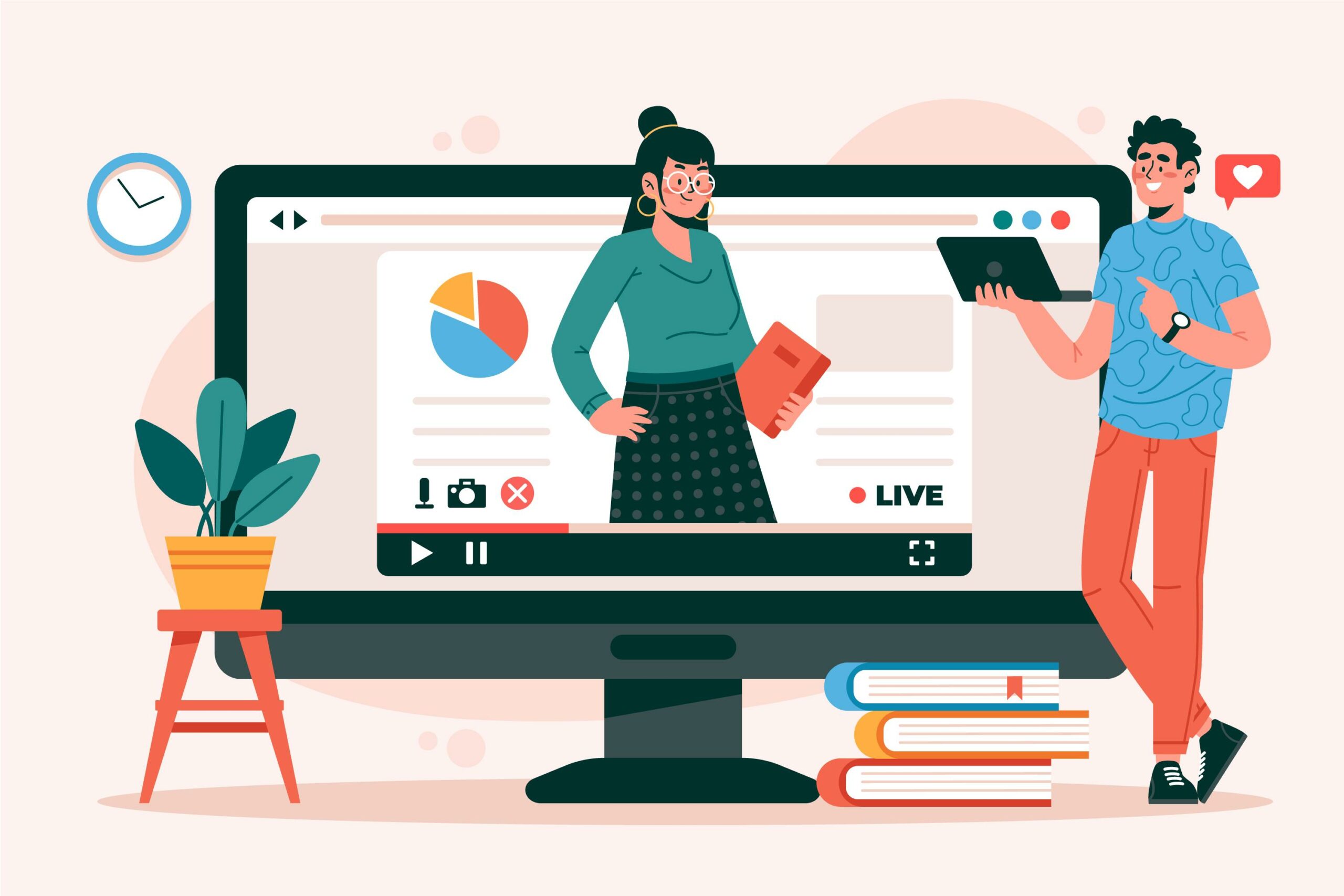 Agile product development came into being after software developers grew tired of the strict, heavily policed approach to developing software. In 2001, a 'Manifesto for Agile Software Development' was published by software developers who chose to rebel against the previous cumbersome software development approach. These agile principles assisted developers who needed to solve pain points during projects in a more flexible way. 
The Agile product development process involves the full team working on the same elements of a product at the same time to keep everyone collaborating and communicating the same issue. The team works in spirits which consist of two-week periods. Within these periods, an organisation focuses on certain features and then moves on to another feature. With this in mind, did agile and UX always collaborate?
Agile vs UX: the old days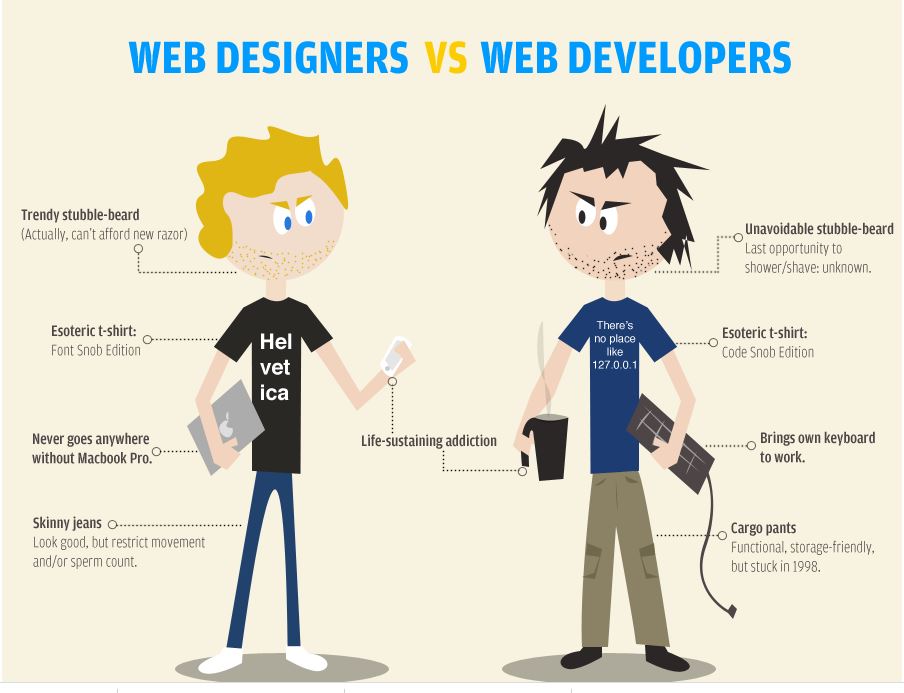 It might not look like your typical Clint Eastwood standoff but agile developers and UX designers did not always get along. The UX process needs more research, time and resources to create excellent designs. In the past, a typical agile process put UX designers under intense pressure to create, test, revise and produce a product or service too fast. They had to do this without thinking of the bigger picture, which usually works well for user-centric designs. 
Furthermore, these two-week sprints could also cause the UX designer to develop tunnel vision. As a result of only focusing on one feature or one user, they could ignore other design and product attributes like omnichannel feasibility, the usability of the interface architecture or integration. UX designers might have also tried working a sprint ahead of the development team. But after this, the development team might expect UX design to see the completed designs by the time their sprint begins. Then UX is seen as a roadblock as a finalised user-centric product design is not ready.
So, while UX and agile might not have worked so well in the past, things are changing. UX designers can work in collaboration with product owners and developers by involving them at the onset of a new project. The new project's requirements need to be clear to them, and they need to see a roadmap which identifies the ideal product.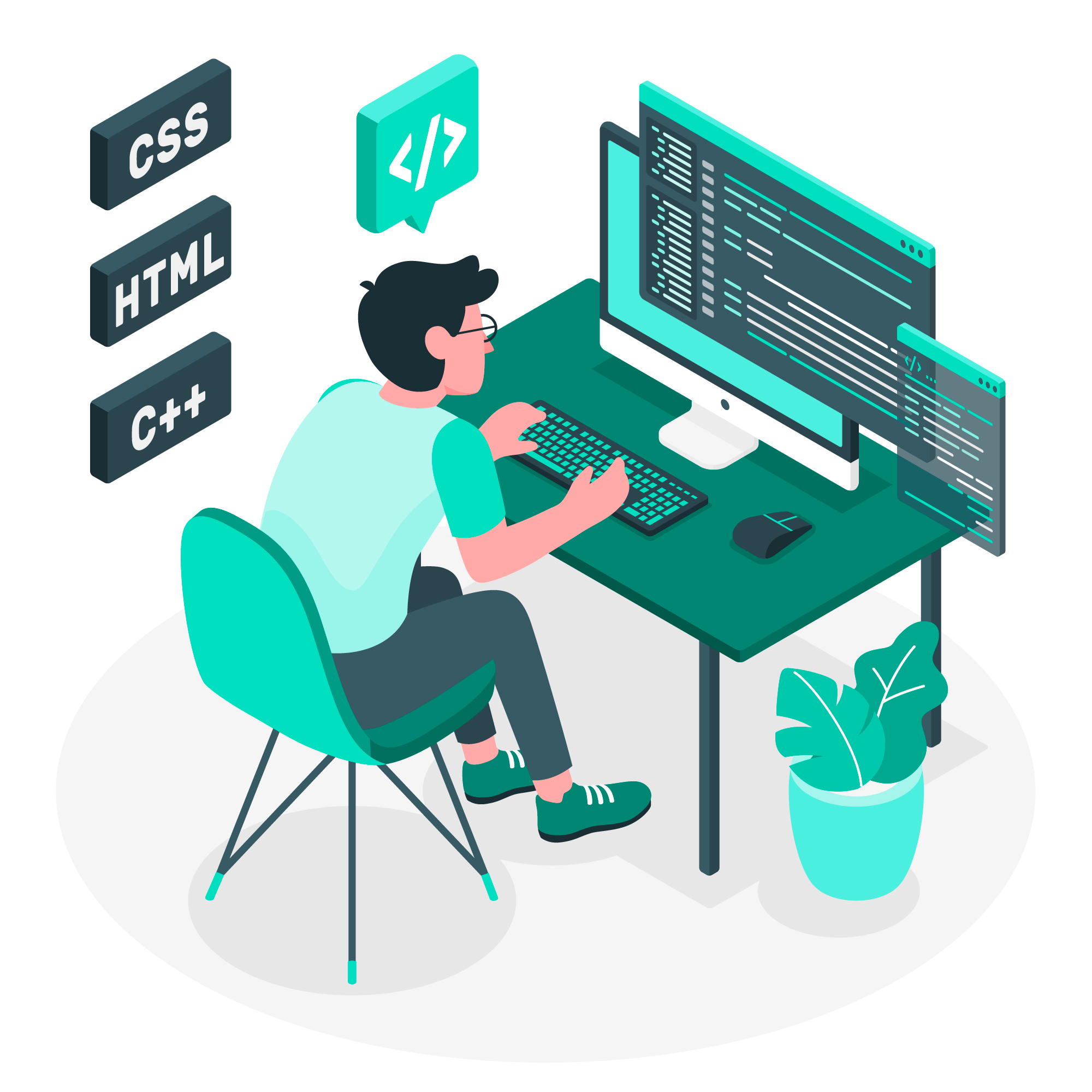 What is agile UX?
What is an agile UX design process?
The agile software process involves rapid product design sprints and quick iterations while UX needs long hours of design and several user research streaks. In other words, UX designers focus more on getting as much knowledge and certainty about a concept for a product and how users might use it before building it. On the other hand, agile methods welcome the unknown as part of building and delivering a product. 
Agile UX combines the UX design process and Agile software methods so that they can work together to develop a product. Putting more effort into understanding what your users need will help you create a more profitable product. Alternatively, the agile UX design process can help UX designers learn how they can focus on the right amount of research to support the development of a concept or feature. Effective agile UX product development involves designers working in sustained collaboration with all team members, including developers. The agile UX design of a product will change with each sprint or iteration in line with customer feedback and any changes needed. To allow for a smooth transition from one product sprint to another, all team members keep in regular contact and should hold review meetings, at least once every two weeks. 
What does an agile UX design process look like in practice?
The Agile UX process is an incremental approach to solving product problems.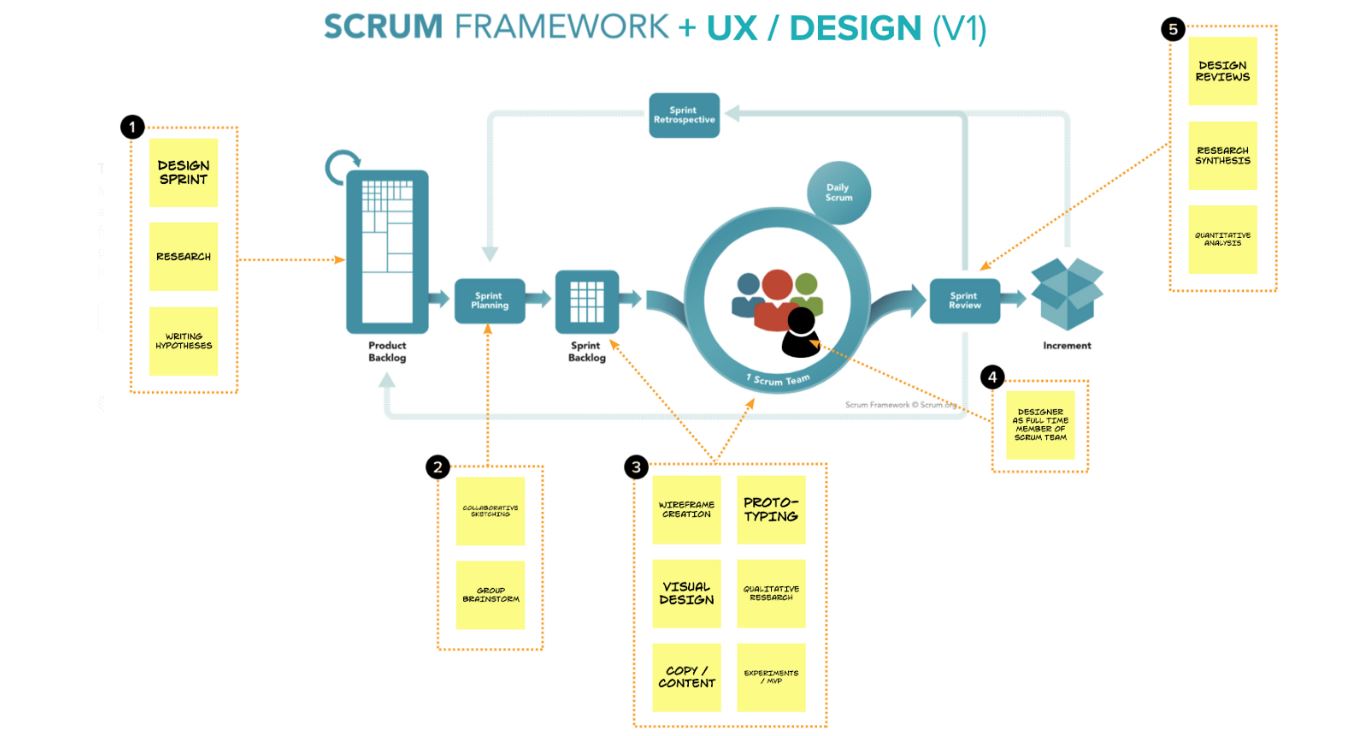 The above diagram adequately explains how designers can work in tandem with a scrum team. Designs sprint or challenges need to begin at least one or two sprints before the development sprint. If you are looking for a roadmap for a design sprint, take a look at Google's methodology in five phases. A UX designer's design sprint can include conducting initial user research to develop a hypothesis or user persona for a product. 
These UX-based findings then get turned into high-level ideas and concepts kept in the product backlog. A product backlog could be a list of new features, amendments to existing features, fixes for errors or infrastructure changes. This agile UX design phase will involve prototyping, creating visual design and conducting qualitative research.
Following the agile UX design sprints, the first phase of the development sprint begins. This phase involves sprint planning, where UX designers encourage developers to produce sketches and brainstorms about the product collaboratively. These agile product development brainstorms could include asking questions about any problems associated with the product that might come up when conducting user research. 
Next comes the sprint backlog agile UX phase. This part of the agile product development process is one where a scrum team member chooses an item from the product backlog to work on next. Depending on how quickly the scrum team works, they could implement a new feature as part of one sprint.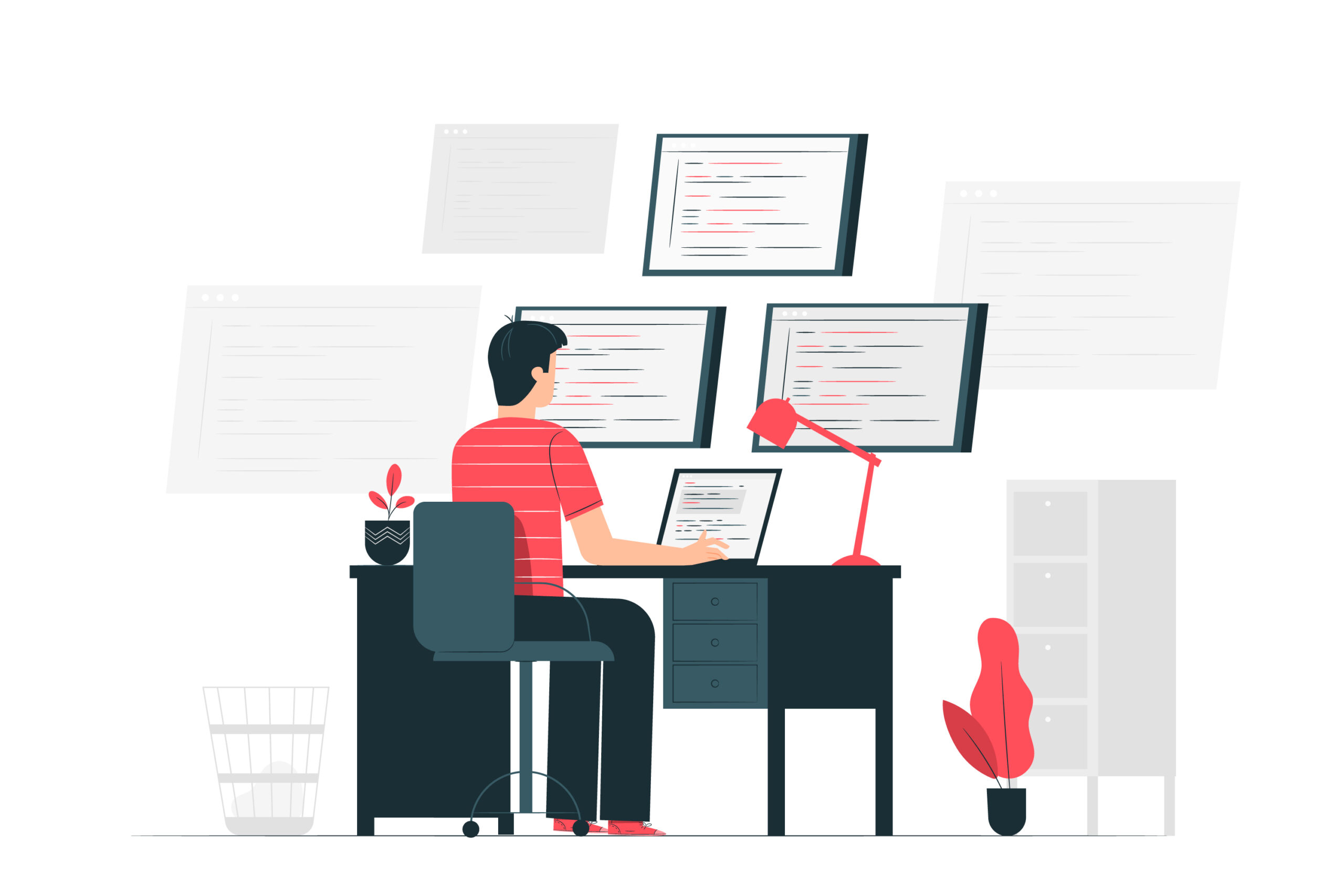 Once the scrum team picks items from the product backlog, a full-time UX designer will work in conjunction with them during the agile UX sprint backlog phase. A scrum team consists of developers, a scrum master, product owners or managers as well as technical writers. As part of an effective agile product development process, UX designers need to work closely with the product owner to understand the high-level ideas in the product backlog. 
The sprint review stage is the final phase of an agile UX sprint. This process will assess the output generated at the end of the sprint by talking about what the team learnt. Conduct design reviews as well as quantitative research at this stage to back up the qualitative testing done during an earlier stage. This agile UX design stage will help both designers and developers assess how their current progress matches with a user-centric product roadmap. 
Tips for a great agile UX design process
Allow UX designers and developers to work collaboratively not independently 
As part of an agile UX design process, all team members must be involved at the early stage of the project so they can work towards them. If any team members are left out, they may not feel like they have ownership of the project and can find it difficult to trust other team members. Otherwise, the agile UX design project cannot consider all ideas and insights. 
UX can be used to enhance this collaboration by encouraging other team members to be involved in the idea stage and brainstorming as well as usability and field tests. User research should also be conducted continuously during a project. It would help if your agile product development team aimed to do a research session every two weeks. Use affordable remote testing platforms to understand user frustrations. You can also understand pain points by talking to your existing customers. Designers could also encourage your leadership team as well as developers to observe user sessions. This agile UX design step could go a long way to help all team members to empathise with the issues of a user.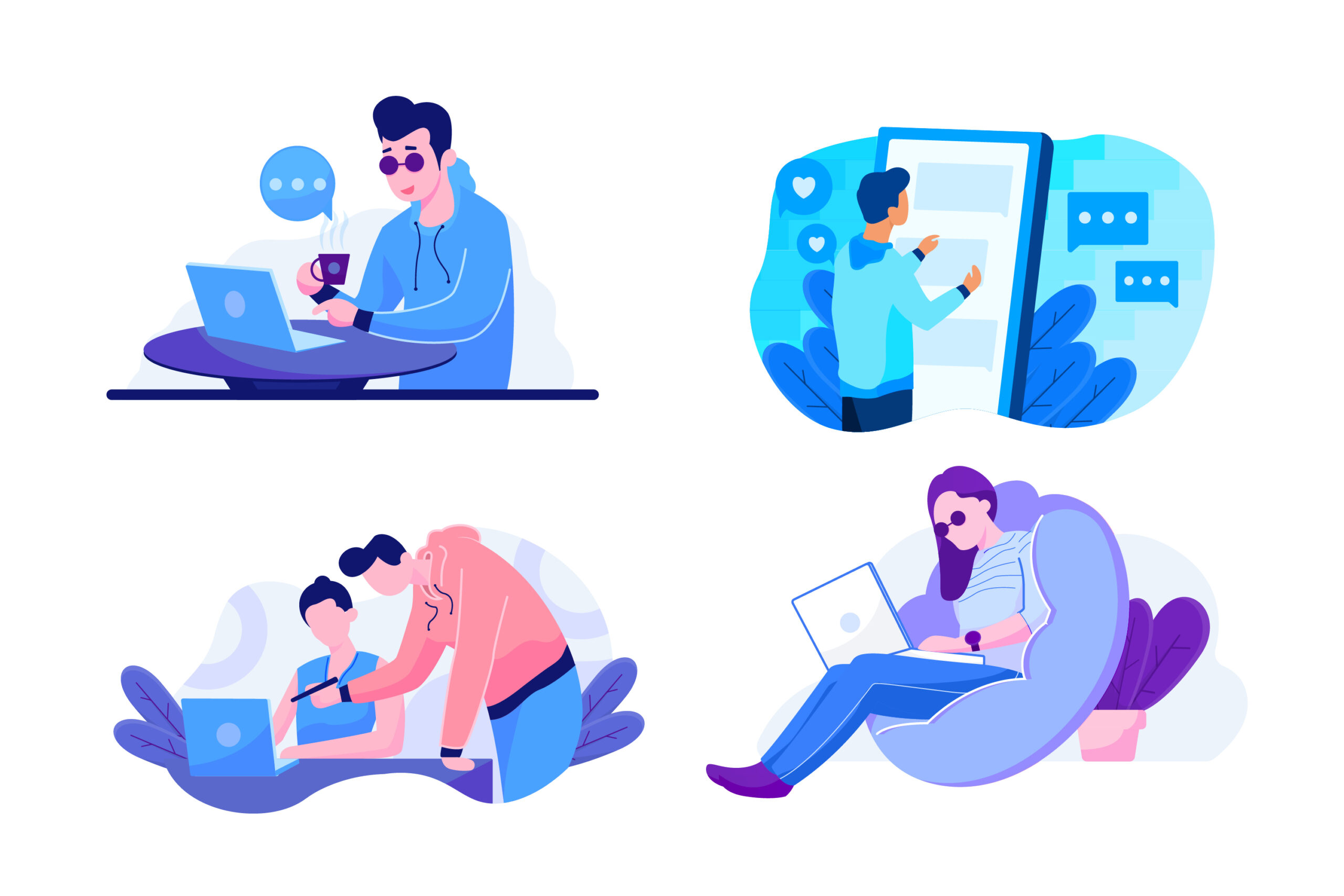 On the other hand, developers could encourage the rest of their team members to participate in scrum meetings or daily stand-ups. These types of meetings are for around 15 minutes. It intends to keep everyone updated on progress during the sprints and remove any hurdles. Since a designer and a developer might not know each other's role in the project, it is better to set expectations earlier and avoid any misunderstandings. 
Make sure that managers and leaders understand the value of an agile UX design process
Stakeholders within successful businesses recognise that an agile UX approach requires all the team members, including designers and developers, to work collaboratively from the start. Leaders need to understand building a user-centric product requires a mix of qualitative and quantitative user research. These different types of data can help you understand why and how a user acted in a certain way.
Management will also need to know that an agile UX design process doesn't need to be strict. Instead, an effective agile product development process requires them to be more open to change. It's about accepting that their business does not have the answers to a project in the beginning. Therefore, conducting user research before producing the final product is vital for agile UX design. In this way, these types of leaders will recognise that a UX designer can only create well researched, validated designs if they are given enough time before the developer's sprints begin.
Aim for iteration rather than perfection with agile UX
Agile principles would require a business to test designs continuously before investing too much time and effort in producing the final version. With an agile UX design process, you can start with low-fidelity sketches or wireframes based on using customer feedback. Then each agile UX product development sprint can focus on testing a revised version of this prototype until the creation of the final user-centric version. In this way, any design flaws are much easier to correct. It is more expensive and cumbersome to correct errors after the final product goes live.
Encourage training on an agile UX design process
All team members need to understand the value of an agile UX design for the product development process. Highlight the importance of this process through continual education on agile UX design. This training process could involve holding lunch-time sessions to help all team members understand the process and how they fit in. It could also mean reaching out to colleagues to explain agile UX design best practices and why they help create better products. Additionally, UX designers could turn usability testing into a team-driven event. Here, all team members would be encouraged to observe sessions so they can see users struggling with an issue.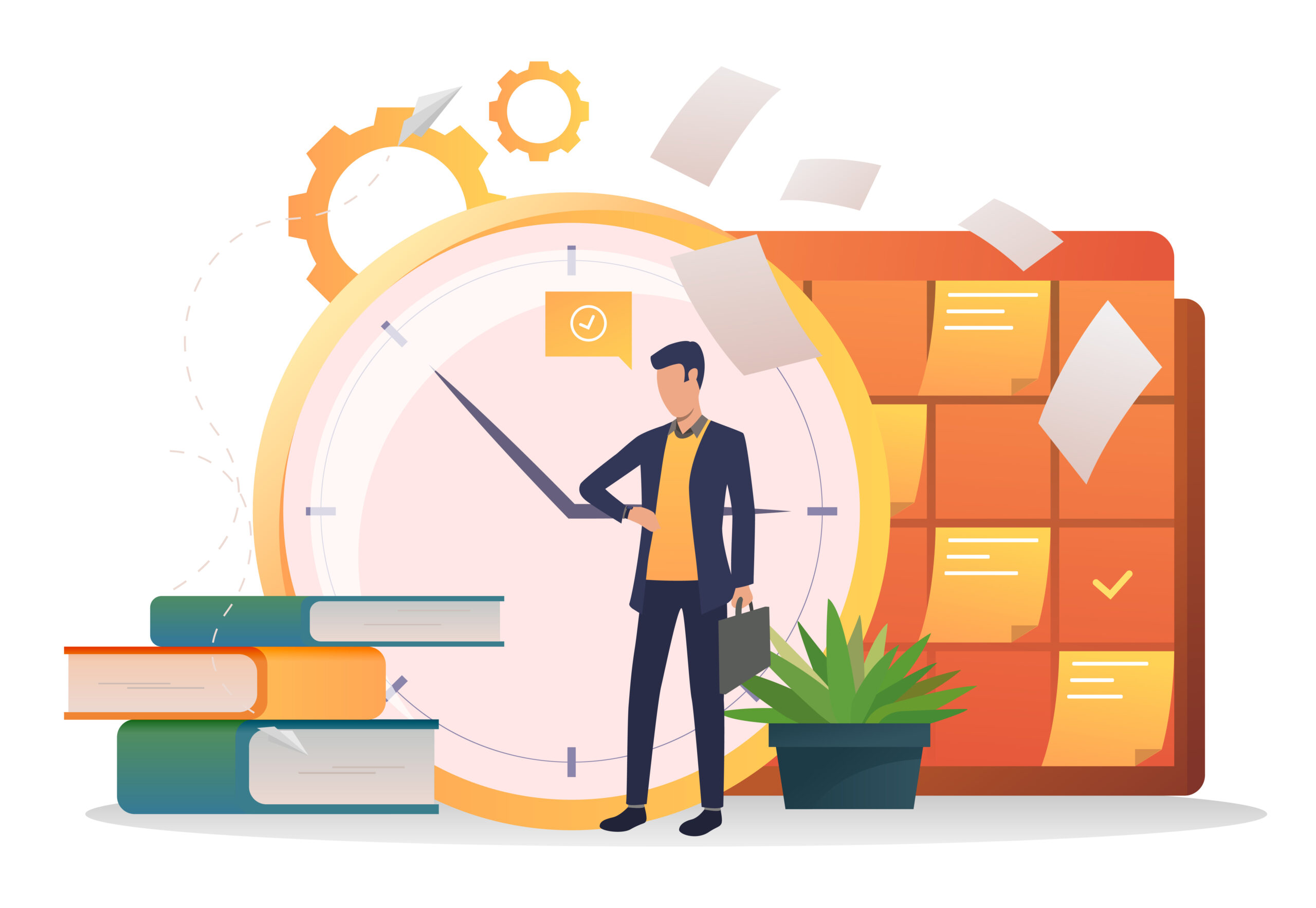 Following this, designers can also help all an agile UX team to participate in a review session. Here, all the group could discuss how to move forward in light of the last sprint. Having some knowledge of front-end development can also help UX designers work more collaboratively with developers. You could start by learning coding languages such as HTML, CSS and JavaScript so you can understand the development process. Designers could also try to understand agile terminologies such as scrum, product backlog and epics.
Continually change your agile UX design process until it works for your business
While an agile methodology does provide you with guidelines for structuring product development, it should not determine precisely how you run your project. While it is essential to educate teams on the benefits of an agile UX design process, you need to encourage refining a method that suits them. The agile product development process should persuade them to look at ways of working together more effectively and adapt whenever needed without complications. Perhaps, a review meeting reveals that your UX designers need more than two sprints before the development sprint for user research. As you don't need to follow an agile method rigorously, your business could look into how you could incorporate another agile UX design sprint into a project before the development team sprint begins.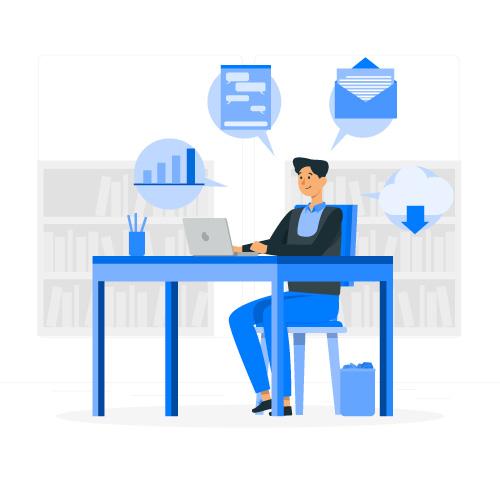 Traditional agile processes did not account for the resources, time and scope that UX designers require to create user-centric products. But you can establish an agile UX design process for your business if you ensure that everyone, especially management, appreciates the need for developers and designers to work together. Agile product development should also be a flexible process that encourages change. It should not be an authoritarian system that prevents all team members from having their say. Continual education on an agile UX process is critical so that individuals understand their role in a project. Agile UX training can also help refine your team's way of collaborating if something does not work well.
Resources
User Testing Templates
Speak to high quality people