10 User Research Recruitment Methods in 2022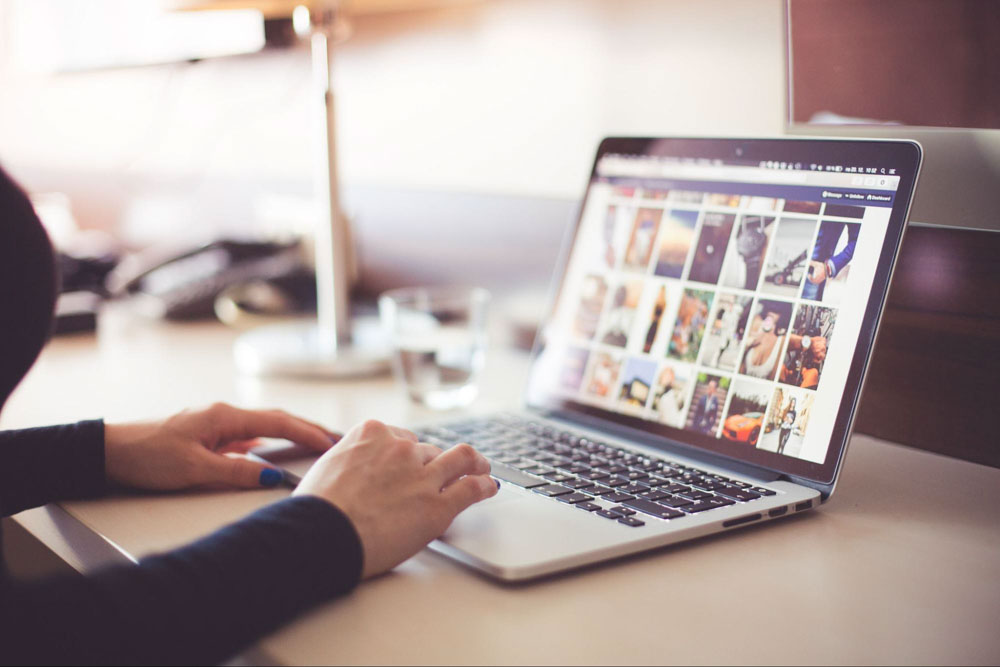 Image source: Pexels
User experience is an essential aspect of each digital product. If you need proof, look at Forrester's data (via Forbes) – it shows every dollar invested in UX results in a $100 return. To stay competitive, you must ensure your product provides the optimal user experience.
To do that, you'll need to conduct user research studies, which means you'll have to recruit test participants. Of course, the choice of the target audience will significantly impact your test results and product design decisions. Due to this reason, it's essential to conduct user research recruitment in the initial stages of product development.
A good user research platform can help you find the right people faster and save you a lot of time, especially if it's video-based and provides remote user testing. With our PlaybookUX, you can customize your test group any way you want, get access to testers, and start conducting your first study very quickly. Our platform's powerful automation, search engine, and advanced tagging system will make your life easier. Want to see how it works? Just sign up and check it out right now!
And if you want more tips on recruiting people for your research studies, continue reading – we have a few we would like to share with you today.
User research recruitment briefly explained
User research recruitment includes finding and hiring participants for UX research studies. It's a vital component of UX testing – it can heavily impact data quality and accuracy.
You can recruit testers in many ways: by working with a professional recruiting agency, using an automated user research platform, investing in ads, sending e-mails, reaching out to forums and panels, etc.
Why recruiting participants is so important
The choice of your target audience is crucial because the people you are recruiting need to reflect your customer group. Otherwise, the data you get from your research process won't be satisfactory. In the worst-case scenario, it may even be heavily biased – and it can result in a costly design mistake.
There are other factors to consider, such as the quality of testers. Even if you recruit participants with the right demographics, you may find the data you got from studies incomplete and complex to use. It is especially true if your testers are unprofessional and less engaged in their tasks.
What stats show us about user research recruitment?
Here are some interesting statistics related to user research recruitment:
Testing with only five people will allow you to solve 85% of usability problems
Since the start of the Covid-19 pandemic, 90% of user researchers have worked remotely, so you have a high chance of finding testers via the Internet
Starting recruitment close to the date of the session increases the likelihood that participants will actually show up because they'll still remember the date well. 72% of researchers start looking for people two weeks before the study, and 11% begin the recruitment process just 2 days before the test.
As you can see, statistics show user research studies have tremendous potential, and you don't have to recruit that many people for your tests to achieve good results.
How user research recruitment correlates with product development?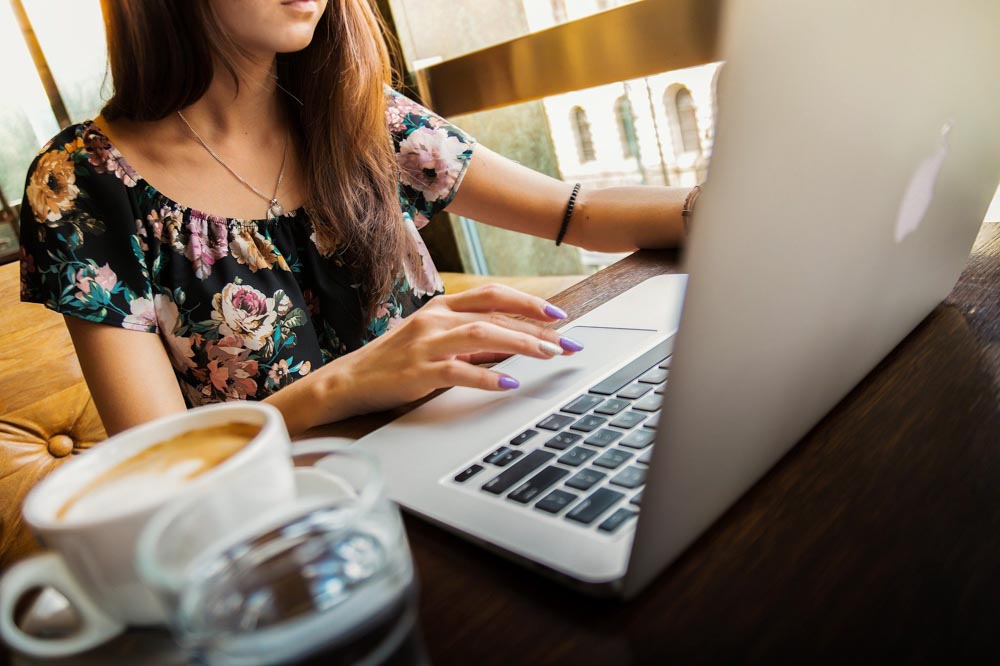 Image source: Pixabay.
You should conduct user research from the very beginning of the project. This way, you can use the data to guide the product in the right direction aligned with your customers' needs. This approach will almost certainly help you save money down the line since you can make important decisions before the real investment begins.
Due to this reason, you should define your user research recruitment practices and test groups as early as possible. Create personas of your potential customers and think about ways you can use to find the right people for your UX testing. The alternative is to find a suitable user research platform, customize your settings and let others do the heavy lifting for you.
The challenges of recruiting research participants
There are several challenges you'll probably need to face or at the very least consider when recruiting research participants.
Employee bias
If you want to recruit testers among your company's employees, be aware that they may feel inclined to say false, positive things about your product because they'll want the sessions to bring desired results.
Professional point of view
When many members of the same profession test something, the results may be biased because they'll conduct the analysis based on their knowledge, which may be broader and more in-depth than your average customer. However, in some circumstances – when you test something for a niche audience – a professional point of view doesn't have to be a problem.
Estimating the sample size
If your target group is too small, the test results may suggest random things that aren't true. It is because when there are only a few people, just two answers of the same kind can already seem like a pattern. A larger test sample helps you avoid such mistakes.
Finding the right types of users
If you test a product meant for a broad audience, you must ensure your target group represents different people you may find among your customers. For example, if you create a product for a specific country, you should include testers from cities and rural regions. You also need to consider further education and income levels to acquire feedback from different types of users.
Low response rates
You may have to deal with low response rates if you try to recruit people via e-mail or social media. Some people won't feel inclined to give you an answer, positive or negative.
Thankfully, if you use suitable recruitment methods and practices, there are ways to circumvent most of these problems.
10 user research recruitment methods you should consider in 2022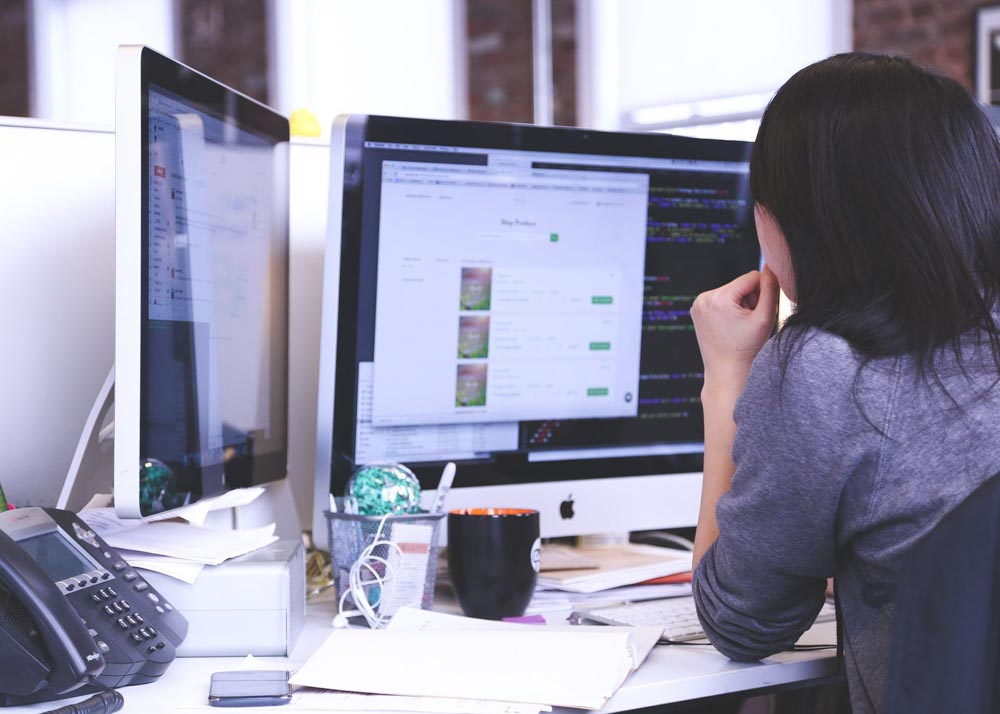 Image source: Pixabay.
Here are some of the best recruitment methods you should consider in the current business landscape. Keep in mind not all of them will fit every business scenario.
1. Ask your existing users to participate in the user research
It's a good way to test existing or soft-launched products. After all, who can give you better feedback about your solution than people who already use it?
The basic idea is to create a pool of volunteers who are willing and able to test some of the new features you're developing for them. You'll usually need to incentivize them – offer them money or other rewards – but the initial recruitment costs aren't very high.
Also, in some circumstances, access to new features might be a reward. In the case of employee-facing solutions testing new products might even be in the participants' interest.
2. Leverage referrals from current users and customers
In a way, this is an extension of the previous point. If you're testing your solution with the help of its existing users, but you need a more extensive test sample, you might just as well ask them to refer you to their friends and colleagues who might be interested in joining the study.
3. Move beyond email screening with behavioral research tools
Simple email screening might help you filter out some people you don't want in your test, but if you want to narrow your target group down, using behavioral research tools is a good idea.
These tools can record and monitor user actions and send surveys to ask them additional questions about their experience. You can then use their feedback to improve your product.
4. Automate the recruitment process with ML and AI
AI is yet another revolutionary technology that can help you with recruitment. It can screen your testers instead of you by analyzing their CVs and comparing them to your requirements. It can also map the behavioral assessment of candidates.
Finally, AI will allow you to automate many mundane tasks – it can automatically schedule interviews and conduct conversations via SMS and other popular messaging apps with your testers.
5. Try market research platforms for a diverse pool of participants
If you need a diverse pool of UX research participants, you might consider using a market research platform that will help you reach many people very quickly. However, if you're evaluating this option, you might just as well invest in a more specialized solution, such as a user research platform.
Software like our PlaybookUX will give you an easy way to conduct tests and organize and analyze research data.
6. Utilize online discussion groups and communities
Online forums, panels, discussion boards, and social media groups are good places to look for test participants. The main advantage here is that you can easily find highly motivated people with the right interests or backgrounds. It means less time for filtering and screening, which lowers the recruitment cost.
However, be aware that the members of a specific group might not represent your entire target audience – even when they're particularly vocal and visible. There's also a risk that their group will influence their viewpoint. This psychological phenomenon is known as groupthink.
If you're not careful, your test results can easily be biased. Still, for some projects, and if you're aware of the dangers, this is a good way to find the right people.
7. Use paid ads on social media to recruit participants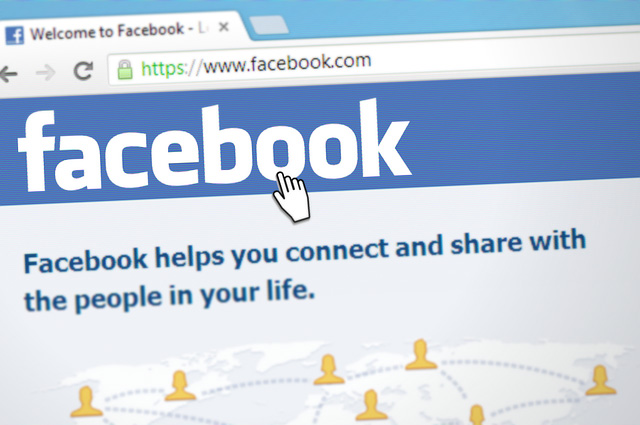 Image source: Pixabay.
You can also buy ads on social media platforms. Businesses use them for recruitment purposes, and finding people for user research is no different. The nice thing about this method is that it's not very pricey – ads on LinkedIn and especially Facebook are pretty affordable. They provide advanced targeting options, so you have a good chance of reaching the right people.
8. Start telerecruiting and inviting users to your office
You can also recruit test participants by phone – call your target audience and invite them to your office. It is also a relatively cheap recruitment method, and it can be pretty successful, depending on the nature of the product you want to test and your customer group. However, telerecruiting can also be time-consuming.
9. Hire professional UX researchers who can recruit on their own
Finally, you can always hire UX researchers who'll then build their team of testers for each study. It'll make things much easier for you, and you'll know your user research is in good hands. However, hiring additional people costs money, so you should consider this only if you have enough budget.
How to recruit participants with PlaybookUX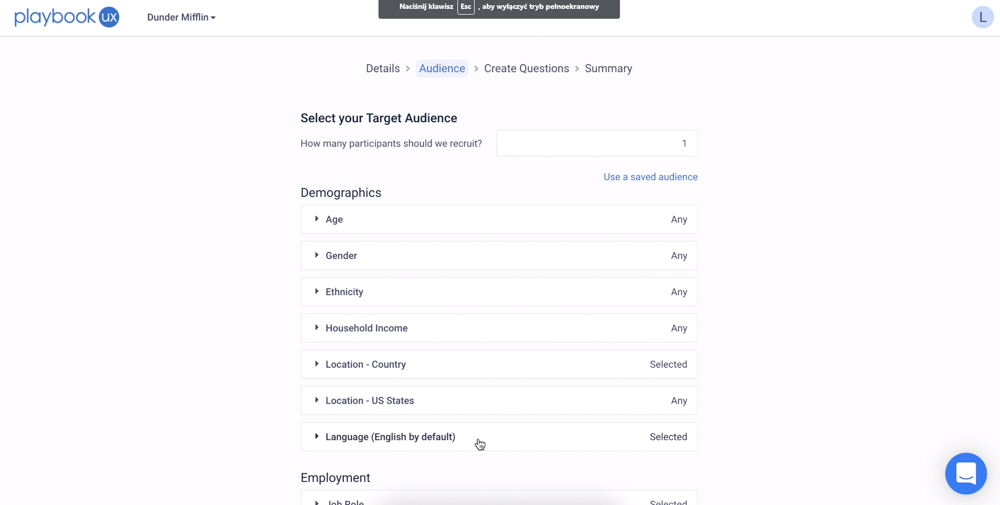 Our PlaybookUX is a video-based, remote user research platform. You can use it to recruit participants directly. It allows you to specify the size of the target audience and its demographics – age, gender, ethnicity, language, location, and household income.
You can also filter testers based on their job role, level of seniority, current job status, company size, and the industry they work in.
If that's not enough, you can set additional testing requirements by filling out an optional field. We'll use that information and do our best to find the best people for you. You also have the option to use screening questions to define your audience further. These can be yes or no questions or allow testers to select multiple answers.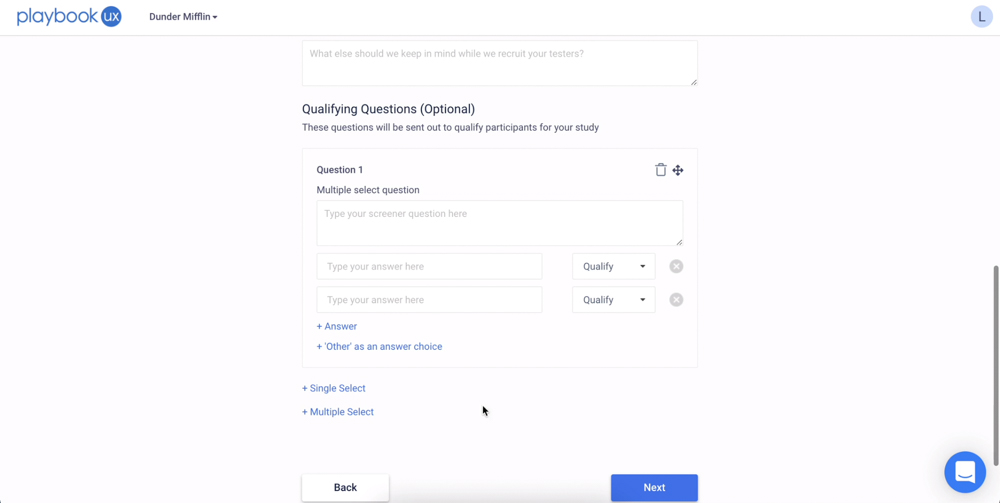 What's more, with PlaybookUX, you won't have to start your user research recruiting process from scratch every time. If you believe you'll employ the same criteria often, you can save the template and use it in the following studies.
Finally, our platform also allows you to conduct studies with the help of people you know – such as your team members. You simply need to select that option when you customize your test, define what kind of devices testers should use, and PlaybookUX will generate a link you can send to the participants.
Types of user testing you can conduct with PlaybookUX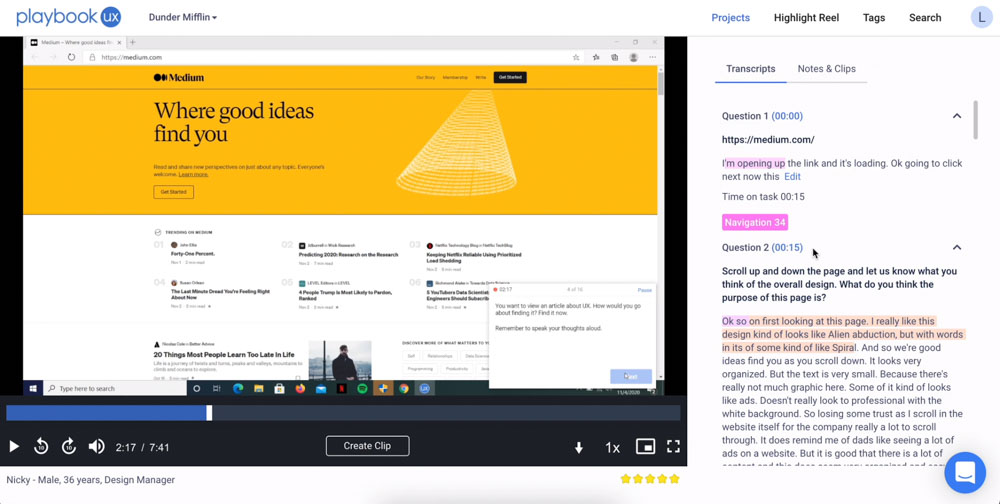 You can use PlaybookUX on any device of choice. The software allows you to run the following kinds of tests:
Customized unmoderated user tests – PlaybookUX allows you to view recordings of testers interacting with your solution
Qualitative tasks with questions – test participants try to carry out written instructions and respond verbally while they interact with the product
Moderated user interviews – you can conduct one-on-one interviews to get feedback directly from the testers
Card sorts – you can evaluate information architecture via open, closed, hybrid, personalized, and image card sorts
Tree tests – you can use them to plan your website's navigation structure. Tree testing is also known as reverse card sorting
Prototyping websites and apps – you can test your prototypes before they become fully-developed products.
What's more, thanks to powerful search capabilities and tags, everything you might need is easy to find. Notes, reports, transcripts, highlight reels – you name it. And don't worry – you don't have to pay for additional licenses to use PlaybookUX as a research repository.
User research recruitment: The bottom line
The simple truth is that the choice of test participants can make or break a study. Considering the importance of UX testing for web projects nowadays, you can't treat that decision lightly. Bad, partial data can push the product in the wrong direction, costing the company a lot of time and money.
Even if you define your test group well, it might turn out that the hard part is finding the people you need. Thankfully, some platforms can help you with this.
Our PlaybookUX will make the recruitment of test participants much easier. Just define your target users with various filters – such as age, gender, industry, job role, etc. – and let us do the hard part for you.
Of course, you always have the option to conduct tests with people you invite yourself if that's what you need. You'll also be able to automate menial tasks and easily organize your data thanks to tags and a powerful search system.
Want to check what PlaybookUX has to offer? Sign up right now – thanks to our 7-day trial, you'll be able to test all the features for free.
User research recruitment: FAQ
Here are answers to some common user research recruitment questions.
How do UX researchers recruit participants?
There are many ways. You can use user research platforms, post ads on social media, work with a recruitment agency, invite existing users, or even reach out to your friends and family. The nature of the study and your customers will affect your choice of a method.
Where can I find participants for user research?
There are many places, but the Internet – or, more specifically – a professional user research platform is probably your best bet.
How many participants do you need for the UX interview?
That depends on the nature of your study and the tested solution, but in general, it's a good idea to start with at least 5 people – otherwise, you'll have too little data to draw conclusions from.
How do you recruit participants in qualitative research?
You can recruit people via ads, letters, and e-mails, but using a comprehensive user research platform is a much better choice.
Resources
User Testing Templates
Speak to high quality people