Four Ways How Creative Testing Increases Your Conversion Rates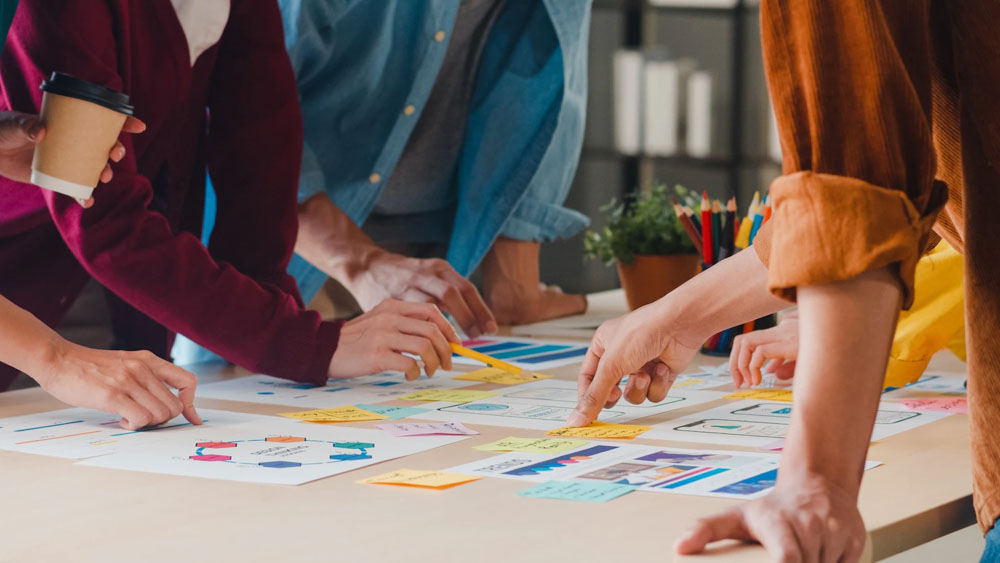 Image source: Freepik
Creativity is essential in the current business landscape. Every organization, no matter its size or industry, is on a relentless hunt for new and original ideas that can move them forward. It's also essential in marketing, where one message can sometimes make a difference between the success and failure of an ad campaign.
How do you find out what kind of content and messaging works or doesn't? Creative testing is the best answer. It's an excellent way to find the best ways to communicate with your target audience and surface novel concepts and approaches. It's essential for any campaign that involves persuasion, such as advertising.
Of course, to get the best results, you need to invest in the right tools. A platform like our PlaybookUX will allow you to conduct creative tests efficiently. It will simplify the recruitment of test participants, schedule sessions for you automatically, and give you quick and easy access to all the essential data thanks to a robust search feature and a tagging system.
Sign up on the spot if you want to check it out.
However, choosing the right tool isn't the only thing to remember during creative testing. Want to learn about best practices to increase your conversion rates? Continue reading.
What is creative testing?
Creative testing is a method you can use to design or improve the creative aspect of your product or service. It includes evaluating content such as images, videos, copy, etc. Instead of following general guidelines and assumptions, you can test your ideas and watch how customers react. You can then proceed with the creatives that work and reject ideas that fail to resonate.
You can use creative testing during the concept, prototyping, designing and testing stages of development. You can usually compare new ideas to so-called "Control" – a creative asset that has worked best. It's worth noting that the focus isn't only on developing new creatives. You also want to understand why they work.
While creative testing is conceptually similar to traditional usability testing, there's one crucial difference. It doesn't involve asking users to perform specific tasks to identify bugs or usability issues. Instead, it focuses on exploring new ideas for the creative aspect of the product or service – new ways to communicate, marketing messages, images, videos, ads, copies, etc.
It's a valuable research method that can benefit your product and business in various ways.
Why is creative testing important?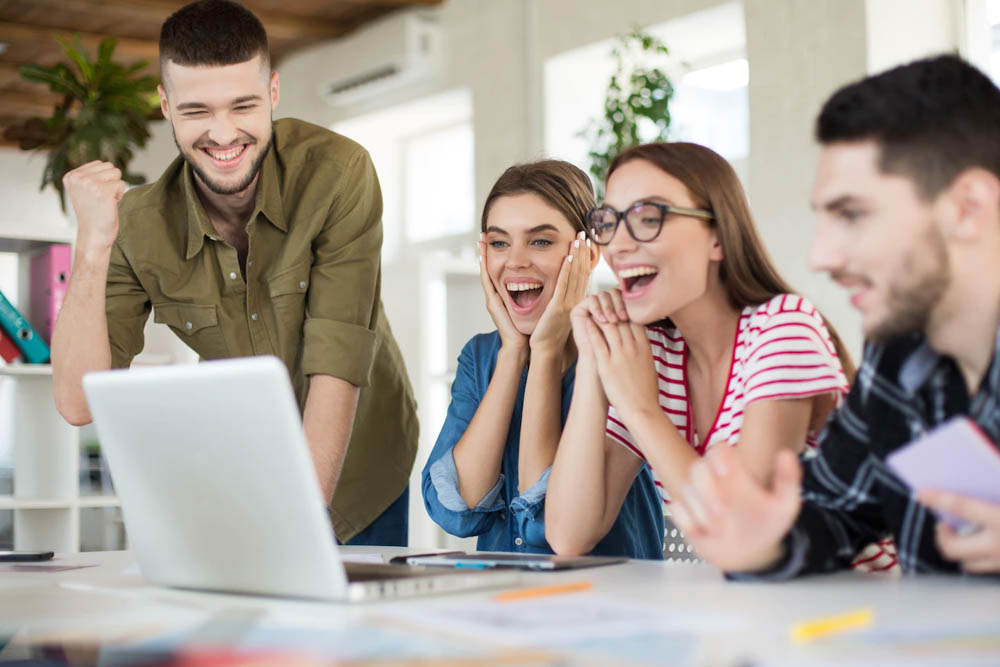 Image source: Freepik
Creative testing enables you to test different variations of your creative assets, such as copy, images, videos, and ads, to understand which item has the highest conversion rate.
You can use this method to identify flaws in your creative. This way, you'll be able to create the most effective and conversion-driven assets for your marketing efforts.
It can also help you test the effectiveness of your marketing funnel. You can ensure that your assumptions are accurate and that you use your creative resources adequately. Effective creative testing can also help uncover unexpected advantages you might not have considered. Simply put, creative testing offers you a lot of actionable insights.
Creative testing and marketing teams
Marketing teams use creative testing during the preparation phase of a marketing campaign or product launch. The primary purpose is to create content that will resonate with your target audience or increase your results compared to previous campaigns or launches.
Of course, your creatives must also be compatible with your broader marketing and communication strategy.
Additionally, since marketing specialists won't necessarily be responsible for creating the assets, ensuring good communication and cooperation between your marketing and creative team members is an excellent idea.
Types of creative testing
There are two main creative testing methods:
Split testing – the basic idea is to compare several creative assets, pieces of content, or ad sets side by side, to learn which users like more and which shows a better conversion rate. Split testing is also known as single variable testing or A/B testing, but despite the name, you don't have to limit the number of assets for testing to two.
Lift testing – it's a more complex, in-depth method. You can use it to check how significant changes in your creatives or new approaches change the effectiveness of your assets. You split the audience into two groups and only show your ad, image, or copy to one of them. You then measure how these changes affected the conversion rate.
So, you now know what creative testing is all about and the different methods you can use. It leads us to the next question.
What to test during creative testing?
There are many different items you can evaluate and optimize using creative testing. Here are some of the most prevalent examples:
Ads – ad creative testing is probably the most crucial use of this research method. Optimizing ads will allow you to improve your targeting, which means they'll be more successful.
Copy – you can also test various written content used on your website and social media channels. Thanks to this, you'll be able to create a consistent communication strategy that fits your brand.
Imagery and visual styles – you can evaluate the visual aspects of your product, such as images. Creative testing allows you to check what works best for your customer group.
Landing pages – you can also use creative testing to assess the effectiveness of landing pages you create for specific events and campaigns.
Six tips for running effective creative tests
Creative testing isn't very complicated, but that doesn't mean you can't do it wrong. Here are some of the tips that will allow you to make the process more effective:
1. Consider your creative strategy and have a goal in mind
It is essential to consider your long-term plans and strategies in your creative testing process. Use every opportunity to gather data and make decisions based on all the accumulated information. Also, plan and specify an objective for each campaign and creative test.
2. Evaluate the current effectiveness of your creatives
Before making changes and creating and evaluating your new ad campaigns or creative assets, you should audit what you currently use and consider which parts work and which do not. Look at your results and try to understand what you can improve. Use this knowledge to create new assets and then test them.
3. Test with a plan and a hypothesis
Plan your test carefully, and build it around a specific hypothesis you're trying to prove. For example, state something like, "based on historical data, I believe that making change X in my ad set will allow me to improve conversion rates by 20%". Use a creative testing framework and choose metrics and KPIs that'll allow you to evaluate that statement.
4. Look back and consider the best test to run
If you conducted creative tests in the past, look back at the acquired data and ask yourself which of them worked best for your business. Don't waste money and time on methods that didn't prove to be helpful. You can make an exception if you think this will help you reach your test goal or prove your test hypothesis.
5. Test different formats and ad placements
Don't follow one format with each ad or creative asset. Don't be afraid to try out other formats and ad placements and use creative testing to evaluate them. Consider how you can reach your users at various customer journey stages and plan your efforts adequately.
6. Analyze and share your data
The last step should always be to analyze the gathered data, relate it to market research, and draw actionable insights you can use to improve creatives. You should also share your findings with other teams so the entire company can make the most out of creative testing.
Of course, that last tip requires you to have a way to measure the performance and effectiveness of your creatives. You need to choose the correct KPIs for that purpose.
Which KPIs to track for your creative tests?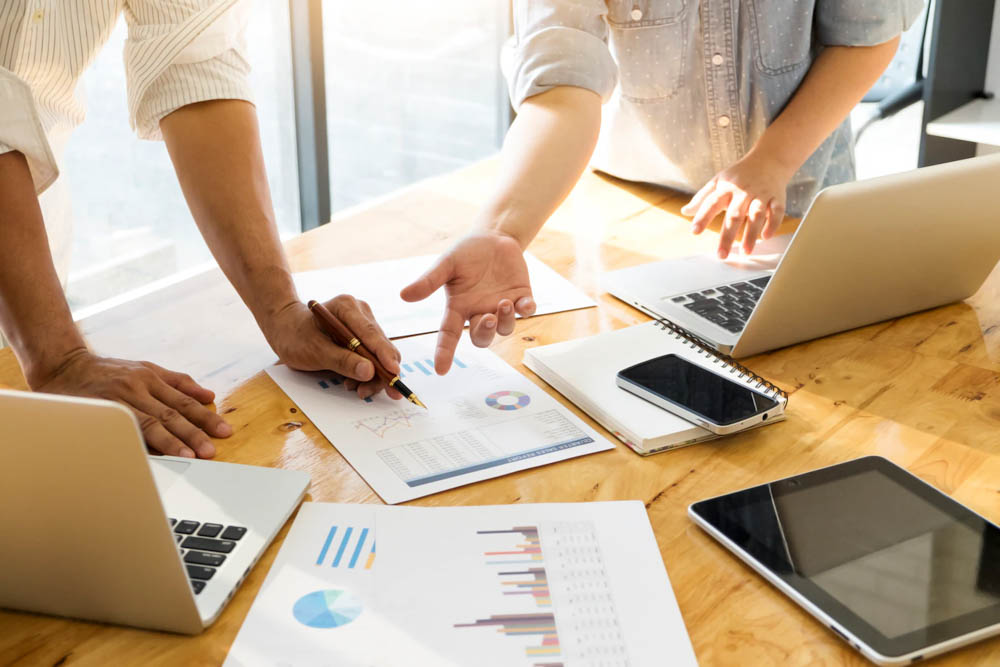 Image source: Freepik
If you want your creative testing to be effective, you need a way to determine how successful your efforts are. To do that, you'll have to monitor some KPIs, or Key Performance Indicators – metrics that allow you to monitor how well your campaign or business is doing in specific areas. Here are some of the metrics you can track:
Click-through Rate – the ratio of clicks on a given link or actions performed by following a specific call to action to the total number of views
Return of Investment – to calculate the ROI of a marketing campaign, take the value of the profit made thanks to that campaign and divide it by the cost it generated
Conversion Rate – CR shows how effectively your assets (e.g., ad creatives) convert users. To calculate it, divide the total number of conversions by the number of interactions you can track.
Cost per Click or Cost per Action – CPC is a performance indicator that shows you how much you're paying for a single click of a given ad. CPA measures the same thing, but it doesn't focus on clicks but on other kinds of actions taken by the users you define.
The list above isn't comprehensive. You'll define specific metrics and KPIs based on your creative test's goals and the assets' nature.
Four ways creative tests improve your conversions
The benefits will differ depending on what you test. In general, creative testing helps your conversions in several ways:
You can avoid "creative fatigue" – users will naturally get bored with your ads and content if you repeatedly use one message or its slightly modified variants. Creative testing can help you avoid this problem.
You can find new ad ideas quickly – you don't have to guess what works and create countless content drafts. You can save time and money.
You can understand the patterns your target audience follows – looking at what resonates with your users allows you to learn about their relationships with your product. You can focus on creatives that work, which helps conversion rates considerably.
You get optimized ads – ads are essential for most businesses. Creative testing allows you to improve them. You can increase the chance your target group will like them.
As you can see, there are considerable benefits to running creative tests. However, to get the best results, you should consider investing in a creative testing platform such as our PlaybookUX.
How to conduct creative tests with PlaybookUX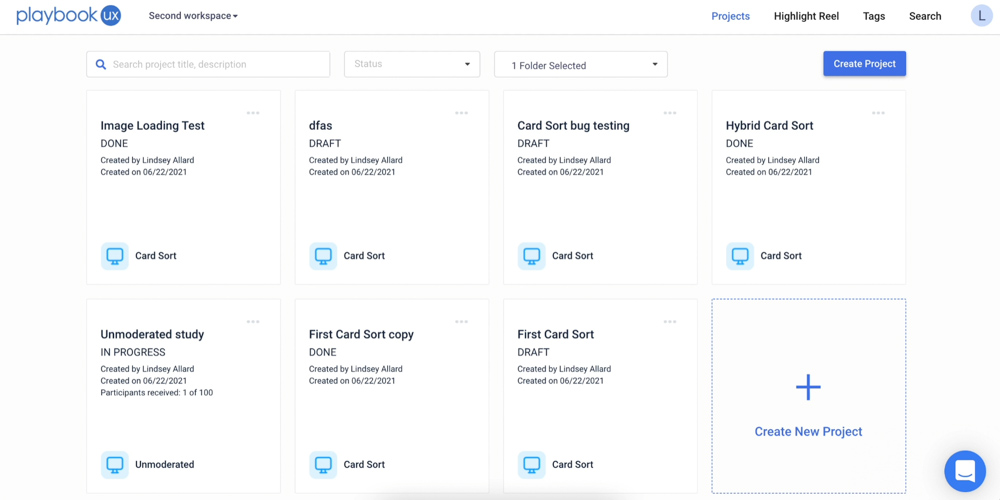 PlaybookUX is a video-based user research platform that you can easily use for creative testing. The tool can help with many user research studies. For example:
Creative testing
Prototype testing
Evaluating mobile web pages
Testing web apps
Defining target audience
Running a creative test with PlaybookUX is very easy. You simply test creative aspects of your solution the same way you would evaluate a prototype or a concept.
Create your test plan, choose the test you want from the dashboard and specify the information about your audience. Then determine the context of your study, and create your survey by writing whatever questions you want. You can also specify what kinds of answers you want to get: multiple select, single select, written response, rating, etc.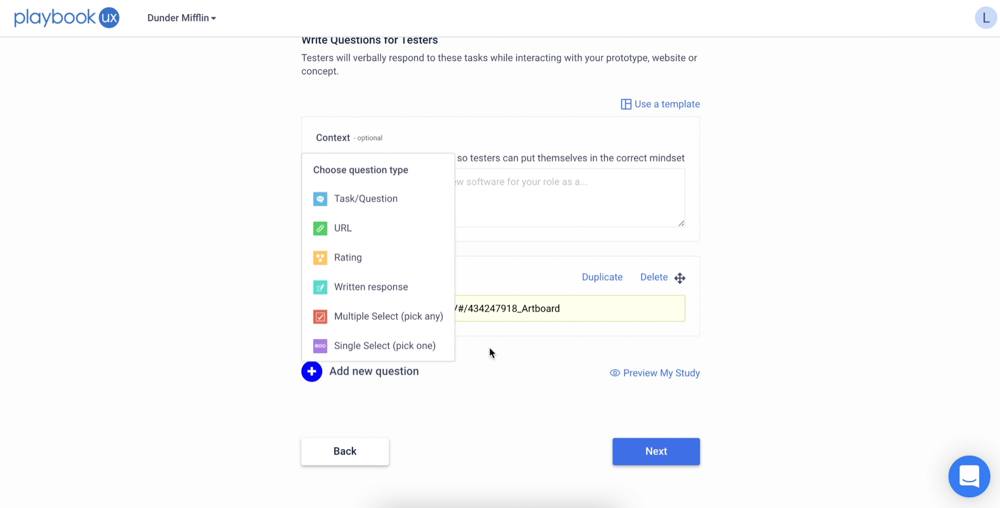 After you conclude the test, PlaybookUX will provide information about your test participants. You can use this data to learn more about your customers and validate ideas, which may assist you when you design your creative assets. You can also quickly create notes and highlights.
Our solution also automates tedious tasks, such as session scheduling and recording. PlaybookUX gives you more time to focus on other, more critical assignments.
You can also use PlaybookUX to conduct different types of tests besides creative testing: unmoderated tests, moderated interviews, tree testing, card sorting, etc.
Moreover, thanks to our powerful search engine and indexing and tagging systems, PlaybookUX can also serve as your user research repository. It allows you to easily find the information you need when you need it.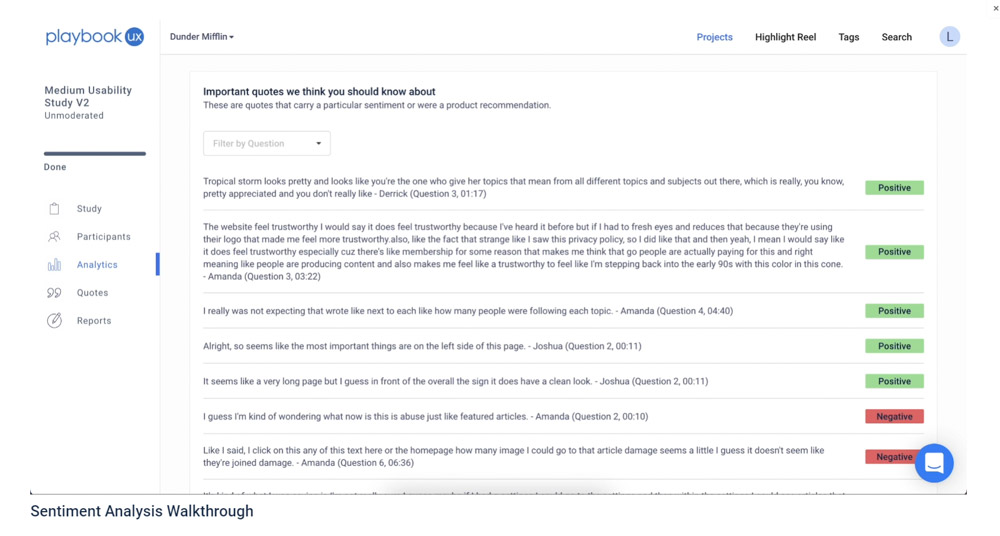 Using PlaybookUX, you can identify trends and gain meaningful insights by analyzing the collected data. It can, for example, identify positive and negative quotes in sentiment analysis to see what you should address first and what people found difficult. You can easily tag themes and keep track of these patterns by using reactions.
Creative testing: Final words
Creative testing is essential for marketers because it helps you find the most effective ways of communicating with your customers. It's also a great way to discover new opportunities and evaluate new creative concepts.
The beauty of creative testing isn't just helpful in creating new content you can also optimize your existing creative assets and increase conversions.
Paying attention to how your customers engage with your content will help you create more engaging and effective marketing campaigns. Creative testing is a great way to get started and better understand the potential of your existing content before you embark on a significant marketing campaign.
Of course, you should invest in a proper tool to get the most out of creative and usability testing. A platform like our PlaybookUX will simplify recruiting participants and make the entire testing process a breeze. It'll also automate some tasks, like session scheduling and transcribing. Our tool will give you easy access to all your essential UX data, thanks to indexing and tagging.
If you want, you can even use PlaybookUX as a research repository at no additional cost. Sign up right now and check it out – you can evaluate all the features thanks to our 7-day free trial!
Creative testing: FAQ
Here are answers to some of the most popular questions regarding creative testing that you can find on the Internet.
What is creative testing?
Creative testing is a broad spectrum of techniques designed to test one element of your marketing strategy – the creative component. The creative component covers everything from your logo and brand to the look and feel of advertisements, websites, videos, and product packaging.
Why is creative testing important?
Creative testing can provide numerous advantages. It can help you avoid creative fatigue and reach your audience more effectively. It can also give your marketing and creative teams new ideas for assets and communication strategies and help you build relationships with your users.
You can conduct such tests very efficiently using PlaybookUX – an easy-to-use, comprehensive usability testing platform with plenty of powerful features.
What is creative pre-testing?
Before starting a creative project, it's essential to test your assumptions and ideas first. This is called "creative pre-testing."
You can do this by sending out a survey to relevant people. You can also talk to people on social media and ask them for feedback. By testing your assumptions, you can test your hypotheses. It will help you make sure your project will be successful.
When testing your ideas, don't just focus on whether or not they work. Instead, think about how people will react to them. You want to know if they will be interested in what you have to say or if they will like how you present it. By doing creative pre-testing, you can save yourself a lot of time and money down the road.
Resources
User Testing Templates
Speak to high quality people