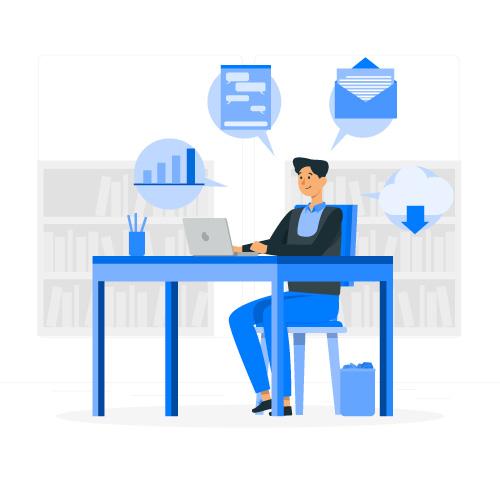 When we research the user experience, we often get a Eureka moment, one that changes the track of our marketing approach, website development, and even how we conduct business. UX research tools are a creative way to detect mistakes in our work before they cost us customers and money. It's also an amazing way to discover how to attract and impress the audience, and turn leads into returning customers.
In the past, our choices for researching the user experience were limited to thorough online search, some interviews, and programs like Excel and PowerPoint. While we still use these today, innovative tech companies have come up with specialized tools for this purpose.
There are tons of such tools these days, aiming to make the lives of developers and designers easier. They optimize the performance of a website and minimize errors. It's just as Forrester Research's numbers say – a well-designed interface can bring the conversion rates for a site up to 400%.
This makes your choices versatile, but it also makes it challenging to pick one. This article will tell you exactly what – what are the most trending UX research tools based on your goals and needs.
First, let's take a look at why this is important.
Understanding UX research
User experience research allows you to discover users' needs, motivations, and behaviors and analyze them to improve your site or grow your brand. The UX research discipline combines both generative and evaluative research. By using a variety of research techniques, designers learn how to better appeal to their audience and make their experience memorable.
There are plenty of methods for UX research that are used every day. These include competitive analysis, surveys, card sorting, contextual inquiries, focus groups, journey mapping, A/B testing, usability testing, etc. Knowing about these methods leaves you with a big responsibility – to choose the one that best fits your needs and your design.
Eventually, UX research should help you create a strong foundation for your design, as well as optimize your product for the users. It helps you identify people who would potentially use your product and teach you what they want to see when they search for the solution online.
Let us give you a quick peek at why UX research is important for your design. 
Creating a minimum viable product usually costs tens of thousands of dollars. Imagine spending that amount of money on a product that your audience is not interested in, or designing it for the wrong audience. You're also looking at losses associated with upgrades and massive changes, lost time, salaries, etc. 
This was something that you couldn't anticipate or prevent in the past when UX research was very hard to conduct. Not today, though! Right now, you can perform UX research with ease and with minimal effort, and find all the necessary information that will prevent you from suffering such losses. 
The 4 must-have tools for your UX research
To give you a better idea of what you can achieve with the help of tools for your UX research, we narrowed down the many choices to the top 4 on the market.
1.
Best for UX research and testing: PlaybookUX
PlaybookUX is a tool used by thousands of ux researchers at this point. It offers a myriad of options for user testing from pricing tests to prototype testing. The site is filled with templates for different problems that your design might be having. They are easy to edit, look professional, and are known to yield high-quality results.
One of the reasons why PlaybookUX is one of the top-rated tools for UX testing is the ability to create a UX research repository. After conducting user research, you can create clips, generate highlight reels, tag themes and patterns in your research among many other features. 
Moreover, PlaybookUX offers certain flexibility in customizing the templates. You can choose between 4 different types of studies including unmoderated, moderated studies, card sorting and tree testing.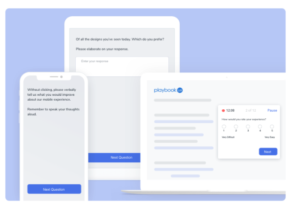 The many features offered are split into three main categories:
Recruit – target consumers and B2B professionals or use your own audience

Conduct – unmoderated testing, moderated interviews, card sorting, tree testing, prototypes, websites apps, etc.

Analyze and collaborate – clips, transcriptions, highlight reels, notes, tags and highlights, reports, reactions, etc. 
2.
Best for usability testing: Maze
Maze is one of the fastest-growing platforms and one of the top trending tools for UX research these days. This platform allows you to test your site and strategies faster than any other. Its integration capabilities are amazing considering that the tool can be connected with Figma, Adobe XD, Sketch, Marvel, and InVision. This means that you can import a prototype from any design tool that you use into Maze.
As a user of Maze, you can create and customize usability tests, share them with the help of the tool, and get actionable insights and reports in minutes. The usability testing goes beyond just a wide choice of templates. It also includes the following:
Heatmaps

Task analysis

A/B testing

Multiple path analysis

Guerrilla testing, etc.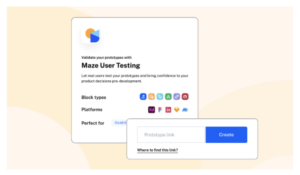 The capabilities of Maze do not stop here. The famous Maze Discovery feature allows users to collect feedback with the help of surveys at any point in the design process. You'll also get access to tree testing and card sorting, enabling you to test the information architecture effectively and without much effort.
Lastly, Maze has an accurate and rapid reporting feature. You can use it to automatically document and record things like completion rates, time spent, misclick rates, click heatmaps, etc. You can also get a usability test report minutes after the test is conducted, and share it with all interested parties.
Users can try Maze on its free plan with more limited features, or opt for the highly affordable paid plans that start at only $25 per month. This makes it one of the cheapest options with an impressive portfolio of templates and numerous features.
3. Best for user interviews: Dscout
Dscout is one of the most recognized tools in the UX design world. The company that created this tool is transparent and continuously shares its guidance and expertise on UX design topics. For example, the Dscout experts share tips and tricks on how to choose the right tool for the research process. In addition to being a research platform, this is a great place to learn more about the process itself.
By using Dscout, you can collect insights from those who use your products. One of their best features is Dscout Live. You can use it to run remote interviews with users and collect immediate feedback from the participants. You can also use it to view the product experience as it happens, both in photos and videos.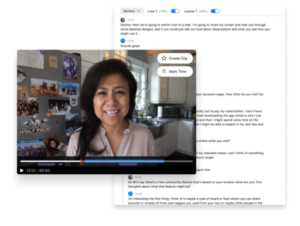 Another great feature is the Dscout Recruit. This tool is very useful if you want to recruit participants for your research. Traditional recruiting can take time and cost a fortune, so Dscout has decided to make it faster, more convenient, and more affordable.
Conducting those interviews is just one part of what this tool offers you. Other useful features include:
Automatic transcriptions

Participant scheduling

Interactive notes and clips timeline

On-call observers
4. Best for UX wireframeing and prototyping: Axure
Axure PR is an amazing software for wireframing and prototyping. You can find and use it on any device, including your mobile and desktop, both in downloadable format and on the Web.
If you are wondering whether to choose Axure RP or Sketch, you'll be surprised to hear that the company recommends both. Axure RP has made a list of differences between these two popular options, helping you differentiate between the different prototyping tools. According to them, Axure RP is "purpose-built for interaction design and functional prototyping", while Sketch is a tool for asset production and visual design.
They are surely right about this tools' capability. Over the years, Axure RP has been seriously trending among designers. It has great characteristics including:
Realistic prototypes. In this software, users can style their own widgets or they can choose something from their libraries and make it more realistic. The Global Variables function is also great for making prototypes highly realistic.

Designs for a variety of platforms. Axure offers templates for different platforms like desktop, mobile, and tablet.
Even though there aren't many choices in terms of templates, the ones that are available on the website are quite amazing. One downside to picking this tool is that it's a bit hard to collaborate in it. The Axure files are quite intricate, so collaborating with other designers can be tricky.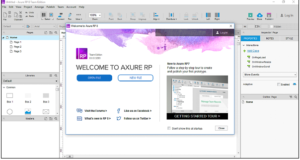 Axure is a very affordable solution if you decide that this is the right choice for you. The pricing begins at only $29 per month per single user.
Final thoughts
In an age where user experience is proven to be vital to your success, not investing in market research is a grand mistake. If you perform UX research the right way and with the right tool, on the other hand, this takes the guesswork out of the equation and gives your design the best chances to succeed.
Resources
User Testing Templates
Speak to high quality people