UserTesting Review 2023 – Everything you need to know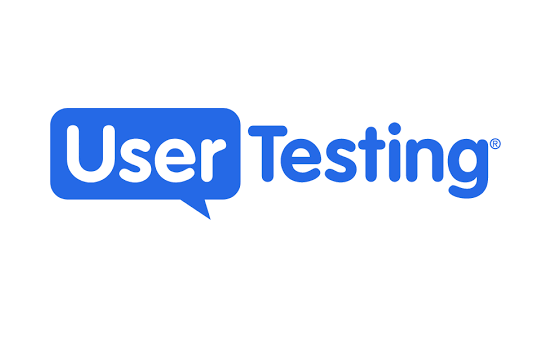 Any business across any industry should be able to make accurate decisions that are led by customers for their product or service. UserTesting allows businesses to source this type of customer insight through moderated and unmoderated user testing. This type of UX software can provide quick yet useful insights for any company, in line with the fast-paced nature of it. It also prides itself on being able to help all types of individuals such as product managers, marketers and customer experience executives gather customer data to determine a product or service market fit. Its goal is to make your mobile applications, prototypes or websites more user-friendly. It does this by allowing you to set up tests with real users through videos.  
So, does it live up to the hype? In this guide, PlaybookUX examines all of UserTesting's customer reviews to understand what customers like and don't like. We will also look at as well as the features of UserTesting ourselves. In this way, we can provide you with our advantages and disadvantages of their service. So, stay with us, and in the end, you will know whether this user testing software is for you or whether there is a better UserTesting alternative.
Usertesting Online Review
Is Usertesting Legit?
There are various reviews from testers which consider whether UserTesting is a scam or not. It has been hiring a wide range of testers since 2007, and the standard rate for completing a shorter test is 10 dollars. UserTesting also offers some longer and more detailed projects, but these are available to only those who meet the criteria. This feature suggests that UserTesting's screeners do work to ensure that businesses get the best testers for their product or service. So, it follows that some of the bad reviews, which might cause some individuals to question its legitimacy, are from testers who do not get many tests allocated to them as they do not meet the right criteria. After reading the tester reviews, it is clear that UserTesting is a legitimate way to test and get paid for tests. 
Usertesting User Reviews
After going through the various user reviews about UserTesting's service found on customer reviews platforms such as Capterra and G2, this is what PlaybookUX found: 
Pros:
Allows you to access participants for user testing that you wouldn't usually reach, which is essential in determining your product-market fit.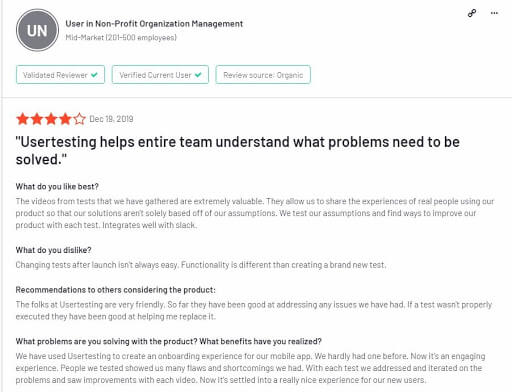 UserTesting.com allows any business to have a quick turnaround of customer feedback which is made possible by a pool of knowledgeable testers even in Canada.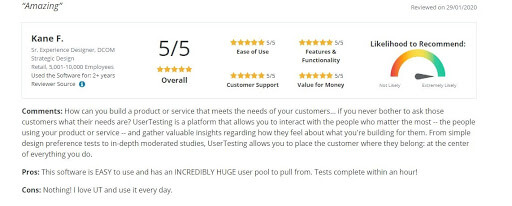 It is effortless to set up a test, record and moderate a live conversation as well as analyze results after a study. It is easy to conduct unmoderated tests and get feedback on different aspects of your business like interfaces, prototypes, and initial concepts. Potentially, you could have a landing page or app tested in less than a day. 
Cons:
Their lower priced plan limits the number of participants per study. If you want to use more participants for a study, you will have to pay more. This feature means opting for their enterprise plan and paying yearly without the option of a monthly plan.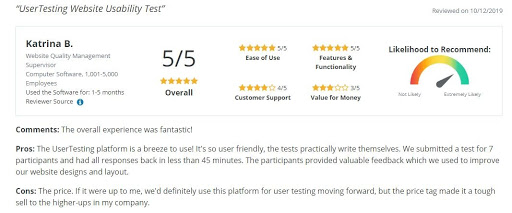 Although UserTesting.com states that it can offer an unlimited amount of studies, it means that you must send studies out in batches first, if you want a study with more than 15 participants at a time. Then, any business has the more cumbersome task of combining all the data as this is all part of one study.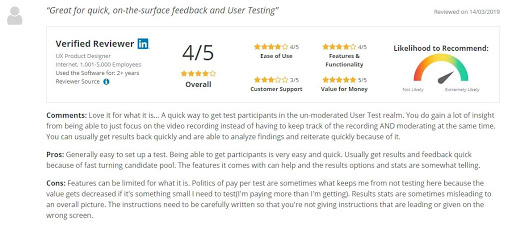 There is no flexibility to replace one participant with another quickly. You must either report an issue with the video or rate the existing participant poorly to replace them with another participant. 

The process of onboarding new participants can be a little confusing with the cheaper individual pricing plan. If you opt for the Pro Plan, it is then that your community manager will make this process easier for you.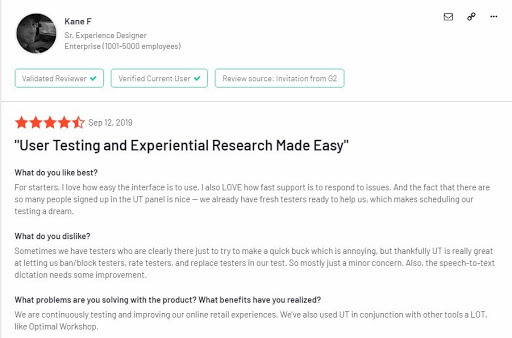 As you pay per test, the features that you receive for a study are limited, and at times, you can feel that although you pay more, you still get less. 

The participants available to test are 'professional users' meaning that they will not be like a typical user of your product or target audience. So, you must use the screener questions very carefully.

A business is prone to technical issues/ glitches such as the screen recorder freezing when user testing is conducted on a mobile interface. Also, the transcription service provided can be sporadic.

The customer support team at UserTesting.com does not always sort out issues swiftly. 

The analytical tools available for the lower-priced plan are simple, but if you want more detailed analytical data, you will have to pay more. 

It is not possible to change a user test after launch.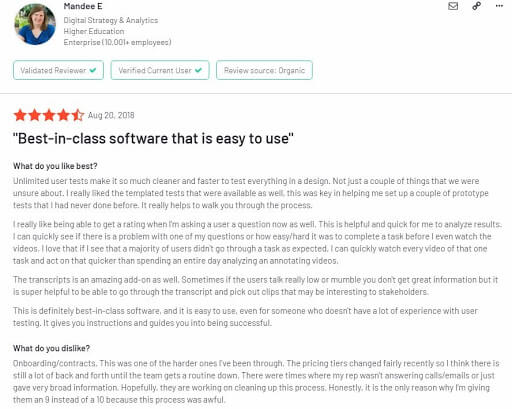 Usertesting Review: Our Thoughts
Usertesting Features
Create your own or use pre-built tests with its platform that comes with its panel of testers 
Its human insight platform allows businesses to use your participants or access to their panel of participants to get feedback on their product or service. Their demographic filtering service is based on factors such as income, web expertise and parental status. Their Insight Core platform allows a business to create custom tests from scratch while their Product Insight platform permits you to use pre-built tests for your needs where you can fill in a few blanks, and the test is produced for you allowing you to get quicker results from tests.  
Provides business with the tools for moderated and unmoderated tests that allow for qualitative and quantitative results
Moderated and unmoderated testing enables you to understand the 'why' and 'what'. This feature means that a business could test behavioral patterns such as understanding why customers abandon their carts at a higher rate. Conduct a quantitative study after a cheaper individual pricing plan study with UserTesting.com with tools such as SurveyMonkey. You can use the same participants from UserTesting and simply send them another testing link. 
Links with other organizations like Slack make it easy to test users
UserTesting has several partnerships with organizations such as Optimal Workshop and Slack, which can give you additional services such as card sorting, first-click studies or navigation tree testing. It can also make it easier to share videos through different mediums.   
Live video testing available through desktop, tablet or mobile device
Any business could conduct live video conversations with customers through a desktop, tablet or mobile device with UserTesting. These face-to-face interviews can be scheduled from anywhere. 
Video recorder allows note-taking, tagging clips, and a highlight reel
Their video recorder is versatile as you can take notes for the video that you are watching, create and tag clips depending on your research as well as producing a highlight reel.  
Free extensive resources list to help build better user tests
UserTesting has an extensive resources service consisting of university-style courses as well as guides for researchers, product managers, marketers and executives to use if they want to develop their capacity to build better tests. Their e-books also contain further templates questions for certain types of tests you can run like a competitor analysis. If you are unsure about what kind of qualitative test you can run or how you can set up a study, look at the cases section within UserTesting's resources. A wide variety of case studies from businesses that used UserTesting's service to get an accurate product-market fit are also available.   
Basic analytics software can provide you with quick answers
Its basic analytics service organizes video clips of the participants by question and task. It also produces charts that demonstrate how participants answered a question on the rating scale or multiple-choice questions, for example. Businesses can also click on an area on the chart to watch a specific video or response relating to your product or service. If you click on a watch task button, you can also watch a highlight reel showing the most important parts of your study, as determined by UserTesting.com. 
Usertesting pricing
From looking at UserTesting's pricing plan page, it is clear that their individual plan limits your use to 15 video sessions per test, which means that if you go over 15 sessions per test, you will have to opt for their enterprise plan.
Their cheaper individual pricing plan also comes with limited testing capability which means that if you want to conduct a complicated or detailed user test, you will also have to choose their enterprise plan. Their enterprise plan also comes with better user testing enhancements such as quantitative metrics, an enhanced video player and advanced recruitment facilities. Neither of the plans comes with the correct price as you have to contact the UserTesting team for more information. However, it seems that UserTesting would only benefit companies or individuals who wanted quick user answers to straightforward questions.  
Our Usertesting Pros and Cons
Pros:
 Quick Turnaround for results
 The turnaround for tests, even if you want to have live conversations, is impressive meaning that you could get an ample amount of feedback from several customers in your country to re-work your product or service immediately.
An end-to-end solution for qualitative unmoderated and moderated testing
 UserTesting can provide you with more in-depth qualitative data than you would get from a web analytics software or surveys with over 2 million of its panel of testers available for moderated and unmoderated user testing.
Intuitive video recorder which provides you with personalised feedback results 
Their video software, through Zoom, makes it easy to view and listen to each test result as well as capture snippets of dialog and video that is relevant to your study. UserTesting's cheaper individual plan analytics service also allows you to capture snippets of dialog and video that it feels is relevant for your study. Any business can also use its user guides to help you create more snippets and tags to the video of a participant, should you need to. It is also possible to save screener questions so you can re-use them for another study.
Cons:
Cannot collect and analyze all types of data with the cheaper individual plan 
Quantitative data can only be collected through their enterprise plan which might not be affordable for small businesses or solo entrepreneurs.
Cheaper individual pricing plan only allows basic analysis of data
The basic analytics software provided with the lower-priced plan is not useful for getting a wide variety of qualitative or quantitative data. You could follow the guides and do it yourself but, you might have to be prepared to wade through a lot of data, especially if you recruited more than 15 participants.
Can be difficult to use without a qualitative background 
It can be difficult to onboard and create specific types of test, without a qualitative background. While UserTesting.com has a wide variety of guides to read that do have templates for the most common tests as well as a university with UX courses, it involves an individual from a business reading through them to understand. However, this individual might not have a UX background, might be required to do this test quickly and might be under pressure to complete other tasks during the day, which could be common for a small start-up.
Although their Product Insight platform does produce pre-built tests, these are not suited for businesses who want to do more complicated tests such as A/B testing or Tree Testing with the cheaper individual pricing plan.  
Cannot organize tests into folders

 
It is not possible to organize or put tests in folders. This lack of organization could make it difficult for a smaller company who is currently testing a lot of aspects of their service or product. 
Recruited testers might not be an exact match for your product
From reading tester reviews, most testers that are used by UserTesting.com know how to play its system to get allocated a test. This could be very dangerous for a start-up who depends on this data to build their product or service. It always means that you do not get an emotional response to your product or service meaning that it is difficult to gauge exactly what your target audience needs from a product or service. 
Does not allow international recruiting or testing
UserTesting.com cannot scale your business globally as its testers are not as varied as they need to be. In other words, it's capacity to help you recruit international participants who can provide you with their local insight on your product or service is limited. It has user testing panels available in United Kingdom, Australia, Canada, and India. If you want to recruit participants from another country that is not on this list, you will have to opt for their enterprise plan where UserTesting's research team could help you source international participants from another platform. But this means that UserTesting.com cannot offer an end-to-end solution for international participant recruitment, even though their enterprise plan.   
Usertesting Alternatives
If you want a user testing software that is affordable, allows international testing, qualitative as well as quantitative metrics, verified testers and a wider range of user test templates, where should you look? Used by companies such as Levi's, Google and the American Cancer Society, PlaybookUX can provide you with an all-in-one user testing software solution that will not be a financial burden to your business.
International testing in more than 40 countries
If you want to ensure that product has the best opportunity to take on any geographic and cultural barriers through localising your product, choose PlaybookUX. Our specialist international user recruitment service can help you change your user interface to fit the needs of a wider target audience, regardless of the pricing plan you go for. 
We also offer translation services for the test script as well as transcription services between different languages. Regardless of whether you want to get participants in Hungary or India, PlaybookUX should be your option for an end-to-end international testing experience.  
Affordable pricing plans depending on your needs, not ours
PlaybookUX offers three types of do-it-yourself plans depending on whether you want to pay per participant, bring your own participants or sign up a monthly or annual pricing plan that qualifies you for discounts. The prices of all of these plans can be found on our website but they start as low as $49 for an unmoderated PlaybookUX participant. 
But the best thing about these plans is that all of them come with moderated and unmoderated tests, automated transcripts, advanced screening and targeting, unlimited team members, unlimited video storage as well as the ability to do different studies at the same time. This means that unlike UserTesting, whether you are going for a cheaper or more expensive plan with PlaybookUX, you will get access to all of our best features.
And that's not it. While the above plans are for individuals who want to run tests themselves, we also offer a professional services package that where we can craft the test for you and can provide you with a more extensive analysis of the results gathered.
Instant access to all of our qualitative and quantitative metrics, powered by AI

 
While professional services package can provide businesses with a more detailed analysis of the findings of a study, PlaybookUX knows that not every business can afford this. So, when you choose any three of our DIY pricing plans, we also important quantitative metrics that includes the SUS and time-on-task. Our qualitative analysis looks at a participant's general sentiment of a product by gathering quotes from participants that are related to particular sentiment or is the most meaningful to your study. PlaybookUX also takes this analysis further by organising the most common phrases from your participants in a bar chart so that you can see when and where this quote was said.
Verified users that you can use to test on any browser, desktop, tablet or mobile
Whether you want to conduct a user test on your desktop, tablet or mobile, PlaybookUX can make this process seamless for you through its vetted testers. Our testers will never seem trained to answer questions as our AI software that is made up of ten different demographic & employment filters that carefully screen testers. We then also handpick from these results to make sure that every business has an opportunity to test their target audience. If you're a B2B business, you can also get access to participants with a specific job title, industry, seniority, and company size. And the vetting does not stop there. Your business also has the opportunity to ask participants qualifying questions so that if they don't meet all of your criteria, they cannot test your product or service.  
Conduct a wide range of tests, moderated or unmoderated, with the flexibility to change a test at any time

 
PlaybookUX also offer packages that allow you to set up your moderated or unmoderated interviews with our user testing templates for different types of user testing studies depending on what you want to test. You could create a persona for your target user, test email content, website content, a prototype, logo or even conduct a Google search test to discover what your target audience thinks about when they look for a product online. And if you don't need to carry out a test after launch and want to cancel it or change it, there is no extra charge to do so.
Convinced and want to find out how PlaybookUX can help you with your next moderated or unmoderated study? Schedule a demo with us and find out. 
Resources
User Testing Templates
Speak to high quality people