Customer Experience Testing: the ultimate guide to the mapping and planning of your CX journey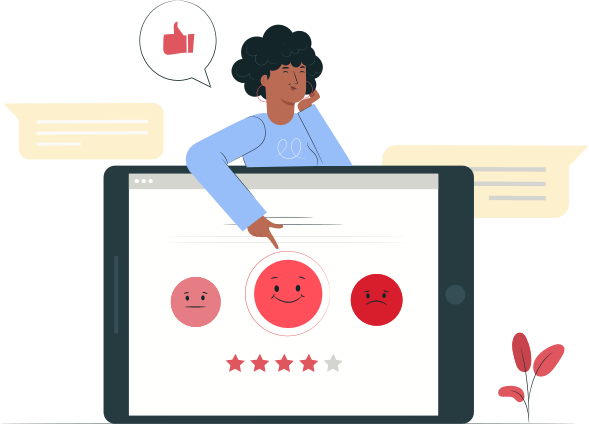 Customer experience testing goes beyond the usability and user experience testing of websites, applications, and software. It aims to test a range of digital and physical products as well as services that span multiple online and offline points thought the customer's journey.
In other terms, customer journey testing considers everything your target customer goes through as it is everything that they hear, touch and see throughout the experience with your brand. Do you know what they are going to feel or think? If your business wants to grow, better its retention rate as well as build loyal advocates, you need to deliver a superior customer journey to each member of your target audience. 
How can you get into your customer's mind to improve their engagement with your brand? Read on to discover the various types of customer experience testing methods as well as detailed guides from PlaybookUX on how you can utilize these testing insights with the rest of your team. 
Before you proceed with any customer experience testing method, you need to map out your customer journey. To do that, you can use these four tools:
Customer journey map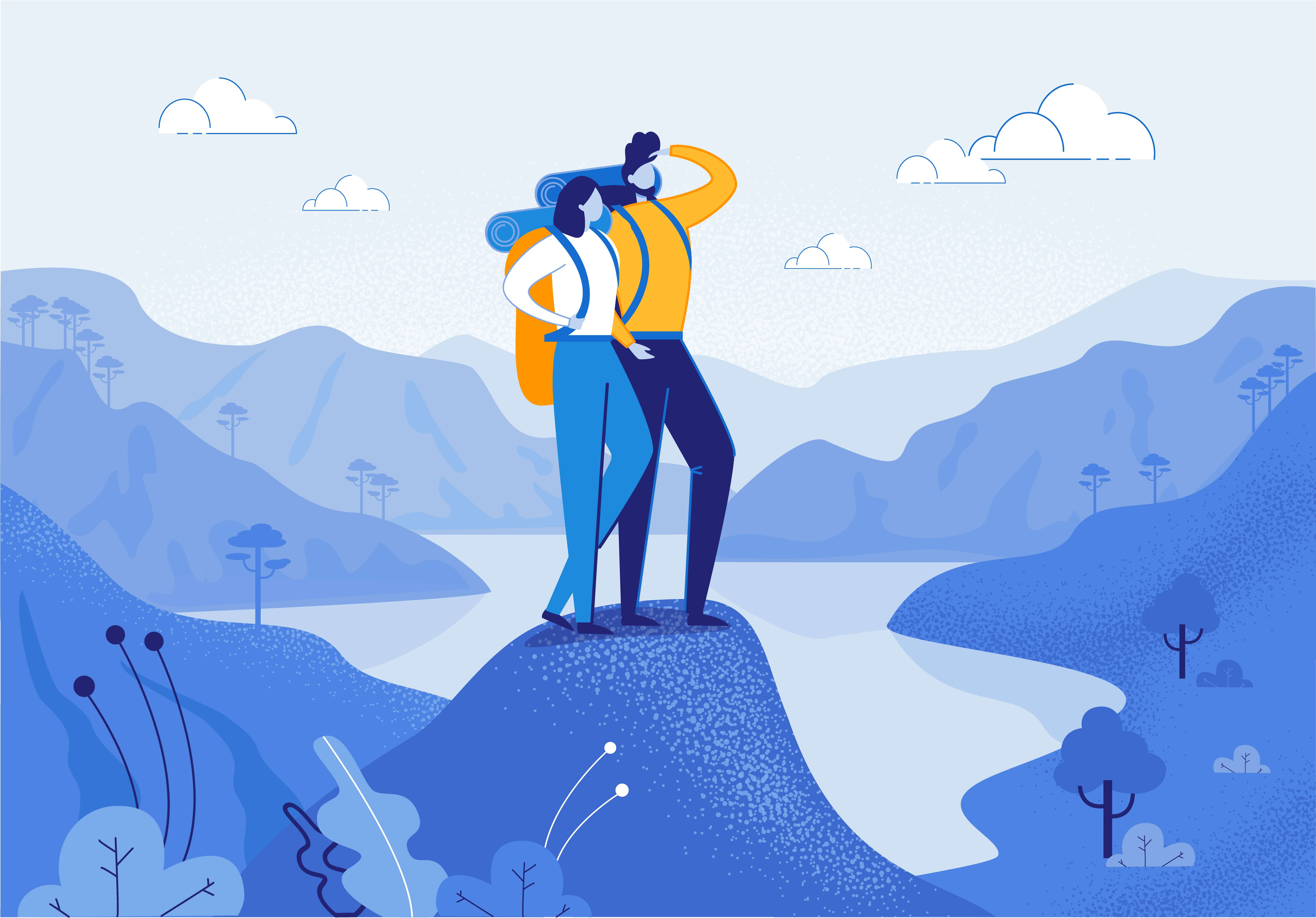 A customer journey map can help you assess an entire customer journey from start to finish. It will layout the steps that a customer will take together with the feelings that this customer can harbor for your service or product. As well as creating a better understanding of your product between your team members, customer journey mapping will also uncover various ways your business can grow and improve when creating a user's journey. To appreciate what customers experience when they try to use your product, you need to start by creating two sets of customer journey maps. The first one will visualize the user's current experience while the second looks at your users' future experience with your product. 
Before you create this map, you will need to identify your target persona and look at all the previous research gathered on customers such as competitor analysis data or customer satisfaction surveys. Discuss these aspects with the rest of your team members during a customer journey mapping workshop. If you also haven't got any existing customer research yet, you could try conducting a moderated or unmoderated interview at first before you devise a customer journey map.
The customer mapping journey workshop will involve drafting and filling in a template that looks at the different stages of a customer journey, such as awareness, researching, selection, delivery, and follow up. This template will also look at what the customer does, their thoughts, their pain points as well as the mediums that they communicate through when accessing your product. To save you time and money, PlaybookUX has already created a customer journey map template for you so you can get started. If you are facilitating this workshop for the business, encourage your team members to work together to fill this template. You should also ensure that any customer journey map created continually evolves and develops with your business.
Empathy map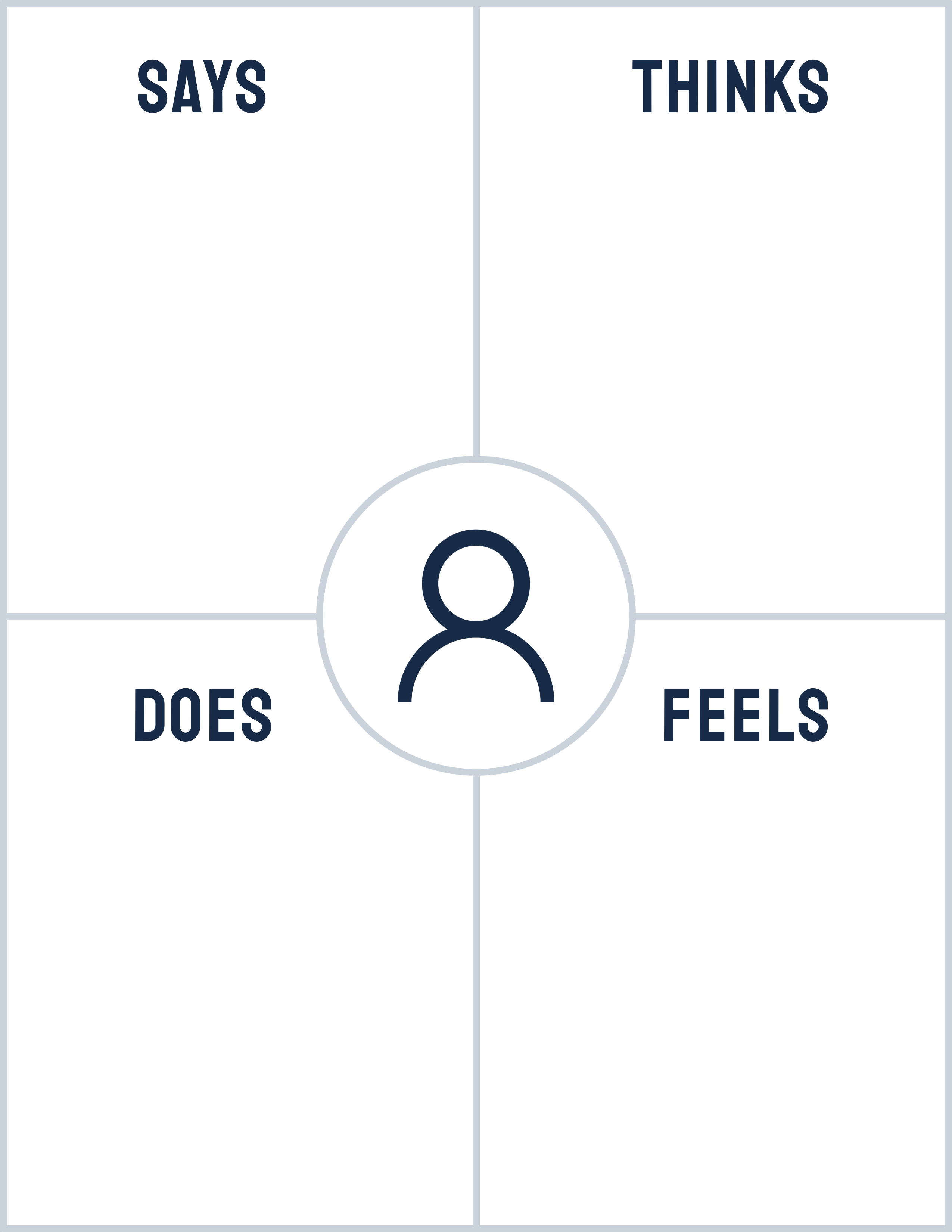 If you want to divulge further into what your target persona thinks, feels, sees, hears and says, you should create an empathy map to develop a collaborative understanding of your customer's needs. Before you create an empathy map, you can try to conduct a moderated, one-to-one interview with participants to gain a better understanding of your users' feelings. Once you have insights from this interview, you can use it to create a UX target persona to develop your target customer. Once you have both pieces of information, you can work with specific members of your product team to build a system that puts your customers' needs first. 
When creating an empathy map, you need to start with a template that puts an image of your persona in the middle. Divide the page into four sections of 'says' 'thinks' 'does' and 'feels'. When filling out these sections, think back to the insights derived from your moderated sessions as well as your UX target persona sessions. What did those participants say about your product? What do they think they need in their day-to-day job role? What do they love or hate about your product? Your empathy map can be filled out using insights from more than one user. If you would like a specially created template for empathy maps and its uses, PlaybookUX has already created one for you to use. 
Assumptions map
It's easy to rely on an assumption or a hunch when releasing a product. But sometimes the excitement of merely wanting to get a product out there can prevent you from questioning whether your product /service has a market fit i.e. is it something that your target customer needs? The first step towards validating your assumptions would be to conduct a qualitative research study. A moderated session allows you to draft open-ended questions to ask participants that would attempt to see if any of these assumptions about your product are true. Next, hold an assumptions map workshop with key stakeholders in your business so that together, you can come up with an assumptions map, based on the insight got from your moderated sessions. Divide your assumptions map template into 'risky' vs 'non-risky' assumptions as well as 'difficult to validate' and 'easy to validate' assumptions. Want more help on this topic too? PlaybookUX can spoil you even more with our comprehensive guide on how to develop an assumptions map, including what you could consider examples of 'risky 'and 'difficult to validate' assumptions.
User personas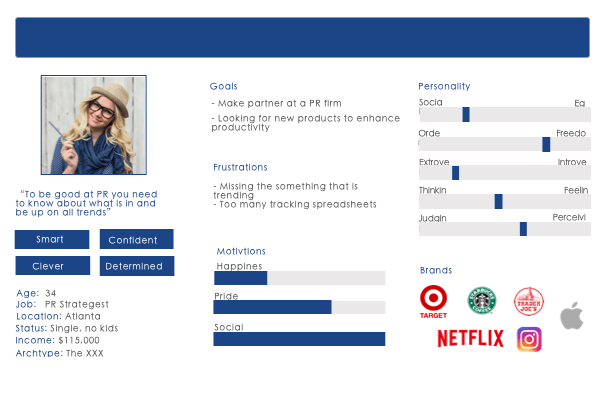 What is an empathy map incomplete without? A persona can help you determine the ideal individual for whom you are creating your product /service. In the long term, it means that your team will have a better way of designing features for your product that meet the motivations, needs, and desires of your ideal customer. When you begin, start with around two personas as creating too many personas will mean that your team will lose focus of all the essential facets of your core target group.
When creating a persona, use a moderated research session so that an experienced moderator can guide the conversation towards the questions that your business needs answering. If your company lacks the budget for a moderated interview, opt for a persona-based, internal stakeholder interview or a competitor analysis exercise. The types of questions you should be asking to get details for your personas include asking what a relevant individual does in their spare time as well as what their favorite brands are. Ask questions about their employment, such as the hours they work for or what their goals are. 
Once you have your customer journey map, you are ready to conduct customer experience testing using one or a combination of these 11 methods: 
Moderated customer experience testing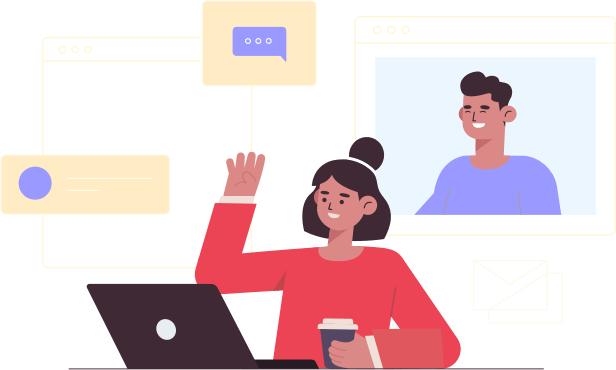 Having a one-on-one conversation with your target persona as part of a moderated interview can be difficult and often expensive to organize. Conduct this type of customer experience testing within a usability testing lab where your target persona complete computer/mobile-based tasks as a trained moderator observes their behavior and asks relevant questions. It is also vital for collecting detailed data and insights on your customer journey.
If you want to test a broader cross-section of individuals, you could also opt for guerrilla testing where representatives from your business can collect large quantities of qualitative data from test subjects chosen at random. These individuals would be asked to take part in a quick usability test which would last for around 5-10 minutes. However, if you are looking for an extensive or targeted customer journey testing method, this is not the interview-based method for you. 
An excellent alternative to a lab moderated testing environment would be a phone usability test. Here, a moderator would verbally provide participants with instructions so that they can complete tasks on their computer. Record the electronic behavior of the user remotely. 
 Are you looking for detailed feedback on the layout and navigational structure of your website? Try a moderated card sorting test where users are required to sort out virtual note cards into categories or groups of their choice. Following this, a moderator or facilitator will then run a debriefing session so that the participants can explain their reasoning for structuring the cards in a certain way. This test allows individual concerns and misunderstanding to be cleared up in person. You could also capture any discomfort with the product or with the questions asked.
PlaybookUX can help you make the best use of these types of moderated interviews as our service offers experience in objectively asking questions to make any participant feel comfortable. We also have experience in knowing when and how to probe for further explanations. Not only can PlaybookUX help your business to find the right participants for your customer experience testing process, but we can also analyze and report the results for you. So that's one less thing that you need to worry about post-interview. 
Omnichannel customer journey testing

 
Have you ever been guilty of treating a customer like a number, not a person? It's easy to do as a challenge could be ensuring a streamlined customer journey approach on all critical platforms that your target customers use, both digital and physical. Omnichannel testing aims to compare customer experience across various channels or devices within a specific customer journey. For instance, if your brand is a supermarket or department store with a brick-and-mortar as well as an online presence, use a selection of moderated and unmoderated customer journey testing methods. In this scenario, you can observe how shoppers behave in real life through different channels when discovering, comparing and purchasing a product.  
For instance, PlaybookUX could help you plan an unmoderated test involving your customers navigating through your website while you could also plan a moderated test with a selection of your products. Our user research software uses an AI algorithm that can assist your business in recruiting, conducting and analyzing customer experience research sessions. These sessions will provide you with an insight into what your participants said as well as what they felt. 
In this way, these customer journey insights could help you build a cross-channel content strategy that will improve your target persona's customer journey. The benefits of omnichannel customer experience testing include a return-on-investment as you are using a collaborative approach that acts one process to improve customer experience. A collaborative approach also makes it easier for your business as you can easily track successes and failures with a streamlined process which, in turn, results in a stronger brand with loyal customers. 
And that's not it. One could say that PlaybookUX enables cross-channel content strategy testing as we do not limit a business to only using Chrome. Our software will allow you to run customer journey testing and interviews on all browsers. This feature means that it will be clear how participants interact with your product, website or prototype across any browser. This process will also expand the pool of participants you can access our software.
Localization / internationalization customer experience testing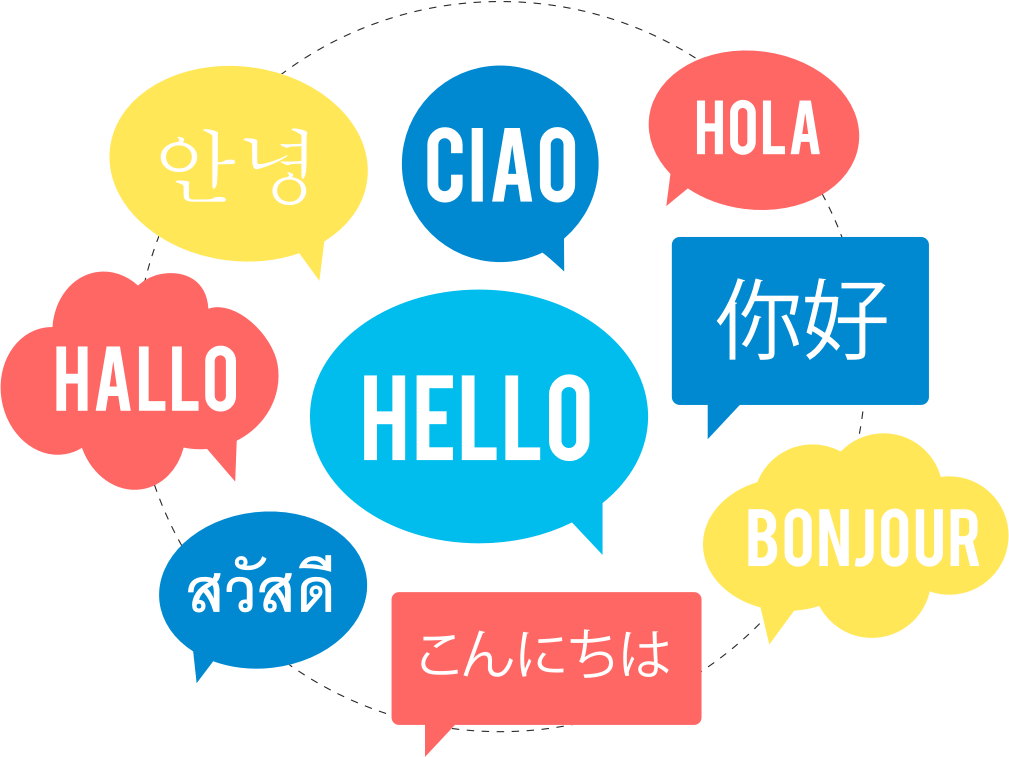 Do you know how your international customers view your product? If not, a moderated customer journey testing session with these types of participants can help a brand understand and appreciate acceptable ways of interacting with local cultures and meeting their specific buyers' expectations. For example, while a thumbs-up gesture is fine in the United States or the United Kingdom, it could be offensive in Australia and the Middle East. This difference means that different markets need different approaches. Some markets also value the service provided after buying a product as more valuable than the support received before you bought a product. 
Your business, if you want to trade internationally, needs to think about whether your product's message is universal. Localization or internationalization is the process of making your product or service as adaptable as possible so it can quickly enter different national/ local markets. Some considerations businesses should consider when localizing a product include the systems of measurement, currency, and symbols. PlaybookUX can help you develop the right localization strategy as it can help you source a range of participants from around 50 countries for a moderated interview which can be conducted remotely or in person. If you are struggling to develop the right types of questions to ask an international audience, 
PlaybookUX can also provide you with some moderated or unmoderated session templates which can give you the necessary tools to frame your questions for these participants. But, if your business prefers a 'do it -for you' service, PlaybookUX also offers this and can take charge of getting you the best results. Our in-built video player also enables you to see first-hand what your participants feel and think about your product. You can take note of any points of excitement, confusion, and frustration, which will then mean that you are building better outcomes for your customers in the future. 
Accessibility customer journey testing
Is your product/service accessible by people with disabilities? If not, this could be one reason why your website, product or service is not attracting all the types of customers that your brand wishes to serve. For example, visually impaired users require background and text on your website to be in high contract colors rather than subtle greys or lighter color palettes. You could also improve your customer experience for all types of users by considering keyboard navigation for a user who has difficulty with a mouse. 
A visually impaired individual could also benefit from your business's use of a screen reader that works in collaboration with an operating system to give it information about icons and menus etc. so that the right type of data is seen on screen. Conducting an unmoderated or moderated customer experience test with Playbook UX's wide range of participants will allow you to improve your product usability and functionality as well as customer satisfaction. Vetting of all our B2B testers occurs through LinkedIn, which means that you know who your participants are. Also, our software now allows you to amend the number of participants after the launch of a study. 
Using surveys to test customer experience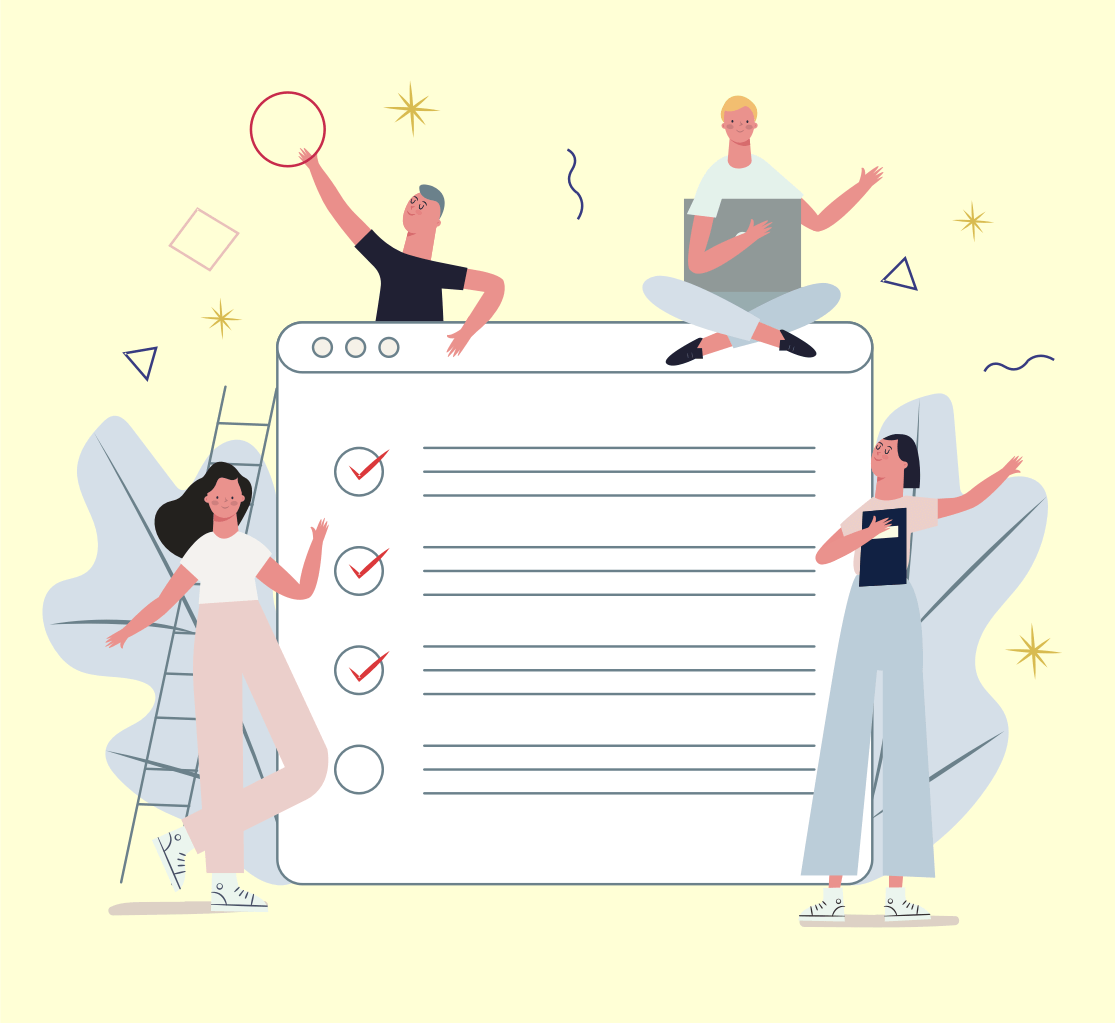 Use a survey as a customer experience research tool to gather insights about the preferences, attitudes, and opinions of your preferred users on a topic. For example, your business could use a survey to reach a wide variety of participants which could aim to find out why a certain number of individuals don't use your service as often as you would like them to. When using an online survey, it is best to keep it short so that your questions focus on what is essential. You must also avoid any complex or ambiguous wording so that participants do not find it difficult to answer the questions for your survey. If you are struggling in determining the best questions for your target audience, take advantage of the variety of free templates that PlaybookUX offers. We have crafted these templates and questions as we know how valuable customer experience testing is and so we want you to extract the utmost amount from every session.
Sentiment Analysis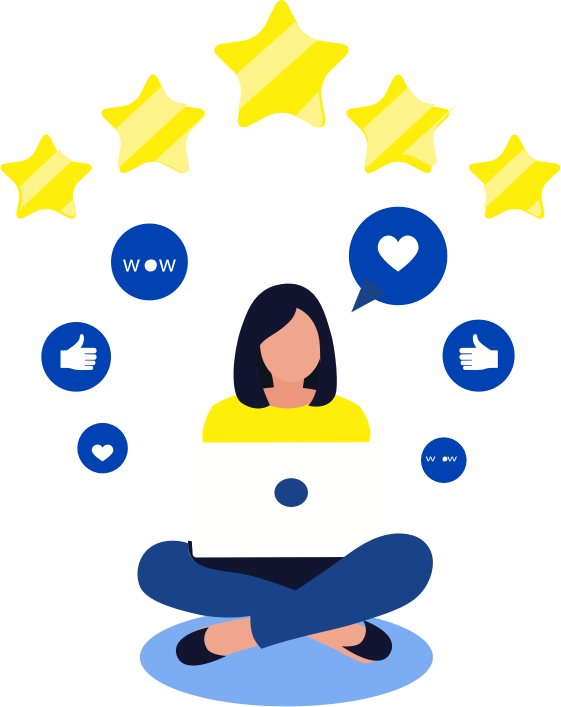 Could you imagine having to sort through data after collecting it from a qualitative research study? Manually sorting through this data is neither efficient nor cost-effective. A manual approach could also lead to errors and a lack of data consistency. And that's where sentiment analysis comes in. It is an AI-automated process of analyzing qualitative data and then sorting these opinions out as negative, positive or neutral. Your business can use this to automatically assess, for example, survey responses, social media comments, product reviews as well as social media comments. 
If you use PlaybookUX's software to perform a moderated or unmoderated customer experience test, you could get sentiment analysis within any of these packages. We can enable this data storytelling technique through our extensive analytics dashboard. If you wanted a more detailed level of sentiment analysis, you could always sign up for our 'do-it-for-you' service where we can offer even more synthesis following customer journey testing.  
Usability customer journey testing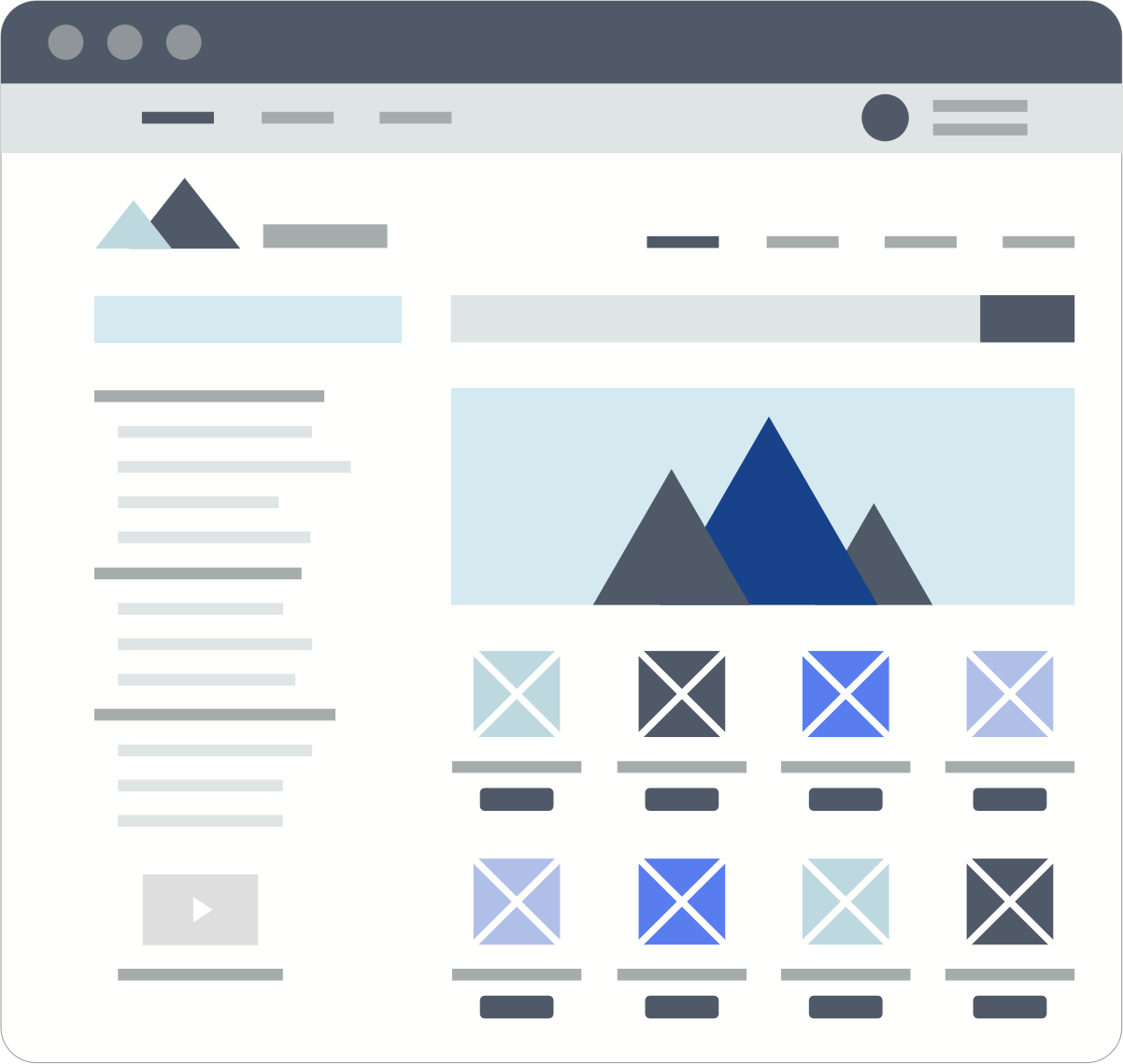 Unmoderated and moderated testing involves watching your participants navigate through your website, product design features or applications. Their behavior and statements are recorded for you to analyze. If you are a business who is trying to sell a software-based product, you will need to ensure that it has a good design so that your target audience will find it easier to use.
In the process of developing several prototypes for a new feature but cannot decide which variation of the feature to use? Conduct an A/B test to test two variations of this feature associated with your product. Eye-tracking testing is another qualitative research study option which you can use to inform your business about what aspects of your product's design captures your target persona's attention. This method will need a unique tracking device, but it will produce a heatmap of a webpage that will demonstrate the area of the page that the participant looked at for a long time as well as what parts of the page they ignored. If you want to combine the methods of eye-tracking and first-click testing, try a blur test that aims to find out whether certain items like logos catch the user's attention by color and layout, even if an image is blurred.
While PlaybookUX's moderated sessions would allow a business to conduct one-on-one interviews, our unmoderated sessions also allow you to set tasks directly for testers and then requires a participant to record their screen and audio while finishing specific tasks. Rather than using different pieces of software for customer experience testing, PlaybookUX's software allows you to capture the entire research lifecycle as our dashboard can get customer journey feedback without giving you the hassle of recruiting, scheduling, rewarding participants, note-taking and sourcing meaningful insights. 
Navigational customer experience testing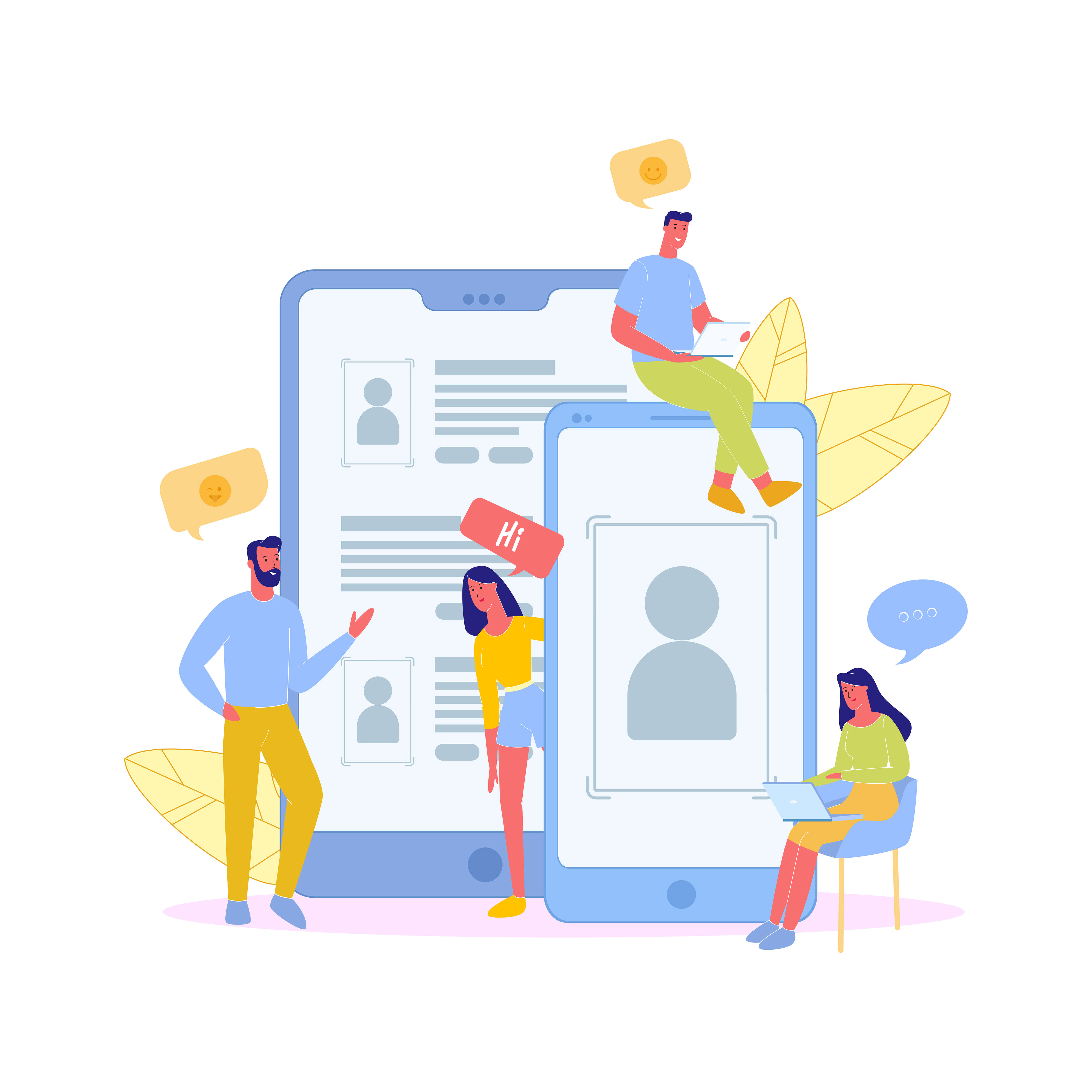 You will also be able to improve your customer experience by testing the navigational structure of your website. If your target audience cannot find what they are looking for on your webpage, they will swiftly look for a competitor's product. A better sense of navigation will also reduce the amount of customer support requests you receive from frustrated customers who cannot find what they are looking for on your website. Apart from the qualitative research method of card sorting, you can also use a testing method like tree testing where, once you have a navigation structure in place, you can ask your target persona to find specific items within that structure. If they find it difficult to find all or most items, you will need to improve this structure. You can also combine this method with card sorting to create a better feedback loop.
Do you want your criteria for participants to be even more niche? PlaybookUX's software allows your business to ask participants qualifying questions so that you can make sure that they're an exact product/service fit. This feature means that our service can offer you real data insights that will appeal to your actual target audience. 
Web analytics testing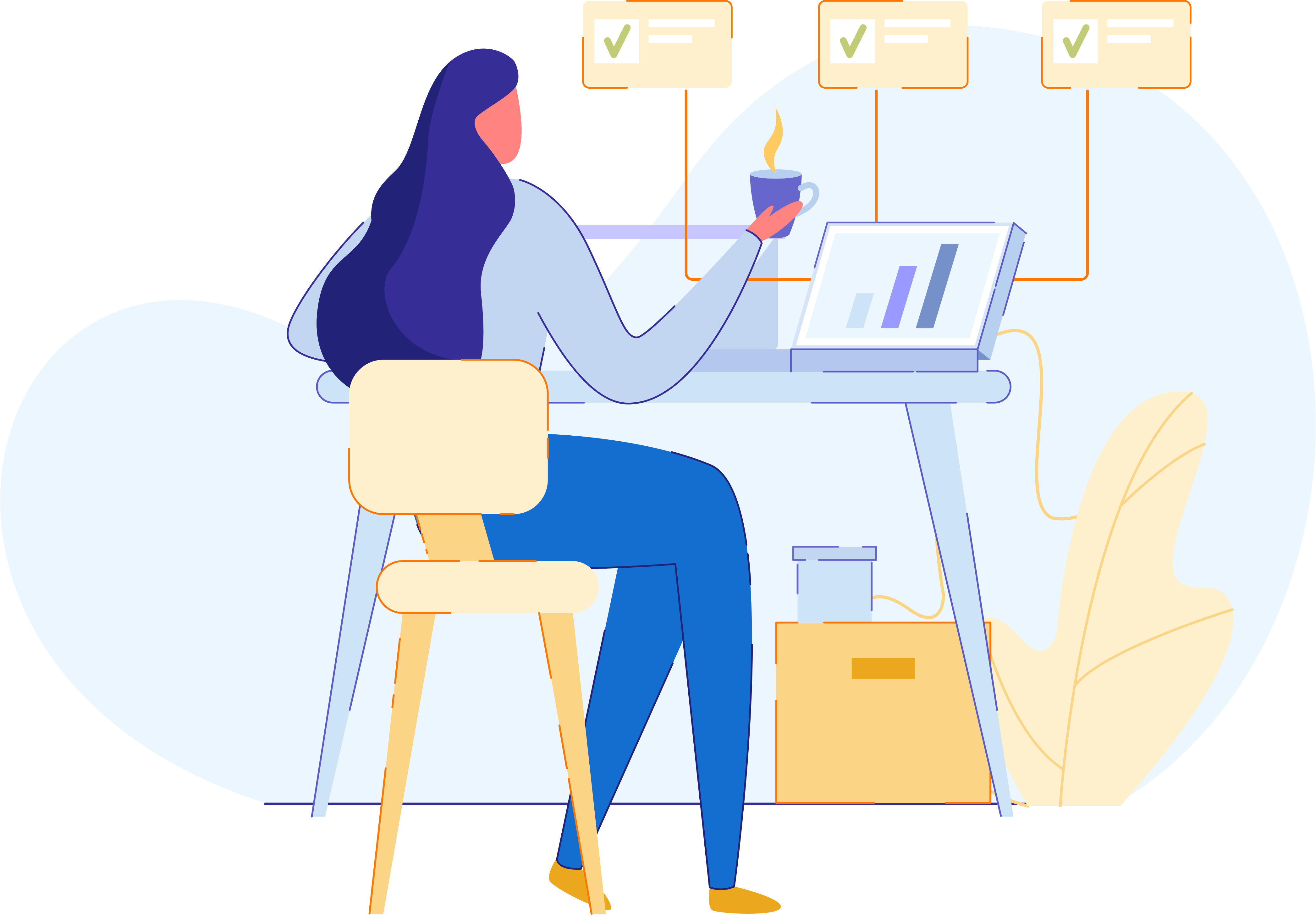 As a business, you will also want to know how effective you are in meeting your customer's needs. Web analytical systems like Google Analytics or a survey can help you track goals, such as whether you have reached your customer-focused goals. While your target users are browsing through your website, allow them to tell you whether they met their goal after looking through your site with 'yes', 'no' and 'partially' options. This software should also be programmed to trigger an open-ended follow-up question if your customer answered 'no' or 'partially'. 
Go further than Google Analytics with the use of a customer effort score (CES) to determine how easy it was for your customer to reach a goal through your website. You could use this tool to also improve customer loyalty by allowing dissatisfied customers to leave you their details if they want their issue resolved quickly. You could also program your chatbot to pop up if a customer has had a less pleasant experience. Your chatbot service could then aim to solve their problem and possibly convert the customer into a regular one. Using customer satisfaction (CSAT) analytical method can also show you what aspect of your website works well so that you can then further optimize the benefit of this area. This method involves sending your customers a survey that then enables them to rate their level of satisfaction with your product or service as 'not satisfied' or 'very satisfied'. You could also have an 'it depends' option to allow individuals to offer further customer journey feedback. 
Want to take notes when watching interviews after customer experience testing? Our software is built with an automated transcription service that runs at the side of the video session, meaning that you can then analyze all the sessions more efficiently. Clicking on a specific task set for the participant will direct you to the relevant spot in the video. This feature will make any session replay as easy as possible for you. 
Our dashboard also allows an infinite number of your team members to view notes and collaborate on topics to keep everyone in your business within your customer journey feedback loop.
Resilience testing for the customer journey
Does your product/service perform well in real-life conditions? Try software resilience testing to assess whether your product/service can withstand stress and other challenging factors that can affect peak performance. You could also identify weaknesses in your system by using PlaybookUX to test different versions of a scenario where one group gets a steady-state situation, and the other receives a failure scenario. Use a moderated or unmoderated session to observe how the participant deals with it and record any suggestions they have for improving it. Examples of aspects of your business that you can test for resiliency include the data backup process, load balancing, traffic management as well as a failure of an interface system.
Content strategy testing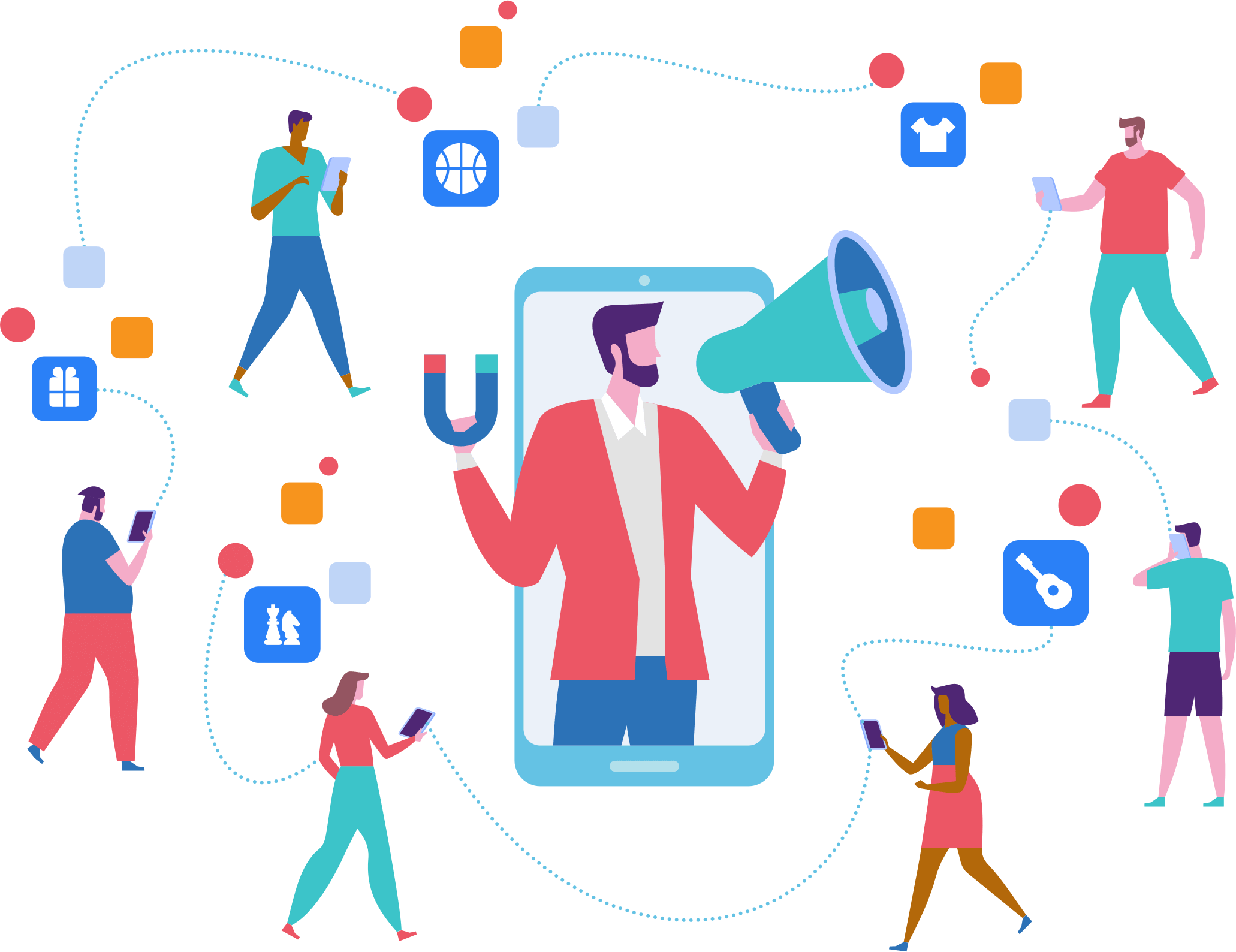 Your business can also create a better customer experience by testing your videos, website copy as well as your email marketing strategy to make sure that these are in line with your target customer's needs. Once you do this, you can increase your conversion rates for clicks, downloads, and purchases. 
You need to personalize your product/service to a customer's tastes to make their journey /experience more relevant. You can use a variety of qualitative tools to test your content strategy, such as eye-tracking. This test indicates the parts of your website where users pay the most attention. Try a session recording test, which can also show you where participants can get lost or even a moderated session where you can probe participants for further information about certain aspects of your content strategy.
If you are looking for software that makes recruiting your target persona easier, your efforts in reading this article have not been in vain. PlaybookUX does make it easy to hire your target demographic as our software is built with ten different demographic & employment filters. Our granular user experience testing filters allow any B2B or B2C company to receive user feedback from their specific customer base.
If you're a B2B business, we provide access to participants with a specific job title, industry, seniority, and company size. Our two-step verification process ensures that we verify most testers through LinkedIn as well as double-check it by hand, so you're getting the best quality of participants.
Start investing in customer experience testing so that your business achieves a better sense of customer loyalty and an increase in revenue. Fantastic CX involves giving each unique customer a valuable, easy-to-use and enjoyable experience on any device that they use across every touchpoint. This experience must meet the expectations of the product or service that you set in the beginning. Looking to start your 2020 with an affordable yet effective customer experience testing strategy? Let PlaybookUX know more.
Resources
User Testing Templates
Speak to high quality people